93 Civic HB SI, 95 Civic HB CX
Before:
During:
Measuring, drawing and and shaping gasket paper to mimic B18C5 throttle body air ports, to create a new gasket for it, and position of where IAC port would need to be:
Finishing:
Centering, marking, drilling and tapping required holes. You dont drill the first (right) hole all the way into the plenum. Only the second (left) hole punches into the plenum. Then drill a hole at an angle from the TB flange face down to the first (right) IAC port: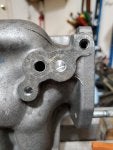 Install your 2 pin IAC, and a manual throttle body with gasket, and voila, an auto-to-manual D16Y8 intake.