Discussion Starter
•
#1
•
cpl of the guys from STLhondas.com attend Gateway raceway Tuesday nights for test and tune pretty regularly. (gateway is 1/4 NHRA certified track) So here is some pics and info from last night
Well to start the night off i took the Eg tonight instead of the Ef. I wanted to get some baseline times for the car to see where i would be starting at and how many seconds i would need to knock off to get to my 10.9 goal for next season.
managed to make 3 good runs tonight before i suffered a small mishap. Car broke a axle tonight when launching on robs DR's i was borrowing. Well rob and kate were awesome and drove all the way back to new halls ferry to get me a axle, axle nut and ball joint separator tool so i could swap out the axle in the car so i can get it back up and mobile again, but unfortunately i was unable to make any more passes due to that small set back.
But here are the three passes i did make. Passes 1 and 2 are on 17" drag rims with BF Goodrich scorcher t/a's and the 3rd and 4th pass were on Rob's Drag Radials.
1. (17"'s with street tires)
R/T - .186
60' - 2.433
1/4 - 15.751
MPH - 88.45
2.
R/T - .247
60' - 2.522
1/4 - 15.794
MPH - 88.50
3. (dr's)
R/T - .417
60' - 2.269
1/4 - 15.300
MPH - 88.86
4. (dr's)
Broke
And now for a cpl pics.
JesSI placed 2nd tonight in the sport compact tuner challenge so he got a kewl little trophy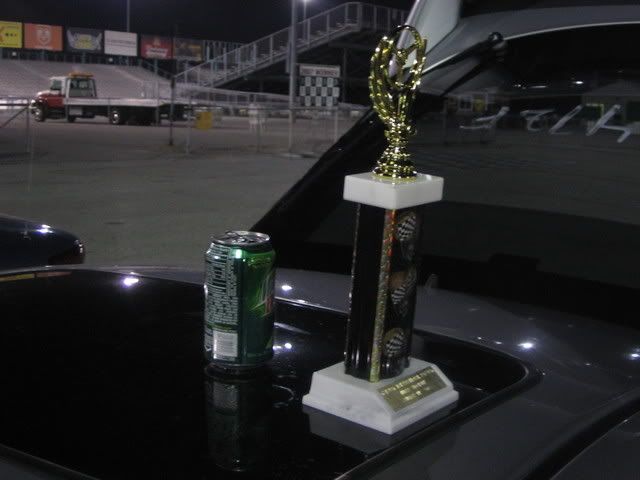 silverknight,n2hifi,silverstreak and jesSI
Silverstreak helping JesSI putting the street tires back on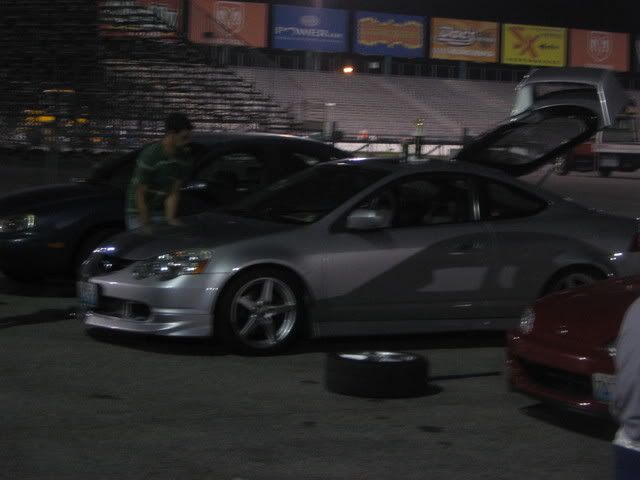 Silverknight,Kate and brook
pics of the damage (its hard to tell but it broke at the hub and the boot tore also, i forgot to take a carnage pic after we pulled out the broken axle)