I've had my car for 12 years and I've never made a build thread before on my car. I don't have every step of the build and can't remember all the details of everything so I'm just going to share my build via a story/history of the car. I have taken pictures here and there during this time so I was able to toss this thread together.
The car: 91 CRX HF
Purpose of the car: Weekend cruiser/highway destroyer/maybe some 1/4 mile passes at the track
Under the bonnet:
D16y8 Head
D16Y7 Block
ARP Head studs
Eagle rods
Vitara Pistons
Hondata IM Gasket
Big 16G TD05HR Evo VIII Turbo
Johnny Racecar 6" FMIC
Blitz BOV
Deatschwerks 1000cc Injectors
AEM Fuel Rail
Walbro 255lph fuel pump
Nocturnal 2.5" Custom Downpipe
Bi-state Custom/Davinci Custom 2 3/4" Exhaust piping
Vibrant Flat Black Muffler
Civic Si Cable Tranny
ACT Xtreme Pressure Plate
XACT Street Flywheel
ACT 6 Puck Clutch
NGK Blue Sparkplug wires
J's Racing Magnetic Drain Plug
GO-AUTOWERKS HALF RADIATOR
Battery relocated to rear
Optima red top battery
ELECTRONIC STUFF
Crome
Apex-i VAFC
Greddy/TRUST Boost Gauge
Greddy/TRUST Air fuel Gauge
Greddy/TRUST EGT Gauge
Greddy/TRUST Boost Controller
HKS Turbo timer
GM 3 BAR MAF SENSOR
Stiff Stuff
JSP CF hood
PIC Apex Coilovers 8k front/6k rear
Skunk2 Lower Control Arms
Neuspeed Front Strutbar
EBay rear strut bar
15" Rota Slips
Falken Azenis
KYO-EI Industries Black Lug nuts
Energy Suspension Motor Mount inserts
Goodridge Steel Brakeline kit
Si Front and Rear disc conversion
Power slot front and rear rotors
Inside
B&M Short Shifter
Spoon shift knob
Sparco Torino Seat
CUSTOM GAUGE POD
OWNED BUT NOT INSTALLED
Autometer Oil Pressure Gauge
Greddy/Trust oil catch tank
Aero catch hood pins
So I first saw the car while at a local meet. I just had my 89 accord then.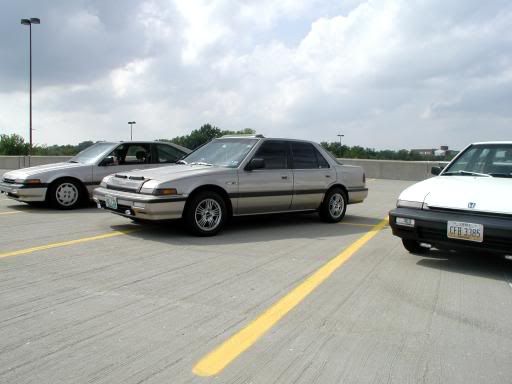 The former owner invited me to ride around with him and his friends that night. It was the first turbo Honda I had ever actually seen. I remember thinking wow I really like that car and I would want one just like that one day.
Well a few month later that day came. It popped up for sale.
Here is the exact description from the posting:
91 Honda CRX HF
D16Y8 SOHC V-tec from 98 civic ex
29,000 miles
greddy sohc turbo kit
walbro 255 forced induction fuel pump
blitz blow off valve
aem fuel rail
aem fuel pressure regulator
ACT Cluth
B&M short shifter
Gun Metal Rota Slipstreams
Ractive strut bar
These are the original pics from the sale ad posted on a local street racing board In 2003
I went to buy the car with out even knowing how to drive a car with a manual transmission. I actually had a friend drive it home for me and I went and learned how to drive it myself in a empty mall parking lot.
That week I took it out to a local meet.
The car already had a autometer boost gauge and AF guage. I added a turbo timer and got rid of the manual boost controller and replaced it with the Greddy Profec B.
I took the car to get dyno'd and it put down 184 hp/156 tq on the greddy kit with fmu and stock injectors. It warped a piston that day due to the car running lean. I swapped that block out and got rid of the fmu, bought some DSM injectors and a VAFC and started running the hack a la turbod16.com . The car ran ok for a while after that. I ended up having some issue with it (sorry I forget what it was) and then shortly after that I got married and had a kid and the car was parked for a few years.