Some quick facts about the car:
1989 CRX Si
26XXXX kms
5spd
2-way compustar alarm/starter
newer larger than OEM exhaust, battery plugs and wires
2 sets of wheels - OEM Si with all seasons and DA alloys with winters
lowered on unknown springs and KYB adjustables
car has been repainted satin black with minor bodywork done
Other than that shes all stock
I've always wanted a CRX, ever since high school. However, they are so hard to come by for a decent price and not completely riced out. Some of you guys may have saw my thread a few weeks back about a couple of CRX's that i had a chance to buy. heres the thread if you guys wanna still
check it out.
anywho i ended up getting the non-ricey one for $1800, its not perfect, but definitely cleaner than
my current DX daily
which is getting sold to my buddy. unfortunately, it will need a lot more work than i thought to get things the way i want them, nothing major though just a lot of little stuff.

so here she is! Dont mind the bumper and the lights, i had already pulled it them off and just hung them back up for the sake of the pics.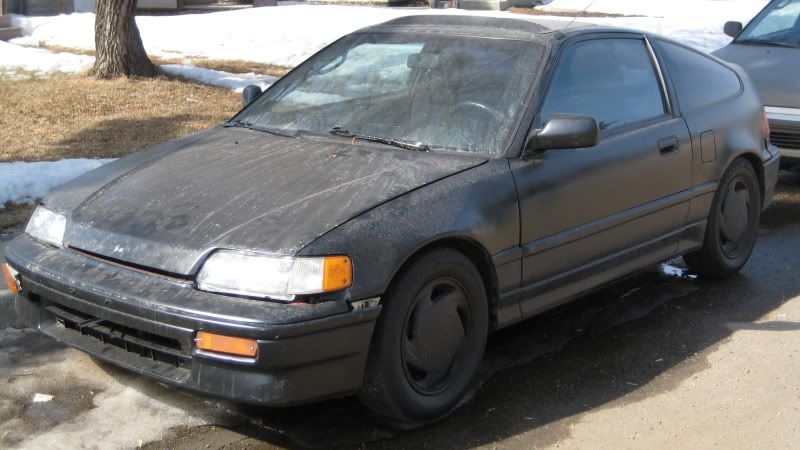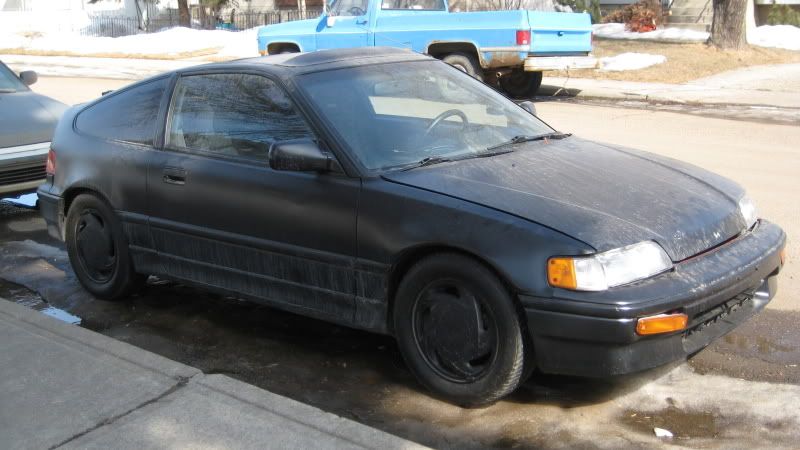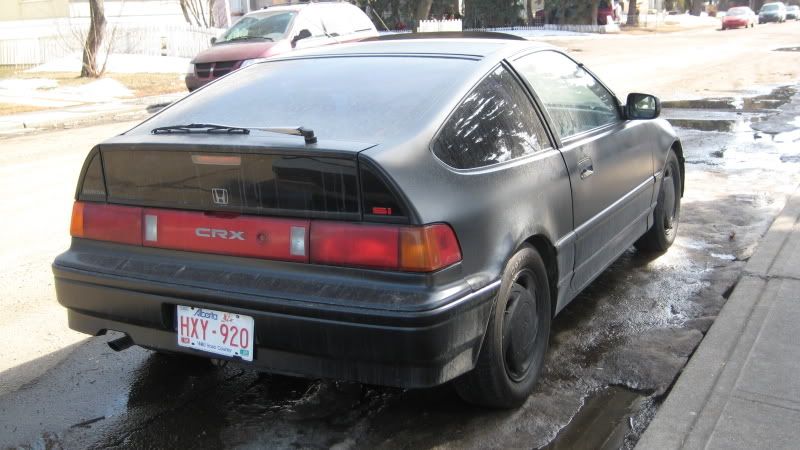 .
So ill be using this thread to keep track of the progress to bring this baby up to snuff.

Current Things TO DO List:​
Interior
Get the 2way starter to work again!
Pull the 4-2-1 DC header from my DX and install in rex
Replace oil pan gasket, valve cover gasket and clean up the block
Change coolant and tranny fluid
Replace windshield
Work completed:
Apr 10:
1. Installed a new alternator and belt
2. Installed new release hood cable
3. Adjusted hood so that it now closes shut
4. Got rid of annoying squeaking from the hatch, some grease was all it took
5. Tried to swap the Si seats that are in my DX into the rex, just a quick rail swap will do the trick! - NOTE: I discovered that this is not doable, seat rails between the 89 CRX Si seats and 90 Civic Si are not the same, im assuming that this is applicable between all the CRX's and Civics
6. Installed a pass. headlight
7. Installed a combination switch
Since Apr 10:
8. Installed a new deck and sub
9. Swapped over my DC2 Steering wheel
10. Installed ES shifter bushings to clean up that slop, and matched it with a GSR shifter, and a Skunk2 knob!
11. Installed newer 91 Si seats
12. Installed the climate controls
13. Swapped and painted a nicer condition 88-89 bumper, and added a DA lip
14. Installed a rear wiper delete plug
thanks fo' looking! Ill be getting up some more pics soon!!