Discussion Starter
•
#1
•
So I finally got me another d-series civic. I have taken a vacation from them for about 3 years now and in that time I have owned a 07 Honda Civic SI, 2007 Acura RDX (still own), and a 2012 Honda Civic LX (god I hated that car).
I don't know how many of you remember me. I know some of you will; however, I see a lot of new faces and a lot of old usernames still. Here is my old car and the one I should have never sold, I think we all have one that we wish we'd never sold.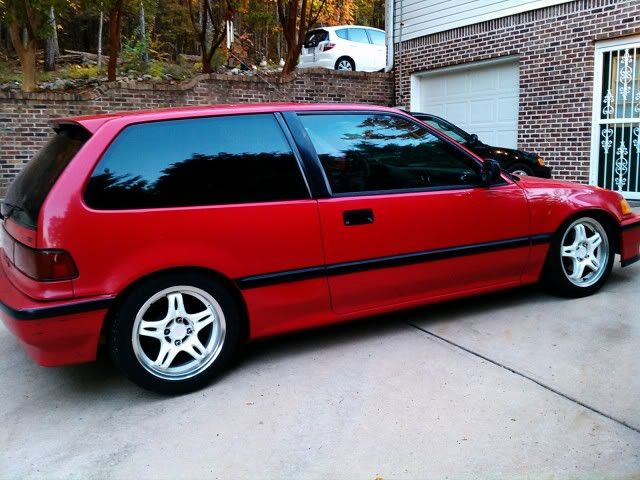 I've now owned 7 ED civics and sold all 7 of them. I finally got me the year model I've always wanted and it's not a bad start giving how clean the paint / body is on it.
Anyways, let's jump in here. I know this time around I want to start with suspension and rims.
A.) Because out of the thousands of dollars I spent on my 91 Hatch I think the best money I ever spent was the $220.00 I spent on Ball Joints, UCA's, End Links, Knuckles, and Urethane Bushing Kit. That was the most noticeable thing I did was get the old , worn out crap out of there.
B.) Rims are the most noticeable of all modifications, even people who don't give a damn notice rims.
Here is where I start to get confused about future plans tho. I know this is a d-series website and I must admit it feels dumb to post this here, but I am considering 3 different routes with this car. I only have experience with obd0-obd1 conversions, and my a6/z6 mini me I did. I don't know too damn much about y7/y8's or their common problems outside of oiling issues with turbo.
I have to keep my ac, it isn't even an option to lose it since this vehicle will transport my son from my moms to my house every day while the wife and I go to work. I want a fun DD, so I don't want an all out track car but I'd love for it to have enough pep to not be the miserably slow car that it currently is.
Options I'm considering this time around.
a.) b16a2 NA w/ Cams while retaining ac.
b.) b16a2 swap with JRSC or similar supercharger while retaining ac.
c.) LSVtec with a b18c head.
d.) d16xx swap with small turbo pushing 180-220whp and retaining ac.
I don't know a lot about DOHC's, but I think it's the direction I need to go with this car. I would love to throw a small turbo on the d-series and shoot for 200 whp , but I don't know a lot about the y7/y8 and maybe I need to do my homework, because to be honest. It probably will be the most straightforward option that is the least expensive.
I don't know, y'all sound off let me know what you think?
I'm a little confused about the plans for this car outside of suspension. I just know that if I do go turbo it will have to be reliable and not junk parts.
Oh, and here is the car.