Discussion Starter
·
#1
·
ok so a while ago I made my own trunk bar and it was a fun little project, now that I look back on it My design could have been much better. now that ive finished physics and calc. I have a much better understanding of how forces act and how to resist them.
So Im currently in the design of my new tie bars for the trunk and lower rear.all of the angles and other math is in my notebook and I dont think trig really interest too many people lol.... so here is a rough sketch of how the bars would look.
notice no flex points and gussets for great strength unlike those cheap ass ebay bars that do nothing due to flex points.
they would be shipped in plain steel or painted any color you like for an extra 5 bucks.all of the bars would be filled with very stiff foam to give slightly more rigidity.
I will have a single bar welded together and fully finished in about 3-4 weeks(have to finish my swap first lol) then ill have pics of the real deal.
if interest is good i will fab up 5-10 rear lower bars and 2-3 trunk bars. if these sell I will start making many of them. I will make a jig to ensure accuracy and a good fit. the "test mule" will be for 96-00 civic since thats what I own. I will also have a few for the CRX guys. I need some people with EG coupes and an EK hatch in the new england area to fab for these cars you get a free tie bar
.
here is the old trunk bar, the new one is far superior in design and speed of fabling. everything will be made of 1" square tube and will use round bar around the bolts.
pic of the old bar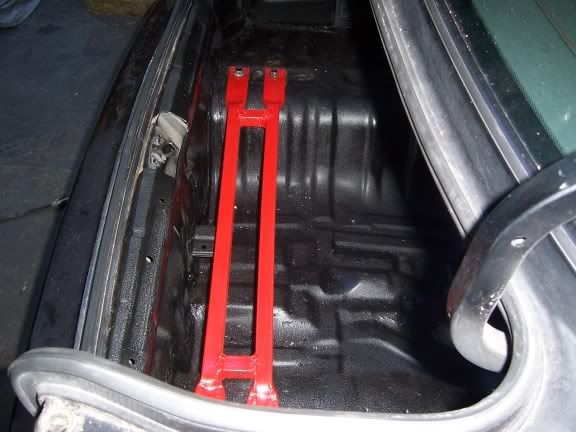 PRICE
For test bars I will be charging 40 shipped for the rear lower
trunk will be 70 shipped.
I
REFUSE
to accept payment in advance of what I have ready to ship out to avoid "where is my shit" fiascoes lol.
finished bars will cost a little more but the price will stay relatively cheap
when(I hope) sales are good I will make other bars such as strut tower bars that tie into the trunk and front lower bars.Im not making these right now because they are more difficult to fabricate and a jig would be more difficult to make due to the angles of the strut towers.