Well here is my "old" build thread. Just joined up on here and figured Id post this up on here. Some will hate but the car will be kswaped by the end of the month. I never got the d17 to dd status and I got burnt out of it just like many in the past have. I will miss it but here it is.
P.S.
Clint (speedfoos) and Paul (bomerman) I OWE a 2nd life to them. They have helped me out a ton with this build as well as Adam (greenie) and many others as well but a HUGE thank you still goes out to Clint and Paul for all the help they have given me! Two of the best people Ive had the privilege to meet. :bigok:
Sorry for all the post BTW. Only 8 pictures per post
Engine mods:
t3/t4 super 60 trim which is about to blow
RC-750cc injectors
HKS BOV and tail 38mm WG
CX racing FMIC
Dezod IC piping
Dezod log mani
Custom 'foos catch can
12" slimline fans
Kpro with hondata 4bar map sensor
AEM UEGO wideband
3" exhaust from dp back 3" dp is AC compatible BTW
Crower custom cam
crower springs and retainers
JDMfabtec intake manifold
Warbrol 255 fuel pump
Here is where the install starts 5-24-2009
I copy and pasted over
Drove down to speedfoos house to start the install weekend. Big thanks to Paul (aka bomerman) for driving down to Clints place from Virginia to help us the first two days. When we could get him to stop talking, he did some really good work!
Time spent:
Friday - 7 hours
Saturday - 15 hours
Sunday - 6 hours
So yeah, 28 hours of tool time to knock this installation out. During this time we made the downpipe, dumptube, re-did the exhaust, re-did the charge piping, bumper defabrication, we didn't have 2.5" exhaust flange so we made one out of some spare 1/4" steel plate I had in the garage, installed the gauges, AEM F/IC and a quick street tune (thanks again for the basemap Jonathan!) and everything else involved with the a turbo installation.
Things did not go smoothly, however we came out on top. As a note for folks, stock Honda clips do NOT/NOT work with SRT-based injectors. The clips physically fit over the injectors but they do no make contact with the injector pins. We discovered that today when we attempted the first start-up. Had everything but fuel. Sunday in North Carolina is not a good time to source SRT injector clips so some speaker wire and spade terminals will work until I can pick some up next week.
Don't laugh, it works and they aren't coming out unless you want them to.
Josh wanted stealth and he got it. After cutting the bumper inside to fit the non-dezod (thank God) intercooler, Paul put the fascia back in. Josh just needs to glue the fog lense back over the hole and it's completely stealth.
But it's installed and aside from a couple minor tweaks, the car runs pretty damn good at 4 PSI. This is on a stock LX motor, AEM F/IC, no head studs (yet), with Stage 0 SRT injectors. More to come.......
Money shots. Anything look familiar?
[/QUOTE]
Got the fog light cover on with some clear RTV so I could be some what sleeper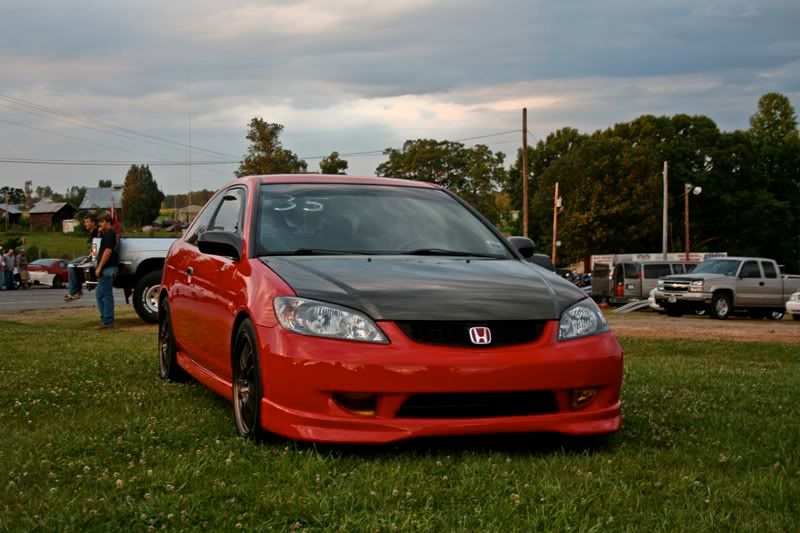 Next upgrade that came along 8-3-2009
Successes
- Rod bolts
- head swap
- 3" AC compliant DP
- 3" exhaust
- clutch swap
- Battery relocation
- oil drain line unfuck
- injector clips
- boost controller
- Fix CEL for secondary O2 sensor by re-wiring harness
Failures
- Unable to engage VTEC with RPM window switch
- Primary O2 sensor shit the bed
- unable to tune due to above issues
The RPM window switch from Summit (house brand) had a faulty LED bar so we couldn't tell what setting was what and even it was not faulty, I don't think we could have figured out how to program it. Need a better window switch - one with either dials or RPM 'pills' - or kpro.
Not sure why the primary O2 sensor decided to up and die on us, but it did.
That's that. Approximately 30 hours of wrenching on the car this weekend. It was fun, we all learned something, and in some cases several things, and was overall a great weekend. But I know we are all exhausted.
(again went down to speedfoos house and bomerman came down)