Ok, maybe it's time for me to show my car aswell. I'm updating this front page as I go along.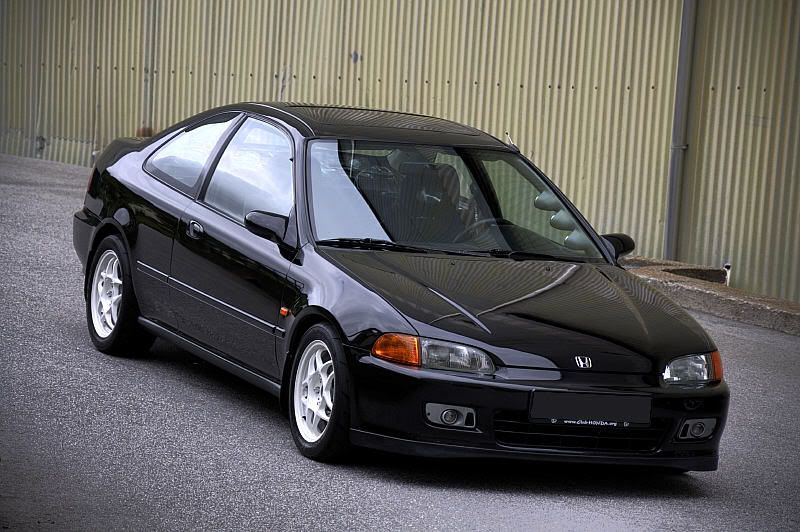 Specifications are as follows:
1994 LSi Coupe (basically same as your DX, with D15B7 engine), swapped to:
Engine:
- D16Z6 SOHC VTEC swap (150 whp / 112 ft.lbs.tq)
- 0.5mm overbore, total displacement 1612cc.
- Endyn "Roller Wave" NA (Mid) 75.5mm pistons. Theoretical compression: 12,2:1
- Crower Stage 3 cam, valve springs and titanium retainers
- Head prepped by Endyn ("stage 2" porting, bronze valve guides and 3-angle valvejob)
- Endyn race valves (Intake: stock size Exhaust: 0.5mm oversize)
- Magnecor 8,5mm spark plug wires
- ARP head studs and rod bolts
- Fidanza 7lbs flywheel
- Exedy Stage 1 clutch (upgrade)
- Edelbrock Performer X intake manifold
- Edelbrock cam gear
- 60mm throttle body
- AEM V2 Cold Air Intake
- AEM Tru-Power underdrive alternator pulley
- B&M fuel pressure regulator
- No name fuel pressure gauge
- Bisimoto Engineering 4-1 header
- SMSP 2.5" universal catalytic converter
- GReddy EVO2 60mm B-pipe
- Spoon Street gen.1 muffler
Engine management/monitoring:
- P28, socketed and added datalogging (USB)
- Crome Pro used for tuning
- Innovative Motorsports LC-1 wideband o2 w/ built in controller
- Moates Ostrich ROM emulator
- Oil pressure, oil temperature and coolant temperature gauges (Auto Meter Cobalt, mounted in radio slot)
Drivetrain
- 3rd and 4th gear from D16A9 (1.346 and 1.033 ratios)
- mFactory 4.9 Final Drive
- OBX Limited Slip Differential
Suspension/Bracing:
- Shocks and springs: Koni Sport kit
- Anti-sway bars: Whiteline 24mm / 22mm
- SPC upper control arms w/camber adjustment (front and rear)
- Whiteline caster kit (+1.90 degrees)
- mFactory Roll center adjusters (Long ball joints)
- Energy Suspensions and SuperPro polyurethane bushings
- Tower bars: PasswordJDM 2 point (front and rear)
- Front Subframe rod from Integra Type R
Brakes
- 262mm front and 239mm rear discs
- Russel stainless braided hoses
Steering:
- Steering rack from Integra Type R
- Power steering removed
Exterior:
- Repainted Granada Black Metallic Clearcoat NH-503P (original color) in 2004
- OEM Civic lip and splash guards
- Amber corners and oem lights
- Spoon style mirrors
Wheels and tires:
- 15x6.5" SSR RF-Pro
- 195/50-15 Toyo Proxes R888
Interior:
- Stripped interior
- JDM VTi instrument cluster
- Cobeau Sprint bucket seat (driver)
- EDM Civic VTi seat (passenger)
- HOP Honda center console and armrest
- Momo Corse steering wheel
- Skunk2 Billet Shift Knob, 10th Anniversary Edition
- Fast Line Performance Racing Shifter
- Replica Mugen pedal covers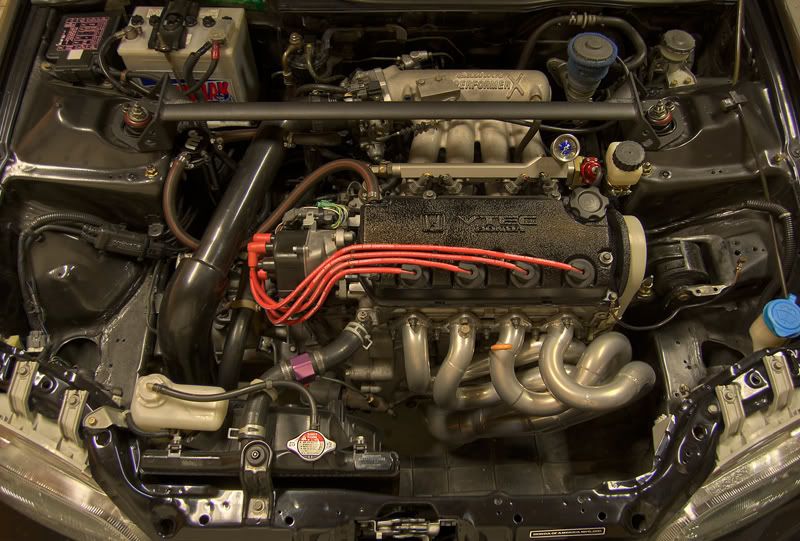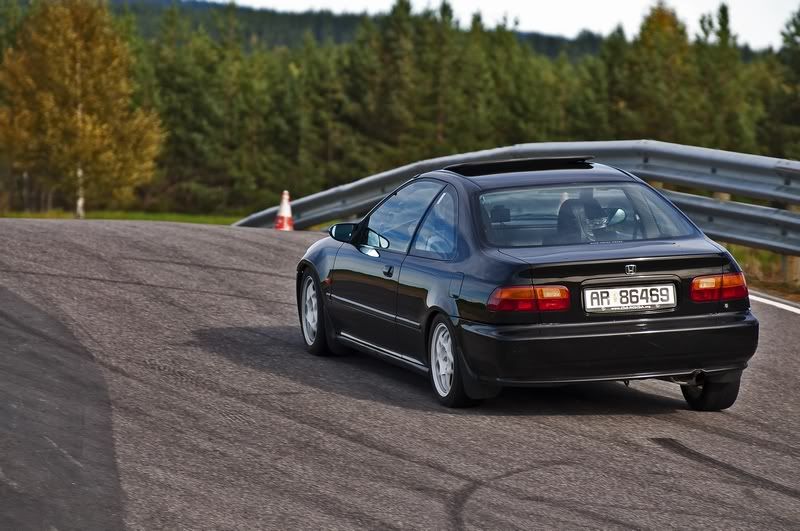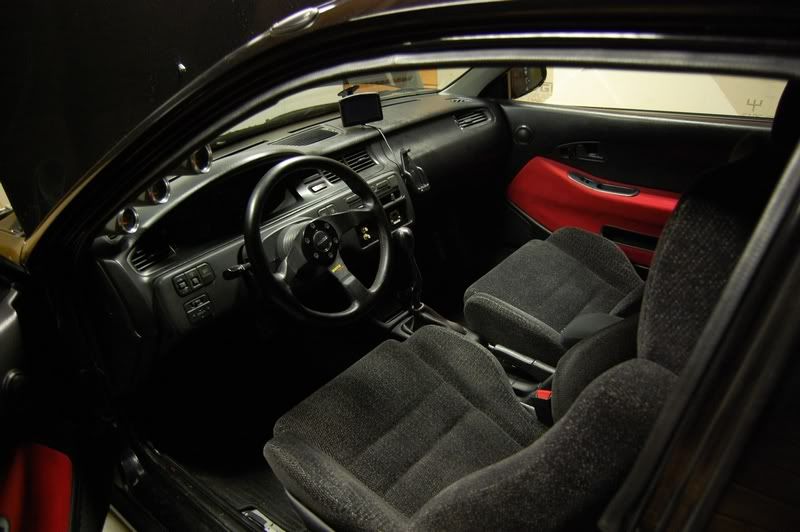 And a video from a track meet I went to on September 26th, 2009: