So as most of you know, im building my rex. And one of the many problems i encountered (and many others) was that i simply could not run the stock radiator, or the stock 92-00 radiator, since it sits far too high and you end up having to do a "gangsta" lean. Or you have to buy a special made radiator just for the crx (about 300$ last time i priced it). Or get a traction bar that gives you enough space to lower the radiator, however that now puts it at risk of being hit when you bottom out. This also causes another problem, i dont have much space inside the engine compartment. Especially where the downpipe goes, i was having problems melting my radiator fan (a slim fan even) since it was so close to the downpipe.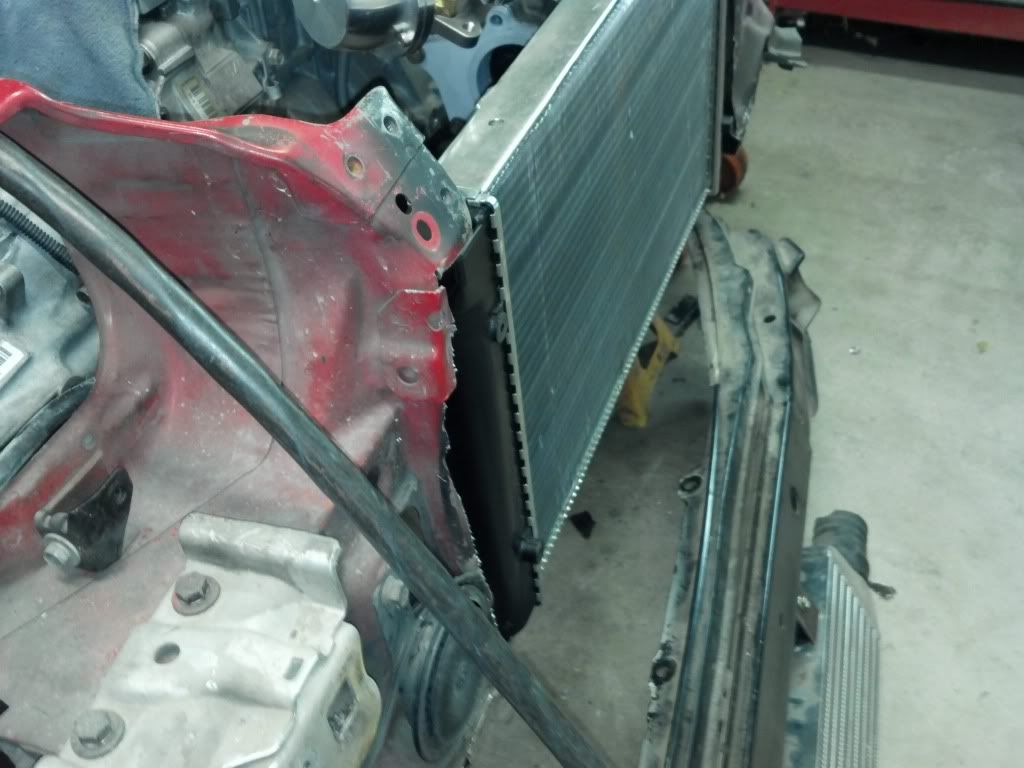 So i had two choices, buy an expensive 1 off radiator. Or... find another radiator that fits. I searched around and found that the 85 vw sirocco radiator is 12.5 by 24.5 x 1.5 Thats perrrrfect! The stock radiator is 14 x 14 and thats far too tall. However, this new radiator is only 1.5 inches shorter, but its allmost double the size in length and its 1.5 wide, instead of just 1 inch.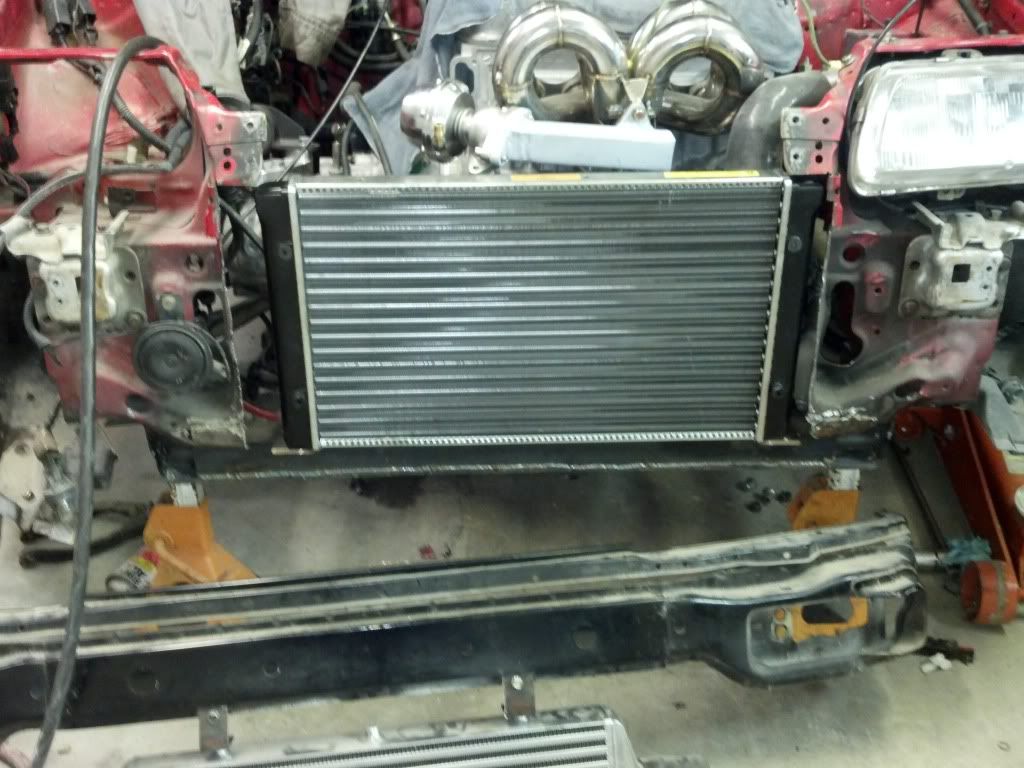 (in this pic it looks like its hitting the turbo, its actually just not bolted down so its leaning on the turbo.)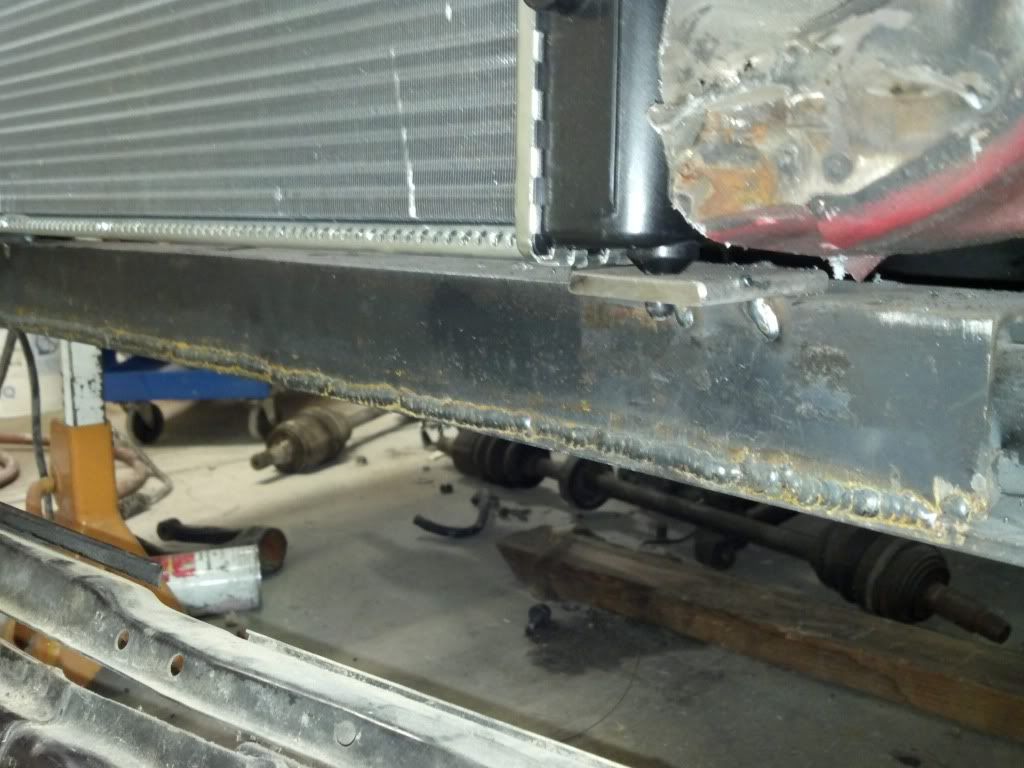 For the mounts, it has just like the stock civic, small little "tits" that protrude from the bottom that you can drill holes into two peices of plate and then tack weld them on to the crossmember to align it where you want it.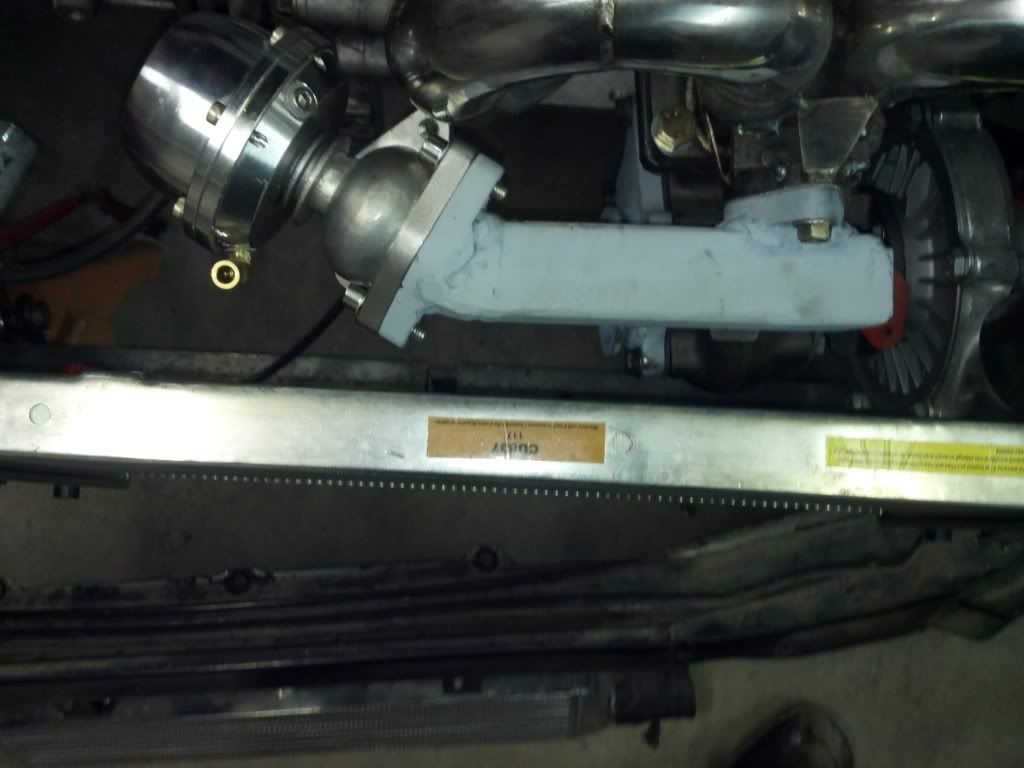 It took very little trimming in order to get it to fit All i actually trimmed was about 1 inch worth of sheetmetal that the condenser bolted to on the sides , most of it had holes in it allready.However i did have to cut the lower front radiator support completely off, there is no possible way i would be able to fit this in without removing it. This isnt a big deal to me since i reinforced my front end twice over allready, however if your turbo and you dont have a whole lot of room and want to keep your car stock as possible, this may be something you will have to think about. You could actually fit in there without any trimming if you were all motor but i have the turbo sticking out in the way, so i had to push it as far forward as i possibly could. I bought an ebay traction bar and put two peices of angle on to it and welded it together since i did not trust the cheesy china grade steel they used. Now i can lift the car up by the front traction bar without worries and i know its strong enough to take shock loading from launches.
However, this does come with disadvantages. You have no filler neck now, so you either need to get an inline filler neck for the top radiator hose (no big deal). Or fill the system from the expansion tank (takes forever to fill since its only a 1/4 nipple). Also the nipple coming off of the radiator is straight, and it goes right next to a flat part of the body. Not a big deal, however it is something to consider and remember if your installing it into the car. Also, there is an extra "bung" that is for the water temp sensor that needs to be blocked off. The hose size that comes out of the radiator are 1 1/4 not 1 1/8 like on our civics, so if you have a b-series in your ef/ed this is great news!, however if you have a d-series this is slightly annoying, since this means the hoses are going to be a bitch to put on. Remember, lube lube lube! This can also be remedied with an inline filler neck that necks down from 1 1/4 to 1 1/8, however this only works on the upper hose.