Hello D-Series, figured it was time to showcase my "build" thread. I'll give you a little background, specs, and pics when I can. I don't have ANY pics from when I first got it, but I will start taking more pics as the progress continues.
First, I need to give a HUGE shout out to Topher, without his help none of this would have happened, nor would I have a car right now. Thanks A TON man :bigok:.
I moved to Alabama roughly 3 weeks ago, I had been looking on CL at cars for over a month trying to find something here worth getting. Topher found a car on CL that had a spun bearing, it was a 92 DX hatch, with some modifications. We set it up to take a look at the car 2 days after I arrived here in this state. Come Saturday we loaded up the trailer, 3 flat tires later I bought the car and we were on the way to his house. The plan when we went to look at this car was to act like we knew nothing about hondas and only buying it because of the shell. I told them how I just needed something with an easy fix and blah blah blah, then the guy trys to say that the only thing wrong with the trans is "it needs a new nylon bushing, because second doesn't stay in" :jerkit: dumbass. It has a pretty straight body, a few little dings here and there, paint is all there, and interior is minty fresh. While looking at the car we noticed a few things that made us want to yell Score, but we kept our cool until we got back to his house. Pulled it in the driveway, started digging right in! Gonna give some specs, the good, the bad, and what i've done so far.
Best part, i only paid $1500 :biggrin:.
The good:

Suspension/Brakes/Wheels:
Skunk2 fully adjustable coilovers all the way around.
Skunk2 Camber kit up front, none (yet) in the back.
Rear disc.
Konig Heliums.
Exterior:
CF Hood.
Ebay clear corners.
All trim/accessory pieces there.
Paint is really clean, no huge dents.
HID's that aren't really blue, just nice and clear.
Interior:
All of it there.
Minty fresh, no rips, tears, or burns.
Dual gauge pod with Sunpro Oil pressure gauge and glowshift boost gauge.
NGK AFX wideband.
Kenwood CD player.
Kenwood Speakers.
Motor setup:
Block:
D16Y7.
Eagle rods.
Vitara STD size pistons.
ARP Rod bolts.
ARP Head studs.
Golden Eagle block guard.
Head:
D16Z6.
Dual valve springs shimmed to high hell! Idk why it's setup like this, I really don't see the point.
Titanium retainers.
What looks to be a 3 angle valve job.
Skunk2 cam.
Skunk2 cam gear.
Turbo Setup/Tuning:
Ebay cast mani.
Ebay 38mm WG/Vibrant dump tube.
2.75" DP to 2.5" piping all the way back to a Vibrant resonator and Ractive muffler.
Garrett 42/48 T3 60 Trim turbo.
Greddy Type S BOV (Real, NOT knockoff).
HUGE FMIC, looks to be Johnny Racecar brand.
Ebay boost controller.
Precision 780cc injectors.
Omni 3 bar map.
BDL Fuel rail.
B&M FPR.
Hondata S300.
That's all I can think of for now.
The Bad:
Spun bearing.
Tires not so great.
Engine bay wiring harness HACKED to HELL!
Gauge/Stereo/Wideband wires/harnesses ran EVERYWHERE and none of them worked/were hooked up right.
Plexi glass passenger side window, apparently it got broken out after they beat Jesse in a race for pinks and Dom wouldn't let him give up the car so they broke the window :jerkit:.
Front bumper all chopped up because the way the idiots ran the charge piping.
Calipers painted red.
Rotors warped/pads non existent on the front, rear is fine.
That's all I can think of for now.
What i've done:
Dropped in a fresh D16Y8 with ARP headstuds courtesy of sir Topher!
Me and Topher spent about 2 hours redoing the ENTIRE engine harness, everything soldered right and made to look new.
Redid all the wiring in the interior and some at the ECU, now everything works as it should.
New rotors/pads up front.
New bumper, modified (not noticeable) to fit charge piping/FMIC/fogs.
"OEM/JDM" style fogs.
Calipers repainted a fresh black.
Swapped Topher the Heliums for some minty fresh EM1 wheels.
Amber corner lights, I fucking HATED those stupid clear ones.
Retuned to accomidate the new setup, getting fine tuned at Go-Autoworks tomorrow.
That's all I can remember for now, i'll update as progress continues.
There is still plenty I have to do so stay tuned as I will update as much as I can.
These are the ONLY two pictures I have of it right now (shitty cell phone), gonna find the camera tonight and start taking more tomorrow while getting tuned
. This is gonna be a slow thread, so don't expect anything spectacular right away LOL.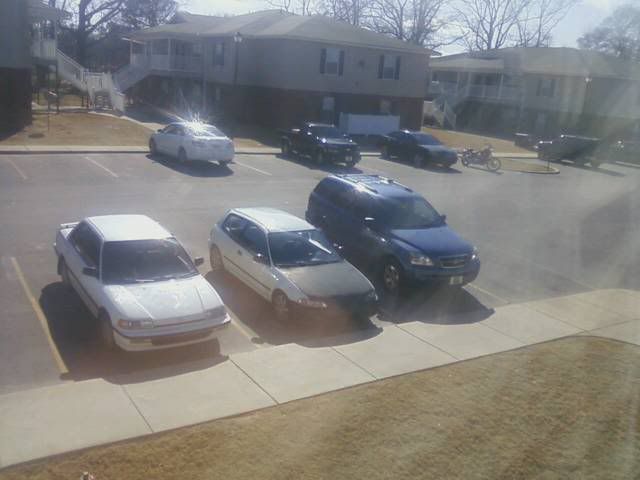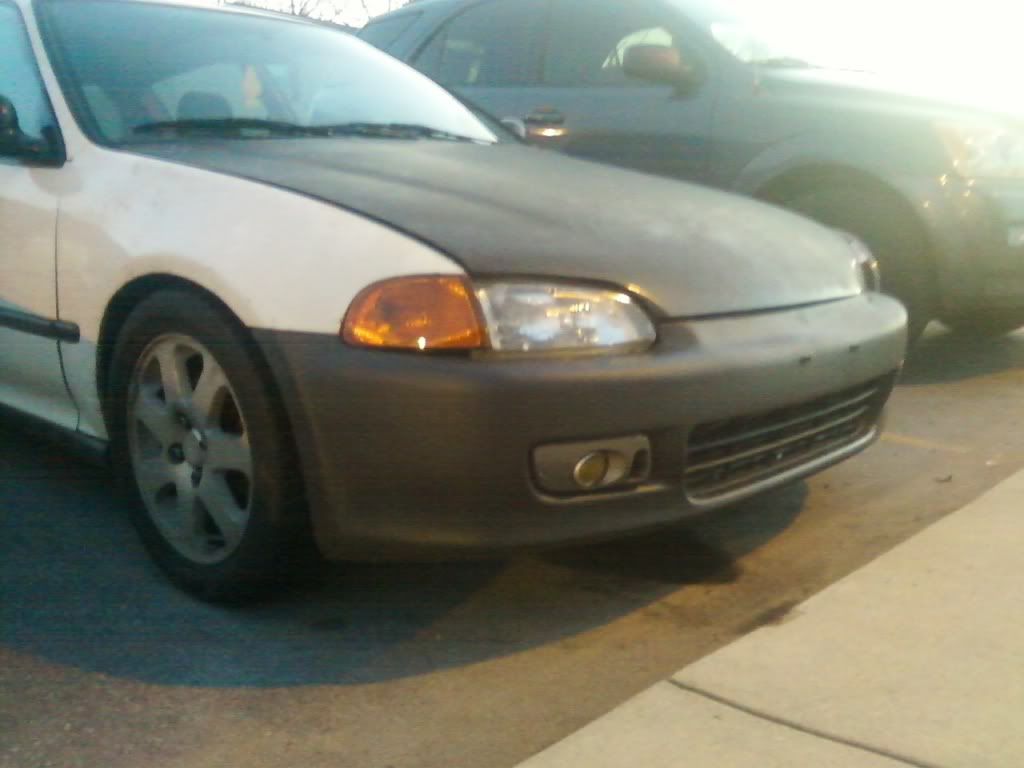 "RIPPER" VID BELOW!
http://www.youtube.com/watch?v=J17eLd9R2so