·
Keepin it real since 1984
Sooo. I Traded my E30... Yea, sure did... I Got Another Honda, well an Acura, lol. I traded my Buddy for his 95 DC integra w/ Very Tasteful mods!
Ls Motor
GSR Trans
170k on the Body
ABOUT 95k on the motor
Skunk2 Coil-overs
After market shocks (not sure which ones yet, havent checkd, lol)
16" Konig Hellums
Brand New Neo Gen Tires all around
Cross Drilled rotors
SS Brake lines
Beaks Lower Tie Bar
DC Header
Stock Intake W/ filter
Exhaust (that needs to come off)
Amber Bumpers
Shaved Door Trim (Welded)
FRESH, and i mean FRESH Paint, i'm talkin 2 months! was red, Is Now CRX Si Black, Yup i picked it out for him... lol they did a Full Color Change - the motor bay! that shits Still RED!!! lol
I'm Prob leavin something out...
Came w/ Sum Extra Parts too:
Extra LS Block (disasemboled)
Extra Good GSR trans
Brand New ARP head Studs
Brand New Eagle Rods w/ arp bolts
Brand New Crower Valves
A lot of em are gonna be up for sale... Don't have money for a Motor build w/ my Newborn.... so it's just gonna be pretty and dependable.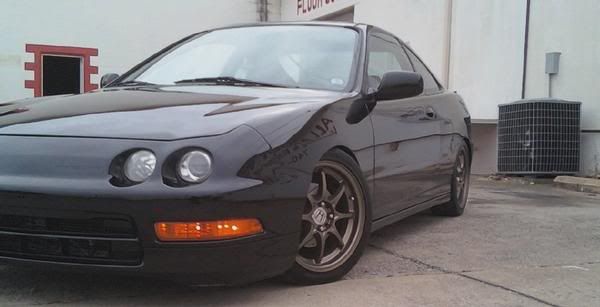 These are the only pics i have right now... I'm gonna clean her up tomorrow and take a couple pics, still no camera, just the camera phone! BUT Better ones soon!