Discussion Starter
•
#1
•
never really posted the end result of the the first swap but i swapped a b18b1 into a base 91 civic hatch i love the torque but i hate everything that it lacks(a/c really lol) not bad for a dd...
went from d15b1(still runnning strong when pulled) -
to a b18b1 -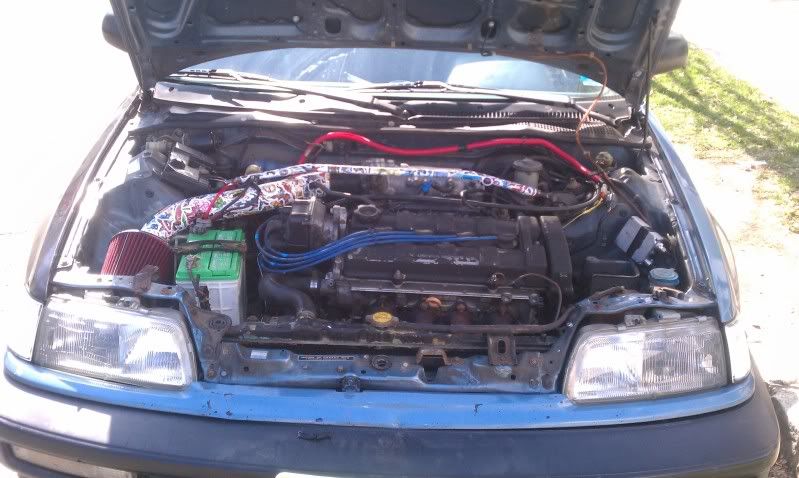 But now for the point of this thread my 1990 crx si
i bought it for $900 runs and drives
pros -
95,000 miles and clean title
mini swap d16a6/y8 head(done with a 4 guages lol)
g/c sleeves with kyb shocks
the mintiest interior i have ever seen no rips no burns.
chipped pm6 or so im told
runs and drives
stock si rims with brand new yokohama advans i believe
cons
p.o. hacked up the cluster wiring and had a bunch of gauges running of the radio
headgasket on its way out
actual speedo gear snapped inside tranny and the housing broke level with the tranny
primed black
dime sized rust hole on passenger side rear wheel well
ebay head lights - but i found factory ones
all in all, not a bad deal, I bought from the seller as soon as i saw it on cl.
WORK SO FAR
so far i have fixed the cluster wiring but need crx cluster pedestals for the cluster hood to sit corrrectly...
i have the head off the block no warpage...
everything is on hold until i can the the speedo out of the tranny idk but i dnt wanna drop and open the tranny to do it...
i want to run the engine obd1 with a p28 and d15b7(?) dizzy, then paint and maybe jrsc in time
If it wasnt for the build threads like danz, darin and many others on this site, i wouldnt know half of what to do
all critism and comments welcome...
the pics