Discussion Starter
•
#1
•
Right been on here a while now with no build up so though i would take the time to get one up. I got the Civic now 3 years ago, at the time i was at college so didn't have a lot of money to do anything other than drive it really, this is how it sat when i got it.
After some chavtastic and simply put awful abuse of the car i got hit with the common EP1 latheshaft bearing fault, and drove the car around for 7 months with it popping out of gear and have gearbox oil leaking out through the bell housing and onto the clutch, meaning that i got fed up pretty quick with it. Got a new box for £400, which was the cheapest that i could find at the time! Another £120 on the clutch, and £200 to fit it (subframe out jobby and wasn't competant enought at the time to try and tackle it!). After this i decided it'd cost me so much just to keep the car that i might as well start modding it. So next on the list was a set of coilovers and a stainless system Manifold and De-Cat back to a 3&1/2" box.
http://i38.photobucket.com/albums/e125/doran123/CBnt7FwWkKGrHqZh4E0E50GkZnBNIdguUIi_12.jpg
http://i38.photobucket.com/albums/e125/doran123/CBnuowEWkKGrHqRhQE0ehGKCUVBNIdhDDSpg_12.jpg
Yes i know Racelands, when money permits they will magically transform to Meisters.
http://i38.photobucket.com/albums/e125/doran123/CBnuEkwmkKGrHqRiQE0HO53knBNIdhQLBGQ_12.jpg
After this i decided that Civic's were shit and slow so i went out and wasted £3k on a 6 Speed 180BHP Golf 1.8T (worst decision so far of my life). Car was good and fun, but constantly was throwing codes and after spending £450 on a cambelt kit, and various other bit's i decided to sell up and start back with the Civic (so glad i didn't sell it.)
Next i bought some Oz Polaris as it looked a lil' bit gash sat on steelies
http://i38.photobucket.com/albums/e125/doran123/SNC12797.jpg
By this point i was really starting to get the bug, and with petrol, insurance and tax prices going up, i decided i wanted to keep with cheap running of the 1.4, but needed it to be a little bit more 'driveable' from day to day, just a little bit more power so you didn't need to abuse it joining motorways etc. So i decided that i am going to use this engine as a practice go at turbo'ing my first car. I figure once i have worked all the niggles and made all the mistakes i'm going to make, i will swap out for a built D17, and hope to push ~300BHP with that. But for now back to the D14
I decided to go for a nice round goal of ~150BHP, i want it to be fast spooling and instant on the boost, for this i would need a relativley small Turbo, this came up cheap on Egay and having been freshly rebuilt i thought for the price of £50 (he listed it in the wrong category so only by pot chance did i find it, and this meant no one else could bid against me) i would give it a go!
http://i38.photobucket.com/albums/e125/doran123/SNC13294.jpg
http://i38.photobucket.com/albums/e125/doran123/SNC13296.jpg
http://i38.photobucket.com/albums/e125/doran123/SNC13297.jpg
Yes it has the dreaded VAG Badges on it But being an OEM spec turbo i expect it to be fairly robust and long lasting (hopefully....) In the last pic on the compressor housing it say's .48 - please someone correct me if i'm being a nob but this is the size of the compressor housing no? (Still learning remember :dunno: ) I have type'd in the turbo number and it comes up with the same figures so i'm going on that it is!
Unfortunatley the turbo does not have the conventional T2/T25/T28 exhaust housing flange, so i drew up some drawings on Autocad and took them down the road from my work to an engineering firm that we use for various bits, he quoted £25 to laser cut each flange, from manifold to turbo, and for the turbo downpipe flange. I was willing to pay this as it was no messing about. 2 months later i still did not have the flanges so took a little trip to see him, to which he cut me 2 of each there and then for free!! (Lazy cunt lost himself £50 for 5 minutes work through laziness/forgetfulness :dunno: ).
http://i38.photobucket.com/albums/e125/doran123/SNC13301.jpg
http://i38.photobucket.com/albums/e125/doran123/SNC13300.jpg
The stud holes are about a mm out here and there but i think i can live with that for a freebie
I also bought a laser cut Standard T25 flange off ebay for £10, i will use this and the flange i had cut to adapt from the T25 on the manifold to the turbo.
Originally i was finding it difficult to find any sort of turbo manifold for the new D-Series engine, i had seen a couple of cheapo ram-styles on ebay but have read the horror stories and decided to steer well clear, then randomly one day i was browsing US Egay and came accross a HKS D17 Cast T25 turbo manifold? Fuckin weird is that then? Perfect for my project and at £120 delivered to my door it was cheaper than the cheapo ones! Got that through the post (no tax ftw), and build quality seemed good; nice and simple design, just what i was looking for.
(Phone pics booyah)
http://i38.photobucket.com/albums/e125/doran123/IMG_0056.jpg
http://i38.photobucket.com/albums/e125/doran123/IMG_0057.jpg
Different head stud pattern and outlet shape than the original D-Series engines.
http://i38.photobucket.com/albums/e125/doran123/IMG_0058.jpg
http://i38.photobucket.com/albums/e125/doran123/IMG_0059.jpg
I decided to go for a 'Oil Sandwich Plate' I had heard mixed reviews about them, the bad ones just seemed to be bad luck or bad set up so i decided one would fit my needs, i got one for Honda engines with 4 outlets. 1 for the turbo oil feed, 1 for a pressure sender, and the remaining 2 for an oil cooler if it is required once i get it all up and running. The one i got is similar to this one:
OIL FILTER SANDWICH SENSOR ADAPTER PLATE HONDA CIVIC | eBay
I had also been mulling over what management to run for a while and had come to the conclusion that it would cost in excess of £1200 to run Kpro, as i would need to source an EP3 ECU to run it on too, which aren't cheap in their own right, so i know it's not ideal, but i'm going to go with the eManage i got my hands on, it came with the Injector, Ignition harnesses' as well as the computer software. My reasoning is that; becuase PurpleCivicTurbo is making me an adjustable 02 Simulator, when running the eManage i can keep the ECU happy and it will not try to fight the adjustments to fuelling and ignition that i will need to make! But we will see how that one pan's out, im sceptical.. Here is a picture that Chris sent me earlier of the unit, very cheap compared to say the buddyclub or mugen ones! I also need to run the Simulator becuase i have a PLX Wideband running from the Post Cat Sensor, so with nothing going to the ECU anymore, it is running mad rich and won't go through emissions!
I've also bought a D16Z6 inlet manifold to replace the crappy plastic that is on the D14 at the momment, i just need to find the time to take it down the road and have the existing throttle body holes welded up so that i can drill and tap for my throttle body.
That's about as far as i've got with the engine side of things so far, i have done some work the exterior over the last week, which included; colour coded handles, wing mirrors and mud flaps; i also debadged and smoothed the rear. I'm really trying not to go for the usual Type R replica, but i decided it was best i modify a Type R spoiler to get on the car, i think it just finishes the back off so it doesn't look so bent over and feeble? Here's some pictures of how it sit's now: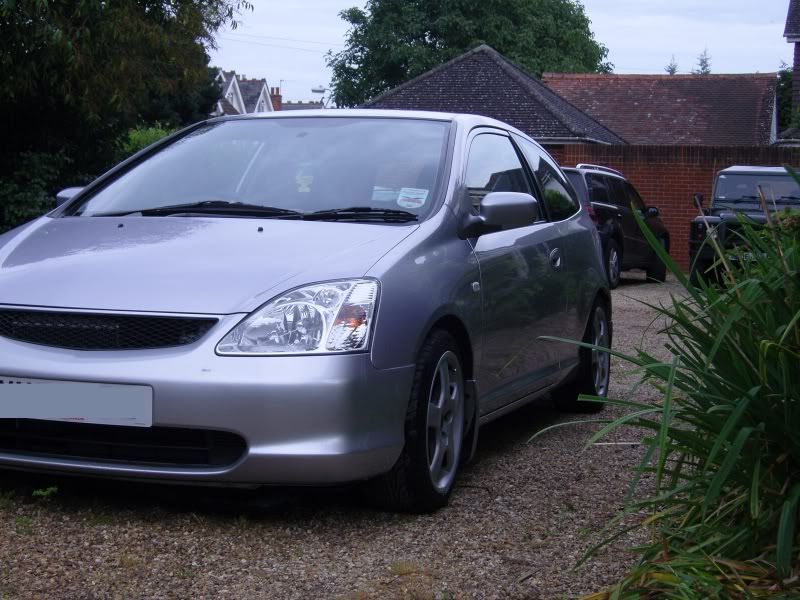 For anyone who's interested, these 'baby shit green' mirror bacing plates i painted with Halfrauds 'Grey Bumper and Plastic Trim Paint', nice one halfords you fucking cunts lol. I'll save re-doing them for another day they don't look too bad, better than faded plastic!
That's all for now, i'll be welding together the manifold to turbo adaptor at some point this week and purchasing the FMIC so i can start mocking up for the pipework!
Also just a little mock up of these, when i have the money in a few weeks, i'll be getting in touch with
[email protected]
for some Maxsports to round them!
http://i38.photobucket.com/albums/e125/doran123/SNC13263.jpg
Major things on the to do list:
Measure up and get some oil feed lines made up.
Take the sump off and weld a fitting in there for the drain off.
Wire up the eManage.
Get a fucking MOT