Discussion Starter
•
#1
•
I cook quite a bit, because it's fun and I love food. However I usually don't think about grabbing the camera ... and I usually don't follow a recipe ... so I haven't really had any material for making a thread ... but this time I thought I'd do both ... sort of. I didn't really follow a recipe ... but I did grab my camera and without further ado I present to you (what will be) dinner for this evening.
On the menu we have:
Sweet and Hot Pork Roast (or pulled pork I haven't quite decided yet).
Cole Slaw
and
Baked Beans
Anyway now what you've all been waiting for ... pics of the process.
(Pics not necessarily in complete order of how the actual process progressed, some of you will notice inconsistencies and give me hell for it I'm sure.)
First a sweet onion and some garlic for the bottom of the crock pot, these will give flavor to the pork and can be used as extra goodies later.
Take this:
Slice the onion and coarsely chop the garlic and line the bottom of the crock pot with them ... thusly:
Then set your pork on top: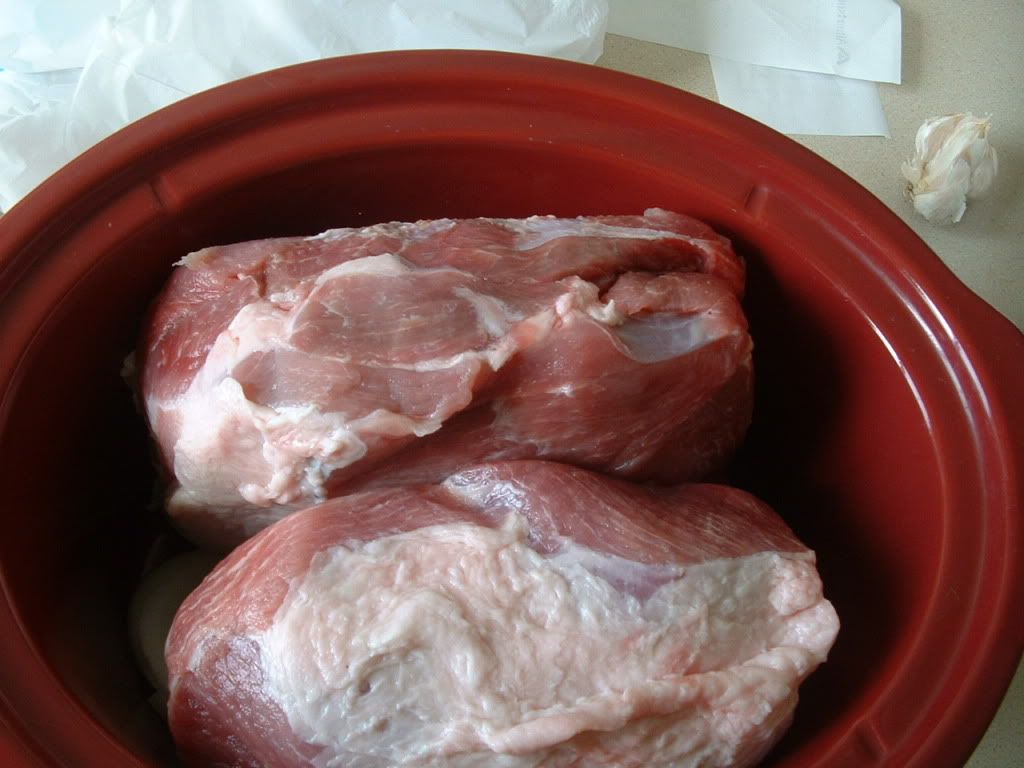 At this point I set about making the coleslaw ... the pork was still a little frozen (I'd taken it out of the freezer a couple days ago and left it in the fridge to thaw out a bit).
The veggies:
I only used half of the red onion because it's massive. Anyway shred the cabbage ... there are a couple of ways to do this.
Cheese grater:
Which would have worked a lot better if I had thought of it before I cut the cabbage up.
Or if you are good with a knife:
Cut the cabbage into half inch slices and then chop as finely as you can. This method worked pretty well.
Next shred the onion, again either of the above methods can be used (warning if you decided to use the cheese grater of the onion ... you WILL make yourself cry). The layers of the onion will flake off a bit and you may have to just chop the last few bits of onion before adding them. Finally you will want to use the cheese grater and shred your carrots into the mix. I only used about three and a half of the carrots pictured, but they were pretty good sized.
You will end up with a mixture that looks something like this.
Now onto the dressing:
To be continued ...