Discussion Starter
·
#1
·
Hey,
Wondering if anyone knows about these Moroso or OBX oil pans having problems for road racing or auto-x with oil starvation? Someone mentioned it to me but haven't been able to confirm or deny this issue. It was mentioned that the baffling system for the Moroso or OBX pans are only for front to back and from these pics it looks like that is the case. Has anyone welded another baffle into their pan to correct this? I'm working on my turbo project for road racing and Auto-x.
Here's both of the pans.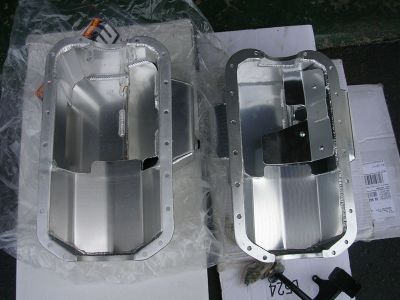 Look what I found on their site.. That's the type of baffling system I really was looking for with this pan. I was also talking to a friend with a supercharged GTS Celica that has a Moroso pan and his looks like the one below.
http://www.moroso.com/catalog/categorydisplay.asp?CatCode=11199 said:

Honda 1.3L & 1.5L, Road Race

Kicked-Out Sump

Aluminum

5.5 Quart Capacity

Fits: Honda 1.3L and 1.5L engines used in stock 1984-87 CRX models without chassis modifications

Fully fabricated all-aluminum construction offers exceptional strength without the added weight and provides several design advantages over stock-core pan

A cluster of four trap-door baffles completely surround the pickup to ensure ample oil supply and oil pressure regardless of hard acceleration, braking, or quick left/right cornering

Special oil control features are critical because the stock pan causes oil to move away from pickup during hard driving

Double kicked-out sump increases capacity to 5.5 quarts, while maintaining stock depth for ample ground clearance

Removable sump tray allows for easy cleaning, cools and de-aerates return oil, and keeps excess oil off of the rotating assembly to prevent horsepower-robbing windage

Includes one-half inch NPT bung at rear for fitting a temperature sender and one-half inch NPT bung at front for plumbing an oil return line for those running turbos (also includes two one-half inch NPT plugs if required)

Includes magnetic drain plug with extra copper washer

Also includes pan mounting kit with hex-drive steel studs to eliminate stripping the engine block and serrated-face flare nuts to withstand vibration

Accommodates stock pan gasket and dipstick with existing oil level marks

Use with stock oil pump and pickup

See Oiling System Equipment for External Oil Pump and Dry Sump Components.

NOTE: Oil Pan Capacities DO NOT Include Oil Filter Capacity.

No. Description/Application

20905 Aluminum, Kicked-Out Sump Pan, Honda 1.3L and 1.5L engines.
Thanks!
--
Rick