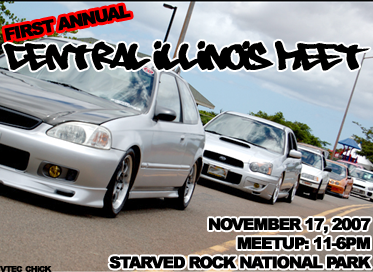 Me and my friend Drew are getting a fall Illinois meet together before it gets to cold outside to do anything
The meet is going to be at the starvedrock state park.
Date: November 17th
The reason for this location is because it is a good central point for all of us to meet from all around, its not far from chicago and its not as bad of a drive for us southern guys
The Map...
http://www.starvedrockstatepark.org
In the parking lot due west of Plum Island, I heard it's got nice parking and a sweet view
Any ideas would be awesome.
Heres a link to the original thread over on JDMC for the latest updates.
http://www.jdmcivic.com/forums/showthread.php?p=896363#post896363
PS- this meet thread is posted on tons of forums and is being planned to be HUUUUUUGE! So please get involved and make plans to be there! Bring all your friends too!
This is the list of members from all the forums this is posted on who are planning on attending this meet.
crxfornow (aka Drew), H-T, JDMC, clubeg6
hatch_wanna_b, everywhere
elementskaytr16, H-T
fst teg 1, H-T
JDM TR Civic, H-T
importdreamer, H-T
pli, H-T
rowdys2000, H-T
Chester Rumble, H-T
gSIr, H-T
chairwitharmrests. H-T
ziggy7, H-T
ilikejesus, H-T
AcuraTilIDie, H-T
crxb18ls, H-T
Nellz, H-T
Dasfinc, H-T
Honda_Fanatic, H-T
PnkRokCountryboy, H-T
Civic Hybrid, H-T
HondaEJ7, H-T
Lro255, H-T
proudtobeawesome, clubeg6 JDMC
RadicalRyan, clubeg6
1slick_eg, clubeg6
VTEC_CHiCK, clubeg6
DR. DOHC, clubeg6
Banner, clubeg6
SQSI, EGHB
20CiviC02Si, ephatch
RedSiBaron, ephatch
jimmyjames, ephatch
Emerica459, ephatch
ep3a2, K20A
Nacthmensch, JDMU
ShadowCrx, JDMU
mx73, JDMU
lsonboost, JDMU
burberry_ek2, JDMU
impreza_GC8, JDMU
b18cEF, JDMU
destructn, JDMC
sokma15, JDMC
Falcon7, JDMC K20A ephatch
BAKER, JDMC
I <3 my honda., JDMC
AkumaMax, T-I
Zarka, T-I
G2Wanderer, T-I
98_gsr, T-I
HYPROPULSION_R, T-I
92whtGSR, T-I
D16A1teg, T-I
91highryda, H-T
jdmblueeg1, JDMC
phantomgrayeg9, JDMC
Red D Garage, JDMC
gunther, JDMC EGHB
Dakota_DSM, JDMC
thorclark, JDMC
EG_ADAM, clubeg6
Specter, JDMU
one6, H-T
hkt03, H-T
pjmotorsports8, H-T
91whiteZCrex, H-T
johnnydanger ("mebee" he says lol), ephatch
CxHatch, ephatch d-series
boosted01, wkyi
ENZONE, H-T
aftershock141, H-T
chet baker, H-T
BrakeDanceJ, H-T
gerry mulligan, d-series
93 red ls, d-series
thats 60+ forum members already and almost all of them have mentioned bringing groups of friends. so even if theres only an average of 1 friend per member, thats still over 100 people attending already. So this is getting massive and we still have a little less than a month to go!!!
Im sorry I didnt get this posted here sooner.
If you are planning on coming up for it, please say so and I will get you added to the list!