Discussion Starter
·
#1
·
Before we begin, I know the projectors are already in. My passenger side headlight was building up condensation inside so I had to pull them apart to re-seal them. I figured while they were apart, I would write a quick and easy How To!
This How To is for the Mini H1 4.0 projectors off theretrofitsource.com. They are now called the Mini H1 4.1. I don't know what the difference is. I think you can get a different shroud or something. Regardless, the install should be the same.
-----------------------------------------------------------------------
Tools needed (may vary depending on your car and what screws/bolts are being used to hold the car together):
- Conventional Oven
- Flathead screwdriver (variety of sizes)
- Philips screwdriver (variety of sizes)
- 10mm socket with extension and socket wrench
- Flat surface with sufficient space to work on
I didn't include pictures for EVERY step. Some are self-explanatory. The pictures are click-able thumbnails.
-----------------------------------------------------------------------
Step 1:
Begin by parking on a flat surface with a flat wall ahead of you (this will come in handy later).
Step 2:
Remove your front bumper and upper grill.
Step 3:
Remove your headlights.
(I only removed my passenger one since that's the one that needed to be worked on):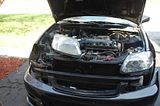 Step 4:
Set your oven to 225 and wait until it's ready (you can also do this while you're taking your car apart if you've done it before and can do it quickly).
Step 5:
Remove everything you can off of the headlight and then put it in the oven for 10 minutes.
Step 6:
CAUTION: THE HEADLIGHT WILL BE HOT. USE HOT PADS, GLOVES, ETC.
Once 10 minutes are up, pull the headlight out and onto your flat work surface. Take a smaller flathead screwdriver and start to pry open the headlight. Don't worry if you break the little tabs that help hold them together. It happens. The sealant does most of the work anyways. Pry the tabs up and off from the headlight cover and then pull the cover and back part away from each other.
This would also be a good time to put in your other headlight! Just don't forget about it!
You should have this when done: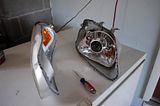 Step 7:
Once you have your headlight apart, take your 10mm socket and extension and a phillips head screwdriver and remove the 2x 10mm bolts and turn the far left one (adjuster) until the front reflector pops off. You may have to pull on the reflector cone while you turn the adjuster.
TAKE NOTE OF HOW FAR EACH BOLT GOES INTO EACH HOLE!!!!
When you go to put them back together later, you'll want to put them in around the same distance.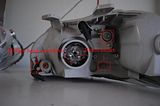 You should have the following when you're done:
Step 8:
Take a phillips head screwdriver and remove the screw that holds on the halogen reflector.
(It's the bottom empty hole in the pic below)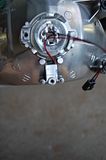 When you're all done: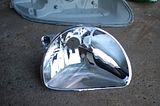 Step 9:
Now take out your projectors from the packaging and screw in the shrouds with the 4 long screws provided. Take your time doing it and put them in straight.
Step 10:
Now look at the back of the projector. Remove the big nut and the 3 tiny screws with a phillips head CAREFULLY. You have to apply pressure as you turn otherwise you'll ruin them. They're annoying to put in / take out. Be careful where you set the screws because they are small! Take off the little tab the screws hold on and set that aside with the nut and screws.
When you're done: