ive been around this site for about a year and a half now and have made a several threads about my build (it is my first build btw!),
but never a complete one as they were scattered over that time. so ill use this to update things as they are progressing.
CONDENSED MOD LIST updated May 30/10
Engine
D16Z6 rebuilt
9:1 SRP pistons
eagle h-beams
ARP headstuds
stock head
Innovative motor mounts
Turbo Kit
T3/T4 50trim .63/.60
Go-Autoworks Log mani
Go-Autoworks 2.5" charge pipes
Go-Autoworks 2.5" downpipe and open dump
Greddy Type RS BOV
Tial 38mm WG
stealthmode oil line kit
RC550 injectors
FMIC 27x6.5
Omni 4bar map sensor
Hondata s300 in a P28, hooked up with a rywire OBD-0 to OBD-1 harness
AEM A/F guage
Autometer Phantom II boost and oil gauges
Transmission
stock si cable
ES shifter bushings
Action 2KS kevlar clutch and pp
stock flywheel
Suspension
Skunk2 ProS full coilovers
Innovative traction bar
Front ES bushings in the LCA's
Converted back to a manual steering rack
Exterior
Vis ZC Carbon hood
amber corner and bumper lights
99/00 si/sir wheels wrapped in falken azenis 205/50/15
OEM si lip
JDM rear spoiler
Interior
JDM DC2R steering wheel
JDM DC2 shift boot
Skunk2 billet knob
i originally picked up a beat up 90Si hatch in june 06 and drove it up until april 07, at which point i found another minty, essentially
much rust free 90Si hatch instead, so heres what she looked like when i picked her up.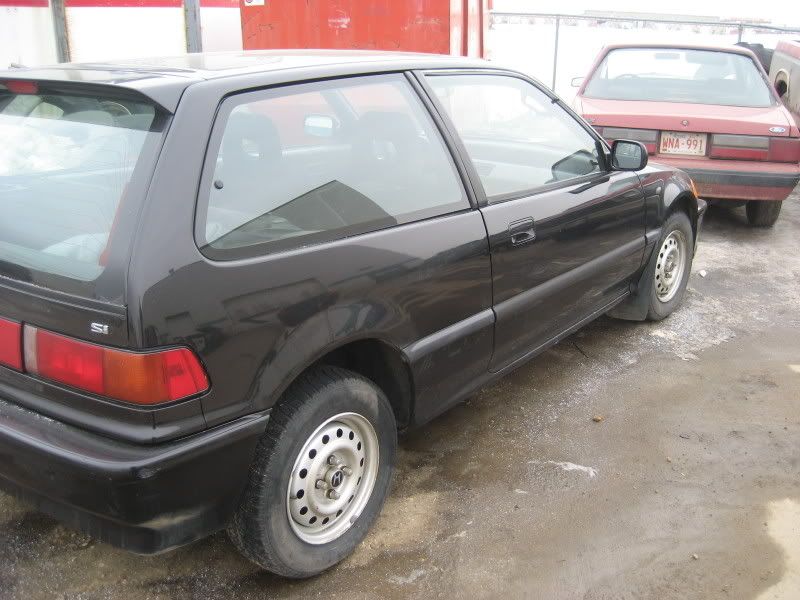 Nasty ass wheel gap!
Interior
Sensitive content, not recommended for those under 18
Show Content