I posted this up on H-T because they got a pretty solid fab section over there but i figured id post this up here too to see what you guys have to say!
okay so in a few weeks im going to tackle making my own manifold from scratch and going to need to fab of a new downpipe.
Heres my plan to make the manifold, still going to tweak it a bit but this is pretty much how i want it to look.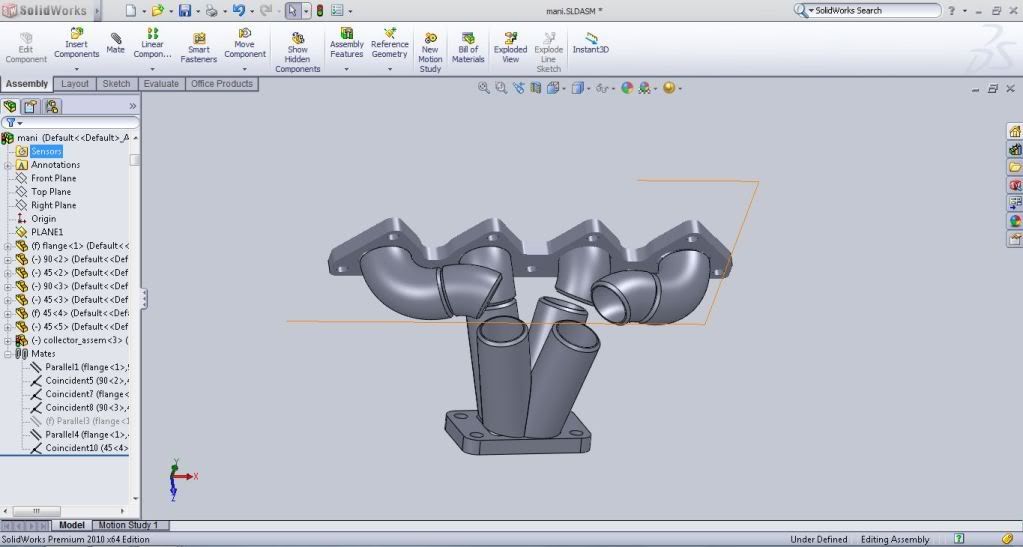 (just need to add in 90*'s instead of 45*'s on the ends there and i didnt feel like going back and altering the collector angles, but you get the idea. i just wanted to make this to figure out how many bends i wanted to order.)
Me and my dad run a waterjet cutting business so i make my own head flanges, and turbo flanges. right now i have a few laying around in 304ss but im consider doing it in mild and just ceramic coating it. it would deffinitly help with the cost of materials since im a broke college student lol.
Before you tell me not to try this with my p.o.s. lincoln AC tombstone, im kind of determined to do this all myself. I have welded a bit of stuff with this bad boy already, a few test pipes, and cracked ebay mani runners/ dp cracks, and can make it work as long as i dont blow a bunch of effin holes in it... hence the reason im just gonna use sch40 on this mani. I have access to a guy who tig welds at the shop next to me but its hard to catch him with time to do me favors and whatnot; so like i said, i would way prefer to say "yeah, i made that" even if it does look like shyt lol.
so i have a bunch of 1/8 316ss rod to use, but im thinking if i do it in mild it would be way easier to weld with some 6013 3/32". Oh and btw im going with a small runner design, i have about 4' of sch40 1-1/4" 304ss in my garage and still need to order up some bends for the manifold. ill probably just end up using my stainless for the collector and do the rest in mild?
As for the downpipe, as far as SMAW welding goes, should i go with 16ga mild steel bends from columbia-river? 14ga a better bet?
Let me know what you think, any input is appreciated. :scared: