Discussion Starter
•
#1
•
Exospeed Racing Designs: 3 Piece Racing Front End
​
** 100% Designed and Manufactured in the USA **
Now Available for: 92-95 Civic Coupe and Hatchback / EK 99-00 Civic Coupe/HB / 99-00 Integra, 88-91 CRX
Coming Soon: SRT-4
We're excited to introduce the Exospeed Racing Designs 3 piece front end for the 92-95 Civic Coupe/HB, 99-00 Civic Coupe/HB, 88-91 CRX and 98-00 Integra. It's made out of a durable, high quality, thick fiberglass material. The 3 piece front end consists of a front bumper that has been redesigned and extended about 1.5" to clear 4.5" thick intercoolers. The front opening shroud can also be trimmed to fit depending on how thick and how far you have your intercooler extended forward.
The fenders extend to clear 24.5", 25", and 26" tall drag racing slicks. The fenders are designed to clear 9" wide tires on the common 13x7.5, 13x8, or 15x8 wide wheels with 5" backspace. 26" tall slicks will also clear depending on the wheel backspace and width. Extreme rim width and backspace such as 15x10 with 4" backspace may have clearance issues, but the fenders can be modified on the lip to help clear wider tire/wheel setups.
Another feature we have on the fenders is the smooth transition to the OEM sideskirts. A recessed area allows the OEM side moldings to be mounted to match the existing OEM side moldings on the door and rear quarter panel.
92-95 Civic Coupe/Hatchback: MSRP $880 Your Price $745.00
99-00 Civic Coupe/Hatchback: MSRP $880 Your Price $745.00
98-00 Integra MSRP $950 Your Price $785.00
88-91 CRX MSRP $890 Your Price $755
92-95 Civic *Open* front end
92-95 Civic *Closed* front end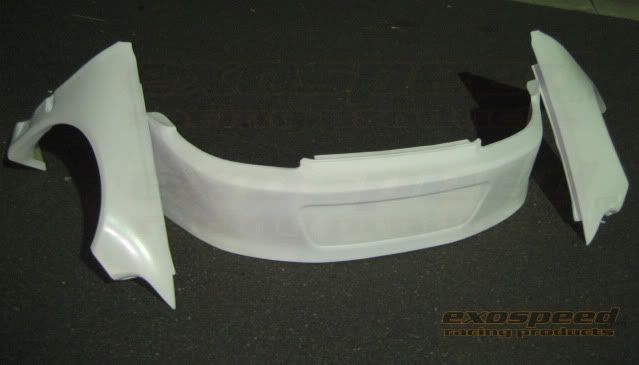 99-00 Civic HB/Coupe Front bumper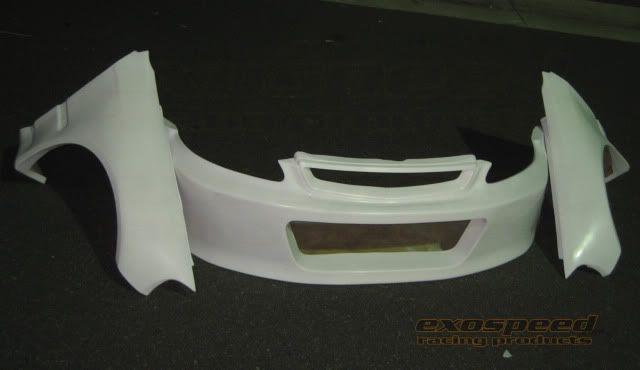 98-00 Integra Closed Front End
98-00 Integra Open Front End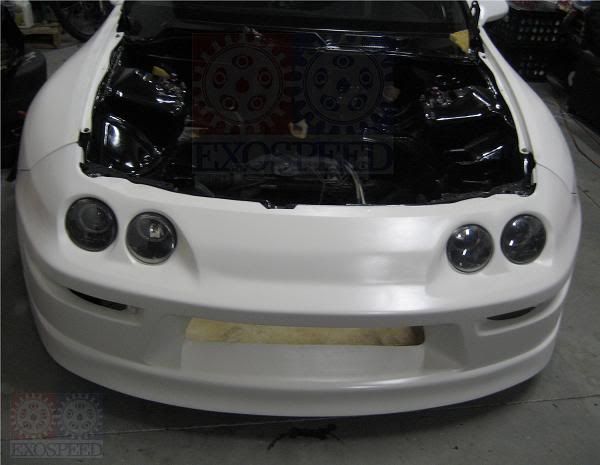 88-91 CRX Open Front End *Closed will also be available *
- Prototype pic shown -
FAQ:
1. How will this mount compared to the stock bumpers and fenders?
* The fenders still retain the stock tab locations which you have to drill before putting on the kit. The fender will bolt down with the OEM 10mm bolts.
* The front bumper also retains the stock tab locations on the top where it bolts on the radiator support. You will also need to drill holes where the fender and bumper meet. We recommend a washer, bolt and wingnut to keep them together and in place. This also makes it easy to unbolt and take off the bumper.
2. What is the weight of the 3 piece kit?
* The EG Bumper is about 14.2lbs. The EG Fenders are about 3.6lbs.
3. Will a carbon fiber version be available?
* Carbon Fiber is available as a custom order. We will need FULL payment and takes 2-3 weeks to manufacture. Contact for CF and Kevlar pricing.
4. How is the kit shipped? UPS? FedEx?
* Due to the size of the box we ship it in, it has to be shipped by Freight. We work with several freight companies and will get you the best price possible.
* We can also ship internationally.
5. What tire size will it clear?
* The kit was fitted with 24.5x9x13 MT, 25x8.7x13, 26x8.5x13 and 26x9x15 tires. They fit under the fenders. These were using 8" wide rims with 5" backspace. The only time that there maybe a clearance issue is if you're using a 10" wide rim with a low backspace. A 4" backspace will stick out the fender for sure. 5" backspace on a 10" wide rim, will require trimming of the inside fender lip. Any aggressive/extreme rim backspace setup may not be able to "dump" the car lower.
Shipping: By Freight, $180-240.00 (48 Continental US States)
Each freight box can fit up to 2 kits. Get your friends to order together and save!
Upcoming 3 piece front end applications:
Dodge SRT-4
Other applications and designs also in the works.
[email protected]
or 661-775-1963 M-F 10am-5pm PST
Exospeed Racing Products / Exospeed Racing Designs
Valencia, CA