Emusa Ebay Turbo Kit Review UPDATED QUARTER MILE ET
Quarter mile times are at the bottom of this post. I'm hoping this will help people who are deciding on an eBay turbo kit. Please, if you want to make fun of me go ahead but this thread is intended for information on this kit only.
In case anyone wanted to see how the car looks like: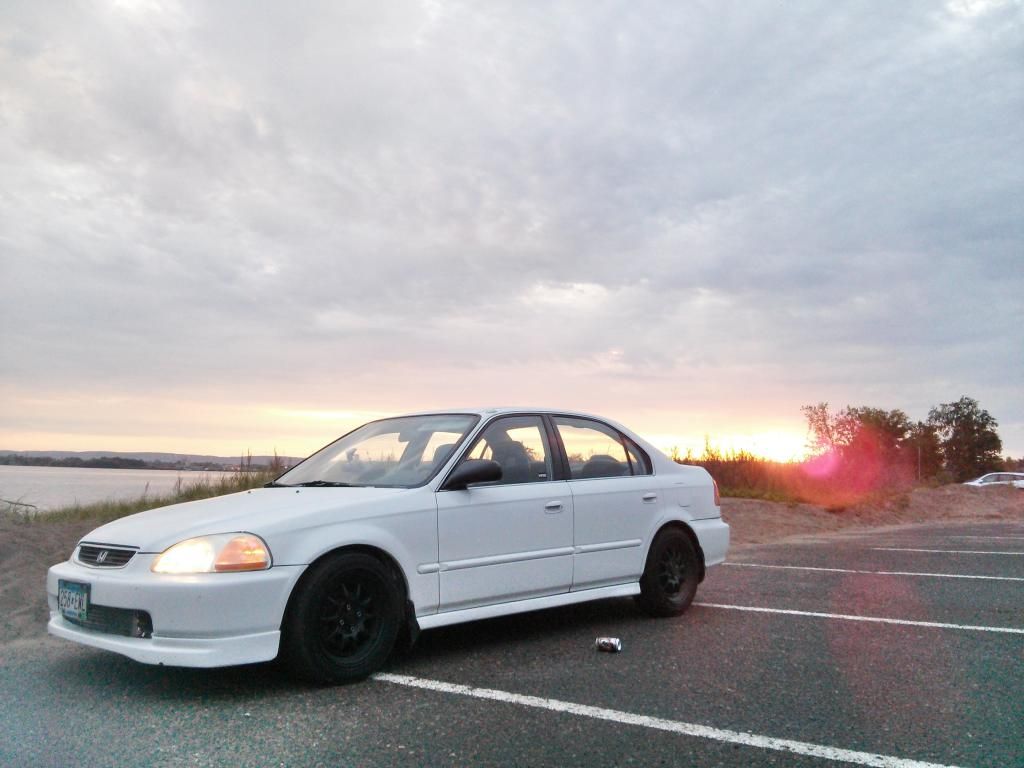 Here is my review on the EMUSA ebay turbo kit.
100% Brand New,High Quality, Never Used or Installed
Color randomly selected
Turbo Charger T3/T4
Turbo Efficient to 450hp
3" Inlet and 2" Outlet
Oil Inlet: M10X1.25
T3 Flagne
Compressor .50A/R
Compressor Wheel: EXD 3"; IND 1.99"
Turbine 0.63 A/R
Turbine Wheel: EXD 2.2"; IND 2.56"
5 Bolt Stand Hot Side
Intercooler
Oversize 27.5"X7"X2.5"
Coresize 21"X7"X2.25"
Inlet 2.5"
Outlet 2.5"
Intercooler Piping Kits
2.25" Alumnium Prenbent Mandrel Bends Piping
Comes with High Pressure Silicone Hoses and T-blot clamps
Cast Iron Turbo Manifold
T3 flange
35mm or 38mm wastegate flange
Downpipe
Fuel Regulator

Blow off Valve, RS Type
Emusa 38mm Wastegate
Boost Controller
Oil Catch Tank
Universal Oil Feed kit,36" Steel Braided Line
Universal Oil Return Kit AN-10 20 Inch
Exactly Same as the Picture Above,comes with Gasket
Professional Installer Is Highly Recommend(No Instruction Included)
Car that turbo kit went in is a 97 Honda Civic LX (4 door) manual transmission. Car was completely stock. 193,000 miles on engine. I did not do any tests/repairs before turbocharging. I felt the engine was in really great shape.
This car was not going to be dyno tuned. I bought all parts to be able to street tune the car.
ALL parts that I bought to complete the turbo charging process:
-emusa turbo kit ($569)
-p06 chipped ecu ($145)
-moates data logger ($35)
-moates ostrich 2.0 emulator ($175)
-obd2a to obd1 ecu harness ($25)
-Crome Pro ($150)
-AEM uego wideband ($170)
-2.5" full catback exhaust ($110)
-oside tiger 500cc injectors ($170). For my application, I felt this was enough.
-3" air filter ($12)
-3" 45 degree bend stainless steel tube (free at junkyard). Turbo kit does not come with an intake tube so I needed this.
-38mm wastegate dump tube ($30). Turbo kit does not come with one.
-t3/t4 turbo flange spacer .5 inch. ($15). Downpipe that comes with turbo will not clear the oil pan. It needed a half inch spacer.
-ARP Head Studs ($115)
-Fel PRO MLS head gasket ($30)
-Boost gauge ($20)
-4 Adjustable gauge pod holders ($15). I only used two. One for Wideband and one for Boost gauge.
-D16Y8 Intake Manifold ($20). I wanted a better flowing intake manifold. Got it at the junkyard.
-NGK bk7re spark plugs gapped at .025 ($10)
-NAPA 3 feet radiator hose 2.5" ($50)
-Walbro 255 LPH fuel pump (Free). Had one laying around from a long time ago.
-DIY Boost controller ($20)
TOTAL: $
1806.00
Complications that I ran into while installing turbo kit:

Oil Feed Line:
The oil feed like that came with the turbo kit did not clear the manifold. I had to go to the hardware store and buy miscellaneous fittings to make a 90 degree elbow at the oil feed to turbo housing. The one that came with the turbo kit went straight and was hitting the turbo manifold. A 90 degree elbow fitting was JB welded in place to go under the turbo manifold.
Downpipe:
The downpipe that came with the turbo kit will not clear the oil pan. I bought a half inch t3/t4 flange spacer. This gave me enough room to let the downpipe clear the oil pan.
A/C Compressor:
Per the manufacturer, this kit is suppose to alow space for the ac compressor. It does NOT. The downpipe will not clear the compressor. I removed the AC system.
Intercooler:
The intercooler piping will need to be cut. I have shorting about a whole foot off the tubes total for a good fit. The silicone couplers that came with will not be enough since piping was cut. I had to buy some radiator hose from NAPA to use as couplers.
Air Temperature Sensor:
There will not be any bungs on the intercooler pipes for your Air temp sensor. Cut a hole and JB weld it on or make a flange.
Oil drain line:
The bung that came with the kit is Aluminum. The oil pan is steel. No shop around my area was willing to weld aluminum to steel. I had to JB weld the bung on. Oil does not get too hot so JB weld will work fine.
Boost Controller:
The boost conttroller that came with the turbo kit did not work for me. I couldnt get it to work so I made my own boost controller from parts I bought at ACE Hardware. Works great.
Downpipe Bolts:
The way the downpipe was welded on, one of the bolts will not clear. I am currently running 4 out of the 5 bolts. I will need to look for a stud and a nut.
Besides the issues mentioned above, the installation went well.
I have the car street tuned at 11 psi. Running smooth at 11.8 Air fuel ratio. Hitting full boost at 4600 rpm.
video of driving around

https://www.youtube.com/watch?v=1bdhQPYjq_w
UPDATED
:
Went to the track today on July 13th.
Ran three times. Best time was 14.9 @ 99 mph with a 2.7 60 ft. First run was 16.1 @ 95 with 2.8 60 ft and third run was 15.5 @ 97 with 2.7 60 ft. I had issues all three runs. I could not get any traction at all. No traction 1st gear and clutch slipped all the way through second and third.I feathered the gas pedal a lot. OEM Clutch is now burnt out. Will return to the track after aftermarket clutch install and slicks and my time should improve. JB weld is holding on strong for those who wonders. Ran with full interior, spare tire, and my toolbox.