Hello everyone,
I'm in a posting mood so I figured I would share what I had to do to correctly install these m***** f*****'s in case anyone else is curious about changing to these.
Spoiler alert: If your valve cover bolts are still in good condition, LEAVE HERE AND STOP READING! Keep using your stock valve cover bolts please!!! It's not worth the hassle to do this I promise!!
Here's what I bought:
https://www.ebay.com/itm/J2-ALUMINUM-ENGINE-VALVE-COVER-WASHER-METAL-BOLT-KIT-92-00-D15-D16-EM-EG-EK-BLK/400609899847?ssPageName=STRK:MEBIDX:IT&_trksid=p2057872.m2749.l2649
These things:
The whole reason for buying these stemmed from trying to find new replacement bolts. The original ones were stupid rusted, and there was no way I was going to reuse them. This D16Y8 came out of a Canadian vehicle, so road salt had it's way with all the engine fasteners (almost all the rest of the engine fasteners have been replaced with new stainless hardware, VC bolts were one of the few things left during this part of the build).
When I searched "D16Y8 valve cover bolts" in Google and eBay, I saw some used offerings. I couldn't understand why these things were going for $25 for the set, in about as rusted condition as my original ones were!
I couldn't see paying $25 for these bolts, so I went on a Honda parts website. It was at that time I understood why these used ones were $25 bucks.... 9 dollars per bolt?! Really Honda?! Head bolts are only $2 more, of which ARP's are honestly a much better value in comparison! Son of a b****! Well, do I suck it up and throw down for the new ones OR chance it and buy some of these eBay valve cover washer/spacer things? I chanced it
When I bought them, they were even more on sale than they are right now (only on eBay i swear lol). I paid $7.50 for the kit.
I opened it up, and found the aluminum washers to be decent pieces that appeared to be cut from a billet. The hardware in the eBay picture is false, you get even crappier hex head bolts than what is shown. The hex appeared to be hot punched and slightly off center, which guaranteed a 99.9% chance of stripping out the first time you apply torque to it: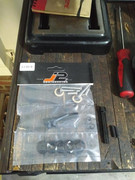 About the time I didn't think it could get much worse, it happened. What was shown on the eBay posting picture as like a red (maybe plastic or copper) sealing washer, I received f****** punched out cardboard circles. I would have been less shocked if it was like actual gasket paper or something, but my box of f****** Corn Pops is made of better cardboard than these damn things: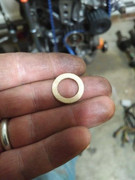 The rest of the hardware appeared to be somewhat decent, the short M6x1.0 threaded rod and the aluminum stand pieces seemed alright: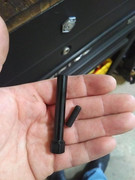 I started test fitting everything, seeing how it should fit together best. I found that the short threaded rods when threaded all the way into the head barely left enough sticking up for the aluminum to safely thread against. Threading them into the aluminum pieces also revealed that the aluminum pieces were threaded about half way up the tube, so the threaded rod almost disappeared: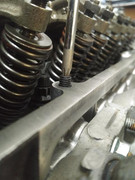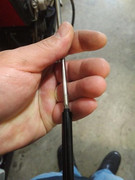 The only good news was that the 3x front washer pieces with the three longer screws in the kit worked very well, plenty of thread going into the cylinder head aluminum and proper fitment/alignment with the valve cover.
If you are curious about the 5 little black orings that come in the kit, throw them away now. They were a last attempt as a way to seal things, and will cause leaks/fastener torque issues if used as intended (they seem to be intended to be crushed between the screw heads and the aluminum washers, not a good way of doing things!). I have a much better way of sealing things, keep reading. Just seriously throw them away now, or put them away for use as spare orings on something else. Do NOT use them with this kit!!
I test threaded the aluminum stand pipes loosely for fitting purposes, and found that the hex parts of the stand pipes hit the valve cover and did not allow the stand pipe bolt hole to properly line up with the valve cover bolt hole. Enough rambling, the following is a picture show illustrating everything I did to make it work properly and upgrade the necessary components to guarantee function.