The big question why?
I'm helping out my son turbo's his 94 Hatch. He's working part time and has been saving up for a turbo kit. So he's on a major budget like most of you.
The kit
http://cgi.ebay.com/ebaymotors/D-Se...025QQitemZ380030610342QQrdZ1QQsspagenameZWDVW
One of the first things I like to do before I touch a car is to do a compression and leak-down test. This gives me the vitals of the engine and establishes a base line.
Compression/leak down test is as follows.
#1 cylinder 185psi with a 3% leak-down
#2 cylinder 182psi with a 5% leak-down
#3 cylinder 185psi with a 3% leak-down
#4 cylinder 187psi with a 2% leak-down
So the engine looks like its in good shape. Time to put some boost to it.
The first thing I told him is to have some realistic goal's that can be set in stages. This is by far one of the most important issues when building a project car. You need to ask yourself how fast you want to go and how much can you spend to get there.
So here are the goals we set.
#1 Run a 14.9 or quicker using the stock D15 engine at 8psi max.
(cost $1295.00)
#2 Run a 14.5 or quicker using the stock D15 with ARP head studs at 12psi max.
(cost $1420.00)
#3 Run a 13.5 or quicker using our stock D16 with ARP head studs at 14psi max.
(cost $1870.00)
#4 Run a 12.99 or quicker using our stock D16 with ARP head studs at 20psi max.
(cost $1870.00)
Cost sheet.
#1 turbo kit $830.00
#2 used ACT clutch and p/p $50.00
#3 ARP head studs $125.00
#5 misc. $100.00
#6 D16 engine $400.00 (for goal 3 & 4)
#7 injector service $60.00
#8 moates ostrich 2.0 $185.00
#9 chipped P28 ecu $120.00
Free items
#1 Walbro 255, came with the car
#2 CROME
#3 three inch exhaust system
#4 dsm 450cc/min injectors, my old stock ones off my Talon
I will show the progress starting on it this week.
I'm going to break it down into sections.
#1 Pre check the parts before there installed for fitment and quality of design. If there is anything that doesn't look right it will be change before it gets installed.
#2 Turbo kit installation. This will be the true test to see if all the parts fit, if they don't we will address them at that point.
#3 Initial tune. This is where we will be very conservative as far as timing and fuel values. The biggest thing at this point is to make the car act like its N/A and drive like its totally stock.
#4 Low boost tuning. I have a few tricks I'll show on how to make the car accelerate through the transition of vacuum to positive pressure.
#5 High boost tuning. This makes or breaks it. I'll save this one for later. lol
Started the ebay turbo kit install today.
Before tear down.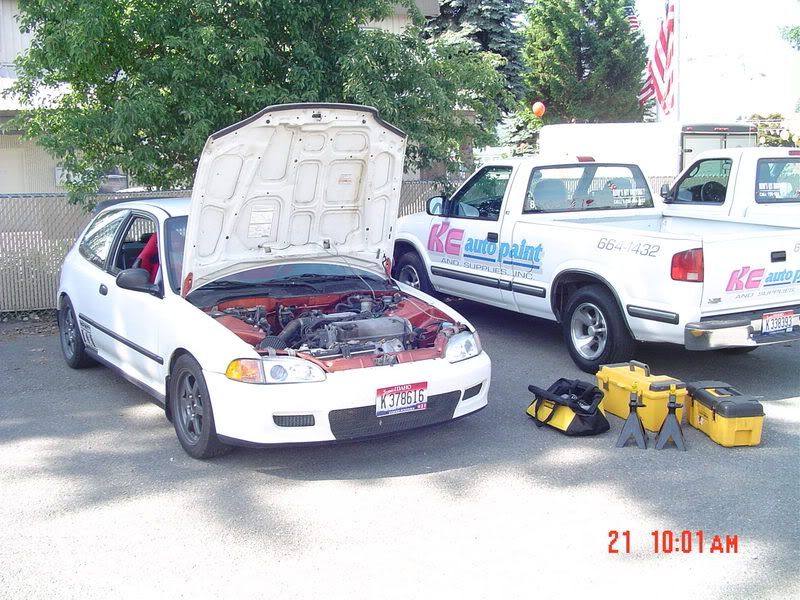 Mock up.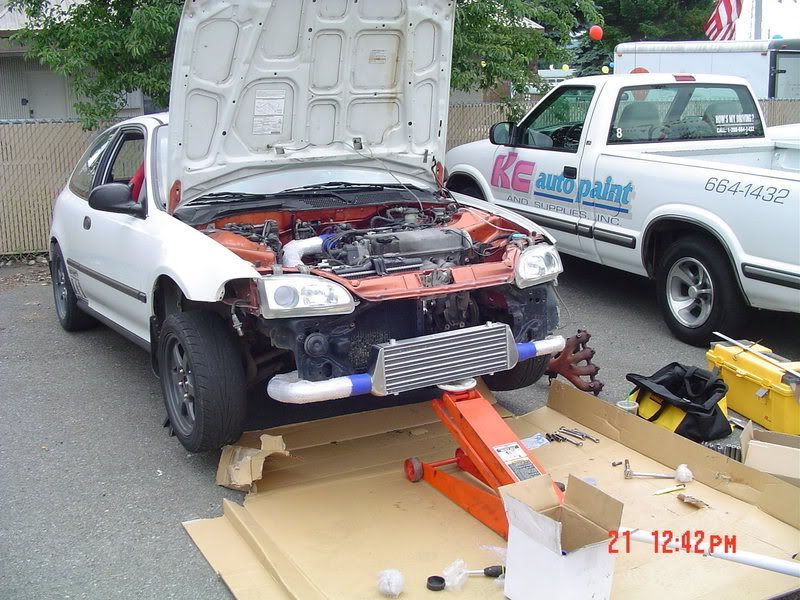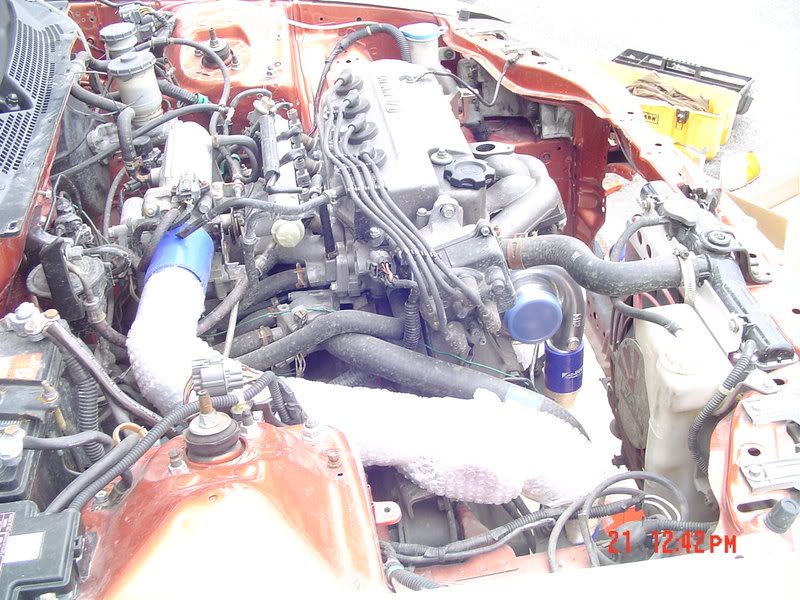 Everything went great up to the down pipe and the lack of turbo to turbo manifold bolts.
The down pipe need's to drop down about two inches before routing under the car.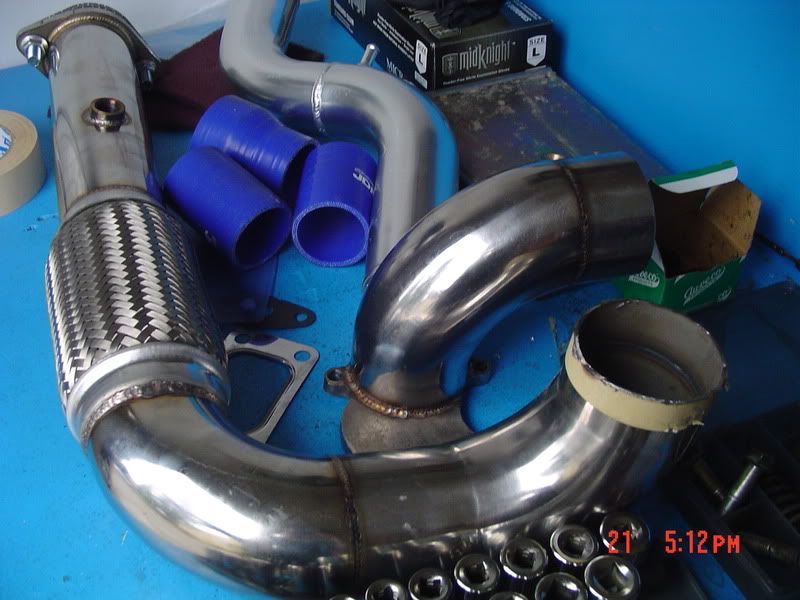 The turbo five bolt flange was all f upped. The Chinese need to measure twice and drill once.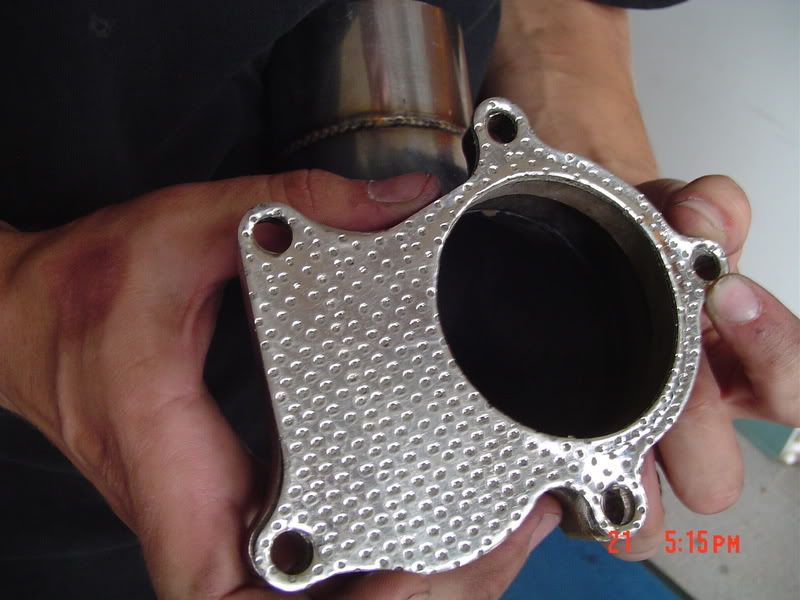 The turbo oil inlet and outlet flange to the turbo wasn't drilled right so I we to hog them out a bit.
Then we had to wrap it up because a storm was moving in.