keep in mind i have 0 experience in body work
Got the car this way so I didn't have to remove the moldings, in doing research it was said it easy to remove them if you remove the inside door panel and undo the clips from the inside…
Next I took the paint off you'll need to it to show bare metal in order for the filler to stick to the metal , I used a 3M paint remover pad on a drill bit to take it off (Note** Make sure you don't just get inside but along the edges too to make sure it has something to stick to**) I wiped it down with a wet rag after to make sure I had a clean work surface paint and dust free
Next I cut down a piece of metal grate drywall patch (the sticky kind) into small rectangles just big enough to completely cover the holes where the door molding clips held it in , and mixed some of the fiberglass filler ( note to first time users ** I was surprised how fast the mix dried and got hard, so mix a little at a time or you'll find youre self wasting most of it** ** most bondo comes with a cream hardener , I went a lil crazy at first, later realizing you don't have to use much , make a thin line about half the size of the glob you have and be sure not to stir in a circular motion but just mash it back n forth, I realized stiring it in a circular motion makes air pockets which leave small holes that have to be refilled**) I used 2 fingers 1. to hold the drywall patch and the other to smooth the bondo over the patch , lay it on there thick to make sure you've completely filled the hole ( note** if you wait a min or so after mixing it it gets thicker and is much easier to get it to stay were you put it , it might even be a good idea to work on the door taken off and put on a flat surface ,although I didn't **) here's a picture of what it looked like after it had dried.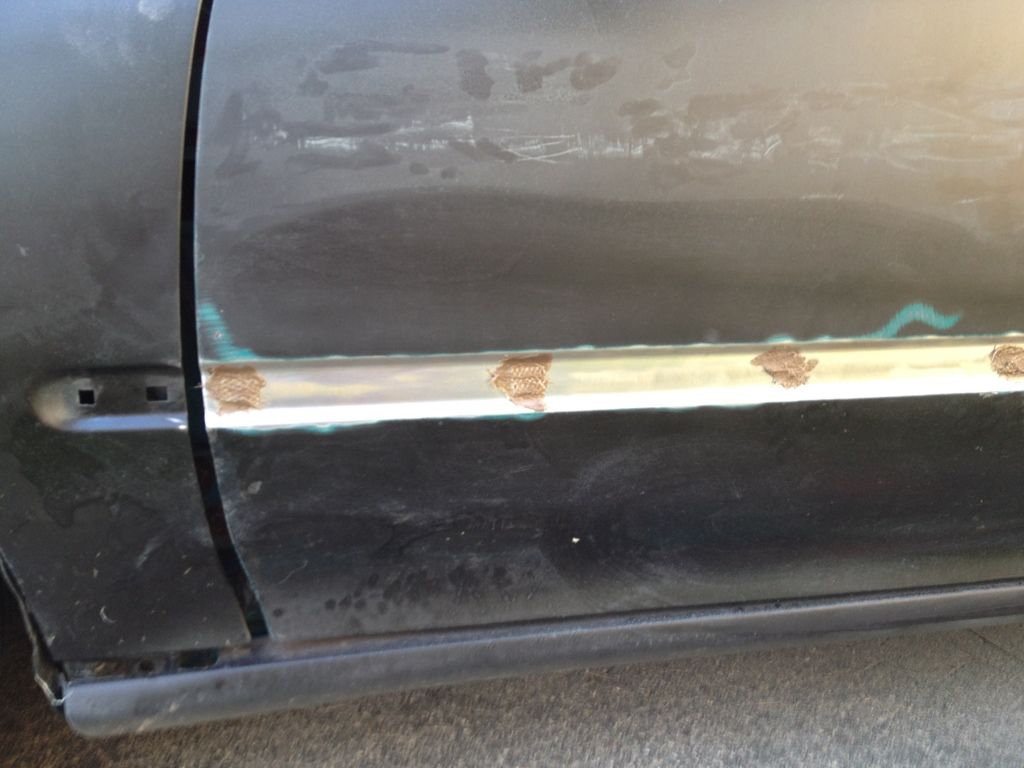 Next I took back out the 3m paint remover and drill and lightly went over where I had applied the fiberglass until the outside of the drywall patch was exposed, it might take a few tries to get to where it can be peeled off, just go a little at a time and be gentle , worst thing that can happen is you have to redo it , which only takes a minute or 2 , heres a shot of what it looked like after peeling one off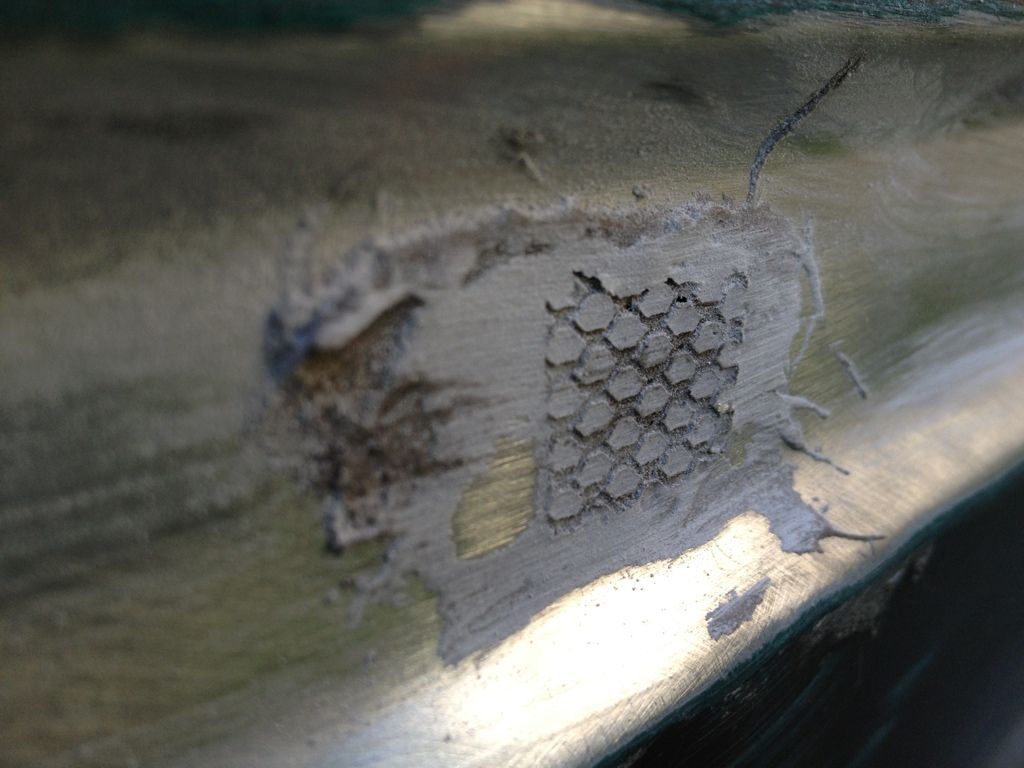 Now the fun part , I was told by several members its best to weld in so metal to fill the gap that fiberglass is only meant for ¼ inch gap and and regular filler is only gonna hold about 1/8 of an inch , I personally didn't feel like welding them in mainly because im lazy but I also wanna see how long It will last without doing so .. if it falls out cool ill weld em in and more practice. I took a bud light box and cut it into 4x2 inch rectangles ( i cut quite a few pieces , if you drop one get it too messy you don't want to waste time cutting another while this stuff is drying ( why bud light box ? in order to use the box I had to consume the contents within : ) , but also because its thin, flexible and the outer layer ( blue) is smooth , makes life easier ) I did have a video of myself applying it but , I lost my phone last week and the video never got uploaded to photo bucket , you'll have to use your imagination and just wing when applying it , keep in mind as I said before that if you let it sit for a minute before you start applying it , it's a little easier to get it to stay in place , try an make as little of a mess as possible with it , but don't be worried if you do , just more work on the sanding end is all.
I applied the first coat and hit it with the sander to smooth it out before I went for a second coat ( Note** make sure you wipe down the surface very well before to attempt to add another coat , this stuff does not stick at all to the dust) heres a picture after a coat or 2 (cant remember how many at this point) and some minor sanding. ( I used 80-100 grit to knock down the heavy parts and 120-140 grit to make a smooth finish)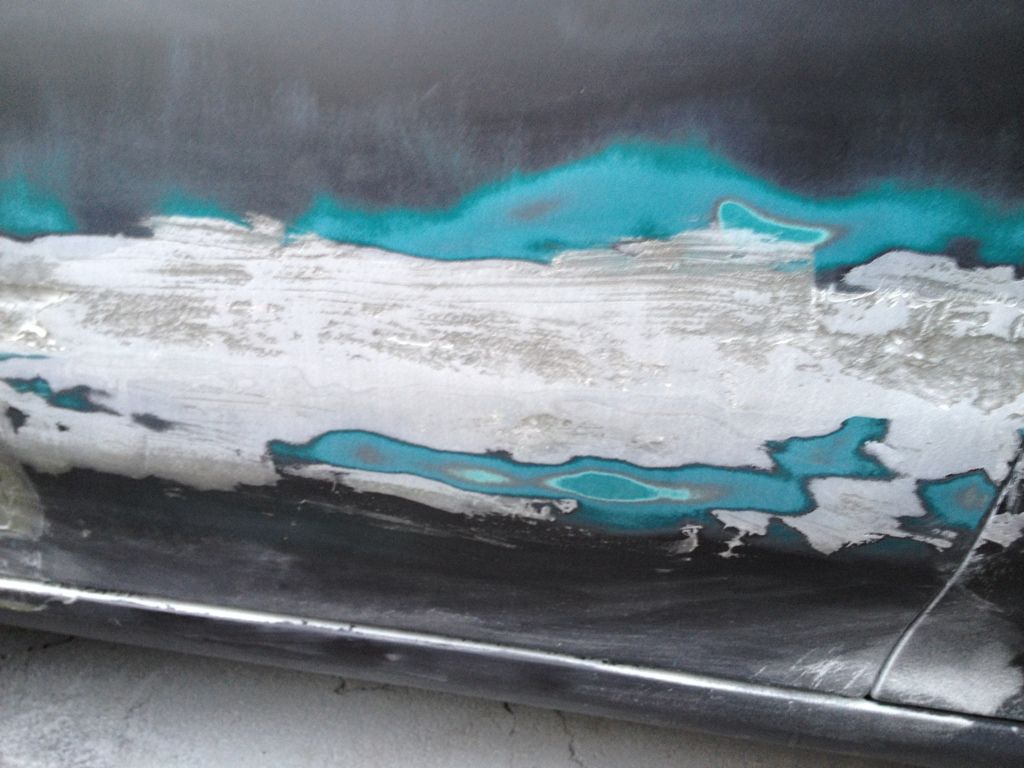 After a few coats and sanding's, I grabbed some regular bondo filler and put it on over top of the fiberglass see picture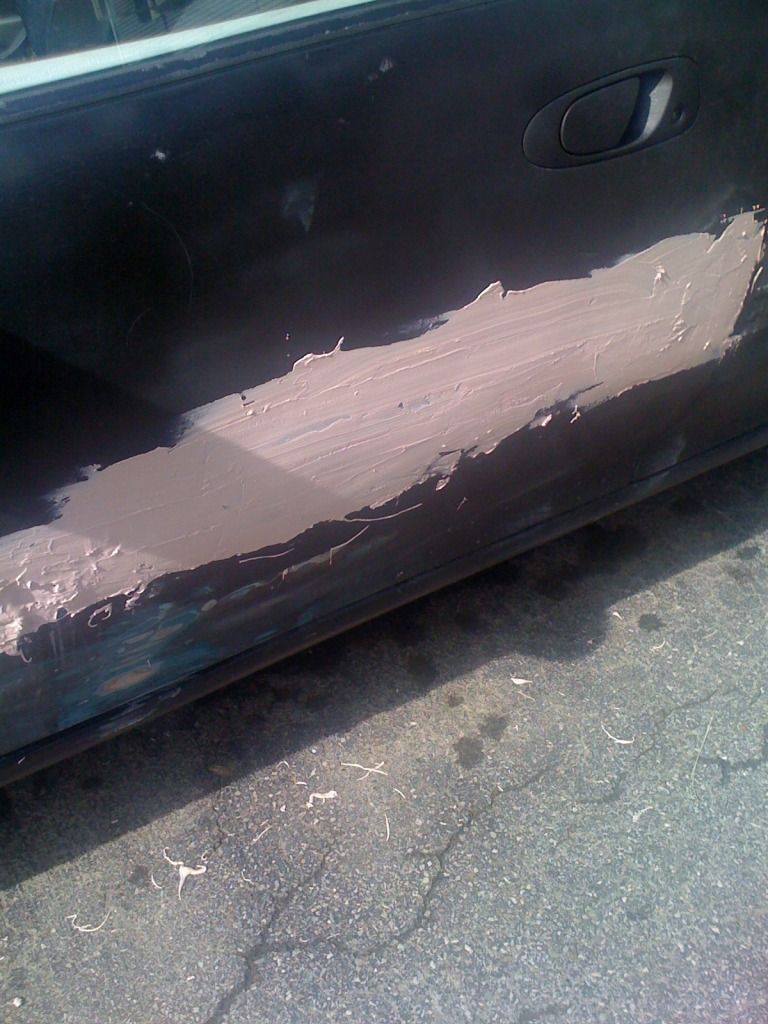 I sanded it down to get a nice smooth finish , you can normally feel when it needs sanding , I also used sand able primer and sprayed it over , it helps to show all the minor imperfections and helps fill the small holes , did a final coat and sanding
than finally covered it with some cheap spray paint , ill be picking up some more sandable primer spray later a coat or two of that and some light sanding and we should be ready for paint