Discussion Starter
•
#1
•
To start off I just bought a used 94 GSR and have been fixing many things, the latest was the wheel bearing was going. As everyone knows, the tried and true method is to remove the entire arm and get the hub and bearing pressed out with a press as well as the bearing pressed back in. If you don't have a press then the task becomes hard as you need to bring it to someone to get done while your car is out of commission. Well I heard about a tool that lets you do the job without a press and thought I should try it. It is called the hub tamer but there are other similar tools out there like the hub shark as well as cheaper copies without all the pieces and now I know why.
I ended up buying mine from the thetoolwarehouse.com, awesome place and unbelievably quick "free" shipping if you buy a certain amount. Now to the install...
Before you start, make sure you have all the necessary tools and parts. At a minumum you will need a new wheel bearing( I used OEM from Honda), C clip pliers(make sure they can work on c clips that are about 3", some can't), new axle nut(you can reuse but I usually do not as they are cheap and once you hammer in the top it sometimes is not possible to reuse), dremel with cutting wheel or similar, various ratchets and socket, socket for axle nut, for sockets, the hub tamer needs at least a 1" impact socket that most standard sets do not have, you also need larger but you can get buy without it as you will see, impact wrench( I use dewalt cordless), etc....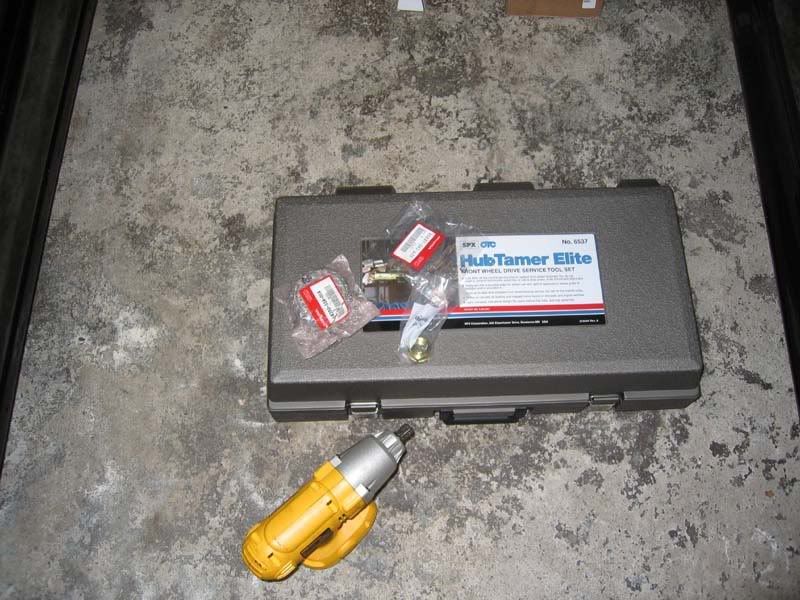 Here is the hub tamer and my impact wrench.
Here is the wheel before we start, jack up car, remove wheel
Remove, brake caliper and zip tie or metal wire it to something, remove caliper bracket, brakes pads, make sure you use impact socket on brake rotor screws, then remove the brake rotor.
Here is what it looks like after you remove the above mentioned items.
Next items you need to remove is the axle nut, usually this is on tight but mine came off with a blast of the impact gun, search elsewhere if yours is stuck for the varous other methods to get off, I suggest spraying some pb blaster and waiting before you try again. I did not take many pictures at this part because there are others elsewhere, but after you get the nut off you need to unbolt the lower shock fork attached to the arm, then unbolt the lower ball joint. When I went to do mine I noticed ther cotter pin was missing
, remove the nut and use the We-Todds-method to break the ball joint free, it works so well, why do it any other way, for my method because I do not have a craftsman socket I used my mastercraft 10" adjustable wrench! Once loose you can pull the axle out of the hub...