Well, last Halloween my daughter was given an LED flashlight that had a lamp setting to it that contained 6 LED's wired in parallel on a board (one LED is out). When she broke it, I decided to save the board because I thought it would come in handy down the line for a project. Yesterday I decided my dome light was not bright enough.
I removed the dome light and fit the board inside and it looked like a perfect fit. I drilled holes on the dome light plastic frame where the wires from the board would go through and I also tapped the middle for an M3x.05 machine screw. I also added some dabs of melted plastic to act as my standoffs so the board wouldnt rest completely on the plastic, not that there is anything wrong with that.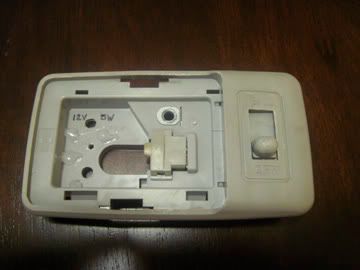 Next, I drilled a clearance hole on the board for the mounting screw and soldered the wires onto the board. Please note that I'm in no way an electrical guru as you can tell by my bad soldering.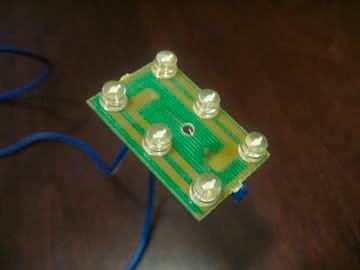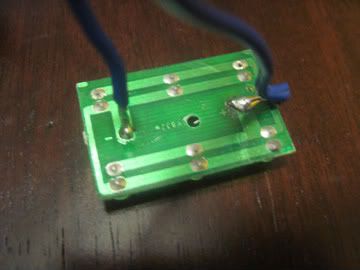 I then added a resistor to the positive (+) wire lead as was calculated by this online LED resistor calculator:
http://metku.net/index.html?sect=view&n=1&path=mods/ledcalc/index_eng
Parameters:
Parallel circuit
/
12V supply Voltage
/
4.5 Voltage Drop Across LED
/
20mA Desired LED Current
/
6 LED's connected
.
Heatshrink was added to the wires where the resistor is soldered onto but I decided to cut off the heatshrink that was covering the resistor for cooling. I tested the ciruit and noticed that the resistor got hot very quickly. If the system fails, I will probably upgrade it.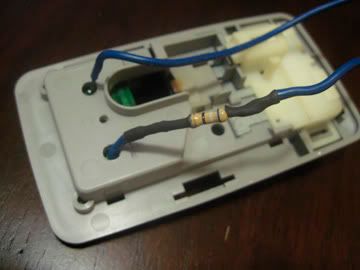 I was trying to find a way to hook up the wires to the socket where the original light bulb was fitted, but when I tried prying off the socket, the whole thing broke. So Instead I decided to solder the wires directly onto the leads. Before I soldered anything, I found the terminal that supplies the 12v, the positive (+) wire from the board was soldered onto this.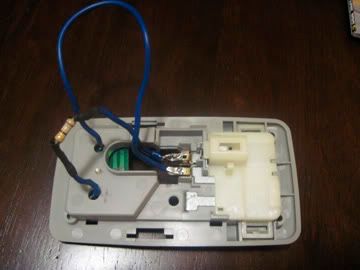 I fastened the board onto the plastic case with an M3x.05 machine screw.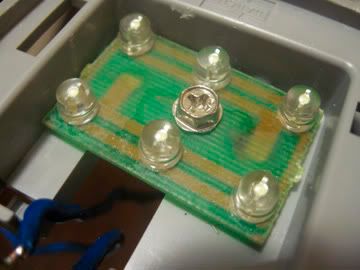 This is the light turned on: