Discussion Starter
•
#1
•
I got the idea from Pata to do a quick DIY on installing your tires on to your rims.
so with newly painted rims I suggest to pop in new tire valves as you don't want future leaks or problems after installing them.
assuming the wheels are all clean, crack free, and ready to mount on new tires.
place the wheel onto the table, secure the wheel on the tire machine by pressing on the wheel locking pedal.
then adjust the installation/removal arm so not to scratch or dig into your freshly paint wheel.
I removed the new tires from my set of BBS wheels as I plan to go with different rubbers on those wheels.
Take some tire lube and lube the inner bead rings of the tires, this will ease installation.
place the tire inside the arm and make sure you got the inside bead of the tire in the lowest part of the wheel, then press on the clockwise rotation pedal, until the whole tire revolves into the wheel.
next the outer tire bead is a bit harder but today's tire machine have a hydraulic press to push the tire bead into the lowest point of the wheel.
press on the clockwise rotation pedal until it goes in.
now you need to inflate the tire and set the tire beads, i set the bead with no more than 40 psi, then install the valve stem inside and inflate to your proper tire pressure.
then it is time to get the tire balanced.
purple wheel on the floor.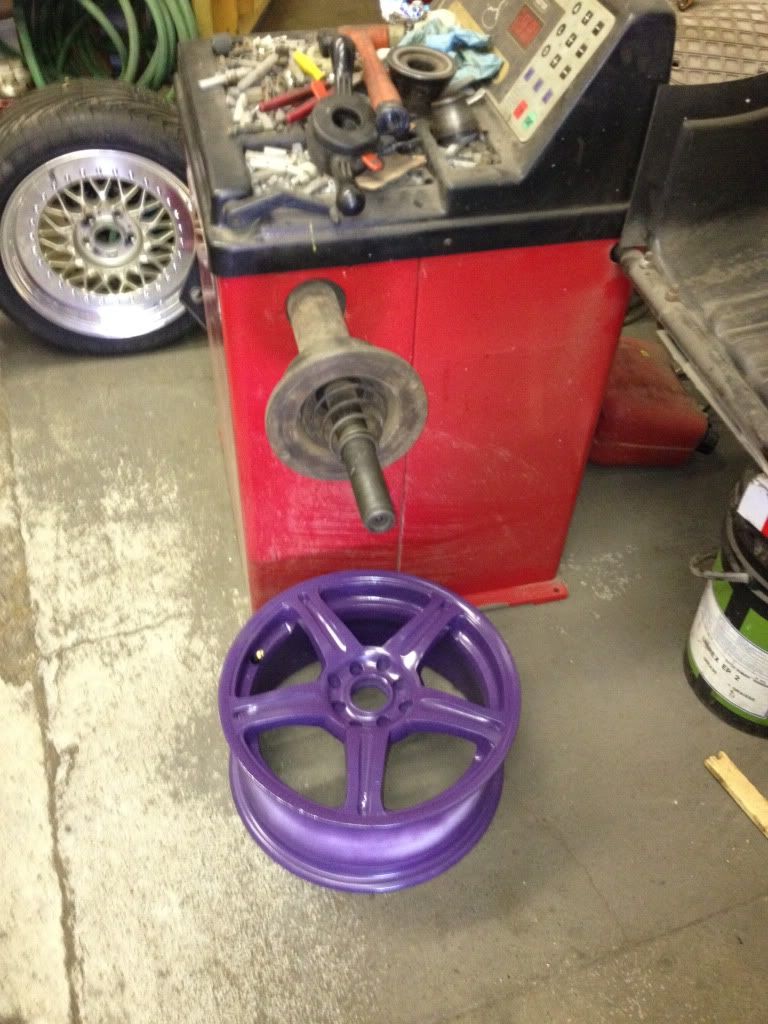 my bbs where the new donor tires are coming from.