Disclaimer: The following is provided as a GUIDE ONLY, and neither myself nor D-series.org take any responsibility for the outcomes of someone else doing the following. You follow these steps at your own risk!
Most of this was simply following the Honda service manual
Aim:
Refill/bleed the coolant for the cooling system
Required:
- 12mm socket / spanner
- 19mm (I think it was) socket.
- Approx 4-5L of coolant (you can buy it premixed from Honda. Approx $32 for 4L)
- Something to collect the old coolant with (I used my oil pan)
Steps:
Make sure the engine has cooled down before attempting this as opening the radiator with HOT coolant can/will cause serious injury!
One way to check is to squeeze the top radiator hose. If it is firm, the coolant is still under pressure and hot! (pic below)
1. Start the car and move the heater temprature to the HOTTEST setting. After this, stop the car.
2. Remove the radiator cap.
3. Loosen the drain bolt at the bottom of the radiator (you don't have to take it out completely, just enough so the coolant starts draining). I didn't jack up the car so couldn't take a decent pic. But its basically like this: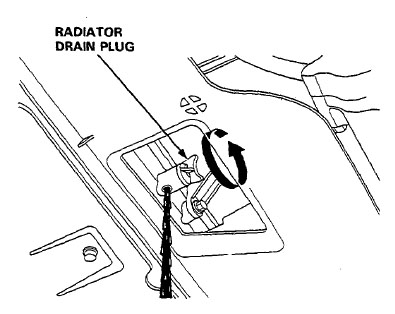 4. Take out the engine drain bolt and let the coolant drain out completely.