Discussion Starter
·
#1
·
Ok so I am not an audiophile by ANY means, but I would like to add some low end kick to my CRX without using up much room and as cheap as possible.
As a baseline for my goals, I would be happy if my system could sound as good as my wifes 2007 ford escape hybrid with the factory mach speaker system, including the single 8" sub. She has this aftermarket head unit:
Digital Media Receiver - KD-X250BT - Introduction
. So I dont think this goal is super lofty.
So I figure I will need a bit more power to sound as good as her car, since obviously my CRX has a lot more road noise. I think I can mount 8" subs in the factory rear speaker locations and enclose them and throw in some filling for a sealed box. I currently have the same head unit as my wife.
I was considering 2 of these subs:
https://www.amazon.com/gp/product/B00IVEHFNC/ref=ox_sc_sfl_title_3?ie=UTF8&psc=1&smid=ATVPDKIKX0DER
They are dirt cheap, have decent reviews, and they are not made of paper and foam, which was a concern of mine since CRXs do leak sometimes, and I wanted a sub that wasnt going to come apart with a little dampness or humidity.
I was considering this amp, because it is also cheap and has decent reviews, and seems like the power output is about right for 2 of the above subs running at 2ohms:
https://www.amazon.com/gp/product/B004S4XNEO/ref=ox_sc_sfl_title_1?ie=UTF8&psc=1&smid=ATVPDKIKX0DER
And I would wire them like this: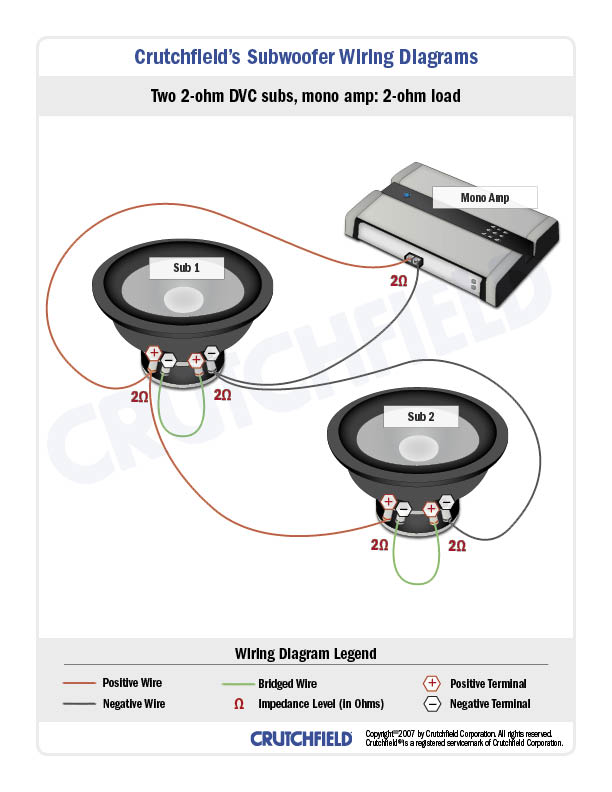 So I realize this is all completely below the grade of what most people here would consider, but keep in mind my budget and goals are extremely modest.
Assuming I can make decent enclosures out of the stock rear speaker locations, are there any other glaring problems with my plan? Or ideas for how it could be substantially better without spending much more money?