I have been helping a friend on his setup in his AE and here is his numbers from a couple days ago. This setup was picked from multiple builds from this forum and this build would not have been possible without this forum and plethora of information I have absorbed from it. PERIOD. This is a street driven car with track weekends and is dialed back to 12 psi for the street.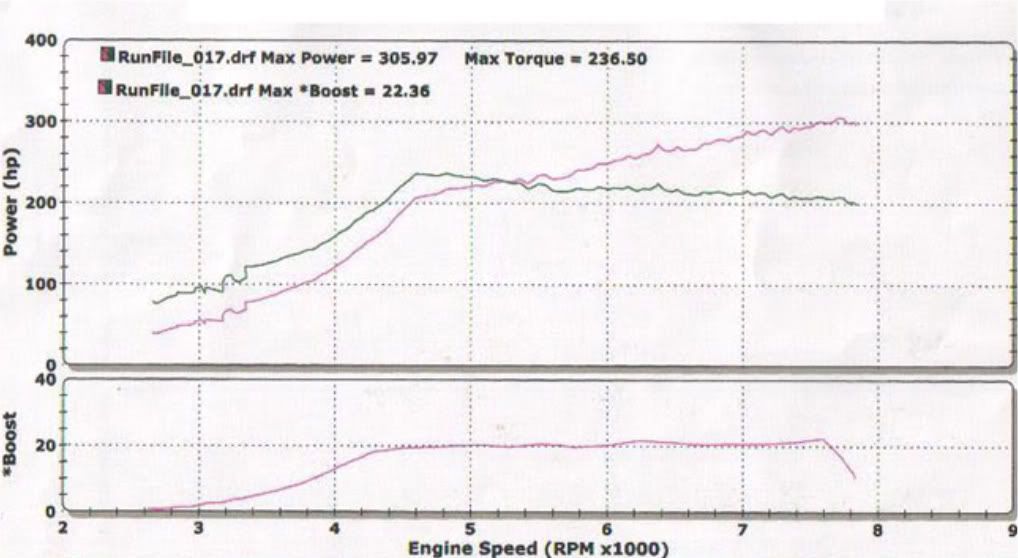 Setup is 4AGZE block with stock rods and plus+1mm OEM GZE pistons with TRD head gasket. ARP headstuds and rod bolts. Custom equal length manifold, 2.5" downpipe and straight through exhaust WITH cat. 2.5" IC'r piping, with spearco front mount. DSM 1 st gen crushed BOV set to bypass. Megasquirt I v2.2 with 550cc injectors. K n N intake filter. Walbro 255 lph. HKS 256 cams with HKS valve springs.
Turbo is TD05H small 16G with a ported 14B hotisde. I rebuilt the turbo for the build.
He has been considering larger tubing on both exhaust and intercooler but I think he is going to enjoy what he has for the time being. Later on upgrade the turbo he has to something larger (which is already in the work, another frankenturbo to say the least). He has considered adding a small shot of Nawz to hit 400whp.
What do you guys think? Suggestions on the setup?
I have something similiar in mind but plan on using a 7AFE shortblock and running forged rods and OEM GZE pistons. My CR will come in around 9.5:1 and I plan on using a modified K04 from a MazdaSpeed3. Consequently the K04 I am talking about has the same sized inducer as the small 16G as well as the T3 60 trim, GT2560R, TD04 19T, and IHI STI turbo hmmmm think that is a coincidence??, and uses a smaller turbine. I am hoping for better response without a sacrifice of top end performance. The turbo does pretty good in the MS3 but falls around 5500 RPM's. I am hoping the .5 liter displacement difference offsets this as well as clipping the turbine as I have done. I want to crack 300 lb ft more then I want to crack 300whp. However I don't want it to be like a truck motor either LOL.