Discussion Starter
·
#1
·
Yes this has been beat to death! I've been beating my head on the wall for a few days now doing as much in depth research and feeding through so much b/s that's everywhere concerning this topic. And there are some awesome threads on this. Just had a couple questions I could not answer on my own or couldn't find. Even called the dealership and an egotistical guy i spoke to wanted to prove a point about the difference between main bearings and crank bearings providing no solution...
So, I have a D16Y8 and I have DBDDD stamped on the block and I have 43323 stamped on the crank. So i know these get paired to D4(blue) B3(green) D3(black) D2(brown) D3(black) from pulley to flywheel, giving me the original size bearings that went into this thing. I've been on to majestic honda looking for these bearings but I cant find what I'm looking for in terms of combination. (see image below)
DBDDD
And here's the flywheel end of the crank (D3) if I have this correct?!?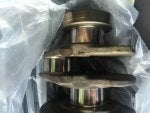 So I went online looking for these and I can't find B(GREEN) OR D(BLACK) etc....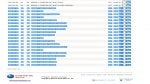 So in conclusion, can anyone shine some light on the Lettering. I'm guessing it's the size of the outside of the bearing and how well it sits in the journals? I just kept reading where people said to just get a specific color... and didn't mention anything on the ABCD portion of it... Maybe im overthinking it and all i need in the end is the "color code"?!? that's the only conclusion I can come to. Just trying to clear the air. Maybe this will help other people as well that are over thinking it as I am. Plus, some additional info for people that have experience and had to either get smaller or larger bearings. I've read that people shoot for .0015" for all the mains and all mine speced out to .002" and .003" using standard acl race bearing gauging with plastigage. (bought them hoping they'd be in spec)... my bad. so with that, I've also read that the acl bearings equate to a "green" oem size. Can anyone that's had to change sizes give any good suggestions or advice on how much tighter I should go (in terms of color) before I drop more money on bearings and be shit out of luck...