UPDATED 2/02/2011. NEW PICS ON PAGE 3​
I finally got around to installing and tuning a budget turbo kit that had been collecting dust in the garage while I saved up some money. Here is the timeline of the car:
Bought 98 DX Coupe in October of 2005 w/ 60K on the clock
This picture was taken about a month or so after I bought it. It was lowered and I added a knockoff CTR grill, 99-00 taillights, and knockoff CTR headlights.
It was very slow progress but at least it was progress. This was some time near the end of 2006. I added a rear-disc conversion, thin side moldings, EK yellow fog lights, a knockoff CTR lip, tint, Rota wheels, and a few other little things here and there.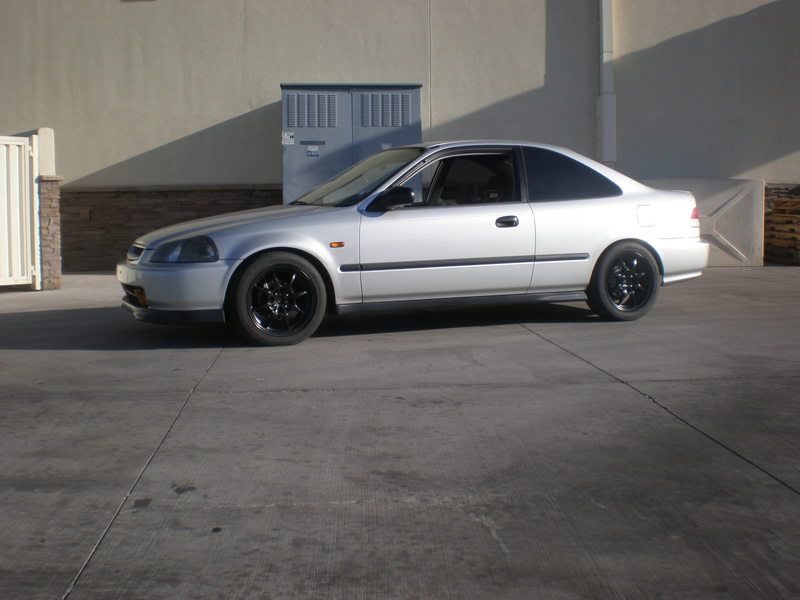 This was some time in early 2008, a few months before I did a mini-me and a transmission swap. I traded the Rotas for a set of Si wheels and then traded the Si wheels for a complete Y8 head. Good trade IMO other than the fact that I had to ride around on the stock steel wheels. I moved a few times and had to put the car on the back burner quite a few times. I was still running the Y7 and getting ~37 MPG. It was slow but if you remember, we had a crazy hike in gas prices so I wasn't complaining about that.
Then I had to keep putting the project off because I was planning a wedding and I changed jobs. Eventually, I got the mini-me swap done. I added ARP head studs, a 95 Si transmission, a Clutchmasters disc and PP, a Fidanza lightweight flywheel, and the Y8 head running on a stock P28 with an Xactdyno jumper harness. I ran a 16.9 at 89 MPH (IIRC) and was not super happy with the time.
This is how it sat after the mini-me swap. I added a CTR tower bar, AEM SRI, and did a little bit of weight reduction.