Discussion Starter
•
#1
•
Hello everyone.
Starting today and ending on October 30 we will be offering a 5 % off on Bisimoto Engineering Selected Products.
Here are the parts that will have a 5% off special..
Prices do Not Include shipping
FREE with any order of Bisimoto Engineering Products.. You will receive a FREE Bisimoto License Plate cover, Stickers and a FREE FJ Automotive T shirt

Camshafts:
All camshafts take 7-10 days to be produced.
All Bisimoto Camshafts are now in special. Price varies depending on the level of the cam. We can also order you a CUSTOM made cam specifically designed for your engine to optimize power.
For this you will have to fill out a Spec sheet with all your engine information so that Bisimoto can produce a cam for you.
Level 1:
street duty, excellent idle quality, emissions friendly.
Level 1.2:
street/strip Turbo duty, good idle quality.
Level 2:
street/strip duty, mild idle lope, good for strokers.
Level 2.3:
Nitrous duty, slightly lopey idle.
Level 2.4:
race duty Turbo ONLY, mild idle lope, high RPM duty,
Engine Management System (EMS) required.
Level 3:
heavy street, race duty, aggressive idle lope,
Engine Management System (EMS) or carburators required..
Level X:
Pro series, full race profiles, use EMS or carburators only.
No fluff...just absolute power and reliability! Beware of companies that use
the same grind on all camshafts.
All VTEC cams do not require a core..
All NON Vtec
cams require for you to give a core cam...If you dont have a core cam to send then Bisimoto can provide you with a core for additional cost ($100-130 depending which cam).
CAM Gears:
All Bisimoto Engineering Cam gears are on special with a 5% off.
B series, D series, H series, F series
This is the same cam gear design utilized on the World record holding
Bisimoto 9 second Honda Insight!
Features:
–Lightweight 6061 aluminum
–Patented serrations: Impossible to slip
–Hard anodized coatings (62 Rockwell)
Unique eye-catching colour (sunset bronze)
–6 degree adjustments, advance and retard
–Balanced assemblies
Race, street and lab tested to over 12,000 rpms
Benefits:
–No slip
–Weight savings
–Long life & reliability
–"Tunability"
ARP bolts should be torqued to 16 ft/lbs upon installation
Cam gears include Honda OEM factory Key
Valvetrain:
Bisimoto Pro Springs and Titanium retainers for D15/D16 engines will also have 5% off the price (Springs and retainers together)
Intake Manifold Heat shield Gaskets:
5% off on these. Reg Price is $48... Special price $45.60 + FREE Bisimoto License Plate
A special high temperature insulating gasket which replaces the factory intake
gasket. Reusable, this gasket isolates the intake from head generated by
the engine, allowing for a denser intake charge, and over 7-10 whp as
documented in house. A favorite amongst road racers, drag engine
builders, and street enthusiasts.
Does not affect emisions, and easy to install. A simple power adder, indeed.
3-5% increase in power under 50 bucks!!!

Available for :
D16A6 and D16Z6
D16Y
B16 and B18C5 Type R
B18C1
F22 Accord

Deeper discounts....
get an additional 2% when you buy a whole package for your engine. A whole package means---> Camshaft, Cam gear, Springs and retainers all together in one order.
This special is available ONLY thru FJ Automotive Distributing..
We are also taking orders for Bisimoto Engineering V2 D series Header.. This header produced 16whp on a fully stock D15 engine... This is more than what a Hytech, SMSP, Toda, Mugen or you name it header makes at only HALF of the price.....
2 Weeks to produce.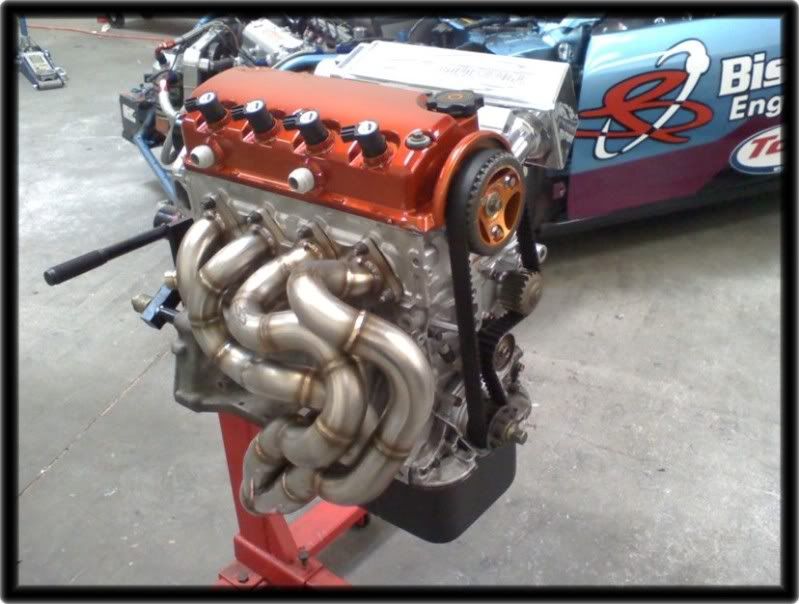 Stainless Steel V2 Bisi D16 Header---> $629
Stainless Steel + Ceramic Coating----> $779
Call us to order: