Discussion Starter
•
#1
•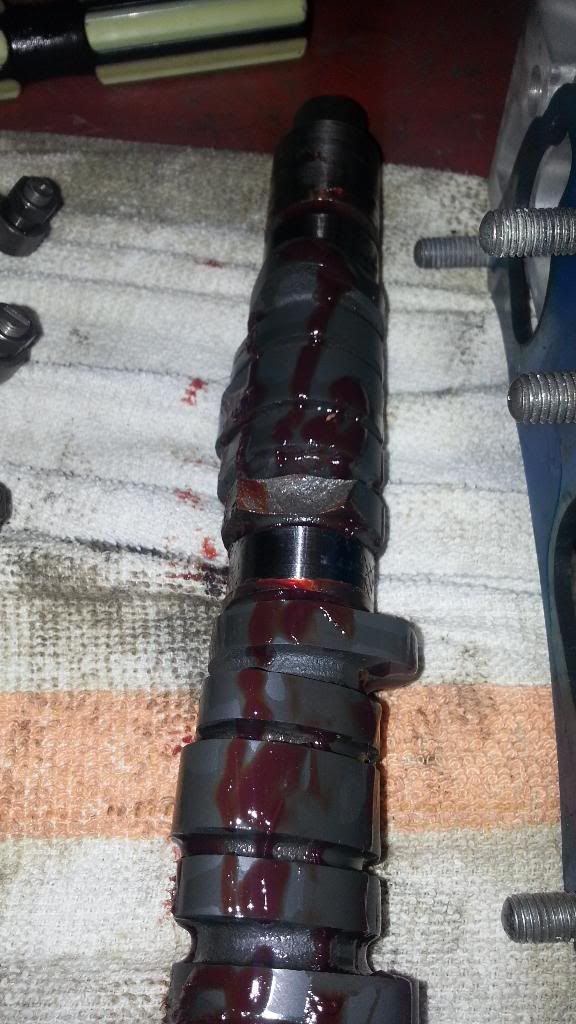 I want to start off saying that this is not a bash on Luis, or Dustin at Performance Porting because they are both awesome dudes. They were extremely understanding, empathetic, and helpful.
This cam came out of a head that Dustin built, and Luis purchased about 2 years ago. For what ever reason, Luis never used the head and it just sat in its box on his shelf for those 2 years. I recently purchased the head and upon arrival everything looked good but I couldn't see the cam very well for obvious reasons.
I had also purchased a 272.2 cam on here so before I installed the head I went swap cams.
The rocker assembly was loose, as in, the tappets/nuts were backed out, there was no spring pressure on anything. I removed the assembly to find the thrust collar busted and a huge chunk of a lobe missing. The pieces were lying in assembly lube that had basically dried up and turned extra thick and sticky. There is no sign of damage to anything else in or on the head.
Some of you will know that I recently sent in a 2.4 with massive wearing of the exhaust lobes street 8400 miles.
And now I have a 2.0 that arrived in a head in pieces.
So, once again, I call up Debbie at Web cams. She is super nice. The conclusion with the 2.4 was that they could make me a new one for $260.. I say thanks but, that's bullshit, no thanks. The conclusion with the 2.0 is that, oh, it looks like it was damaged in shipping, bummer. Let us know if you want us to make one for you.
In comparison, my 272.2 showed up with a little brown paper wrapping it, freely bouncing around in a delta cam box. No padding what so ever. No damage, of course.
Meanwhile, the head was exquisitely packed in all sorts of Styrofoam.
I called up delta and they said they'd fix both of them for less than the 1 cam. So.. I'm still thinking about that..
If I get the 2.4 fixed I'm gonna back to back dyno it with the 272.2 and then keep the 272.2 either way while selling off both bisi cams.
The thing is, my goal was to sell the 2.0, and never need to buy the 272.2 in the first place..
And after this review, no one will want to buy them! Haha
Bottom line, Fuck Web Cam's shitty billets.
I originally thought that bisi supplied the blanks but, Debbie says they order them themselves, 100 at a time.