Good news! Block will be sent out for CSS on Monday! Took the weekend to get it cleaned up from notching, and lightly oiled the cylinders and put it in a box:
Also an update on the injector flow bench! And sorry to disappoint robgoof lol. I was going to go with a lower tech way of pulsing the injectors, but I found a relatively cheap way using electronic components from work haha.
BTW, my lower tech method was going to be using my spare P28 powered up with a switch mode power supply, hooked to a distributor that was run by a hand drill to give it RPM then use the normal injector drivers inside the ECM to control the injectors. This would have been bulky but doable, and was attractive because I already had all of these parts and was in the realm of me leading up to building a Honda OBD1 ECU bench tester, since the cool ones from Moates have been sold out and they don't appear to be making a comeback anytime soon.
For other work related reasons, I bought some stuff to test a few solid state relays on some of our equipment that seem to fail relatively quickly. So I bought $20 worth of stuff on ebay to create a high current (8-10A) adjustable PWM test bench. Here is what I just finished hooking up and proving out:
10PK of power transistors, some beefy MF rectifier diodes for voltage spike protection, a random solid state relay I had in my toolbox and a really neat Arduino based PWM generator. It has provisional for adjusting duty cycle as well as frequency, so it is very flexible for the $10 it cost!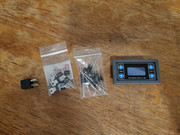 The PWM profile of the arduino device is an on/off style signal with amplitude equaling that of the input DC power supply. So for 5V in, it outputs a 0-5V square wave. 12V in, it generates a 12V square wave.
The power transistors require 8V to turn on, so I dialed in my power supply to run at 12V.
I tested the PWM profile before connecting it to a transistor, was nice and very consistent: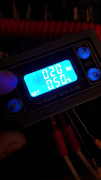 The next step was to put a transistor in line and test low load carrying capability to turn on something like a simple incandescent test light: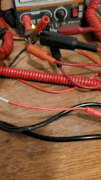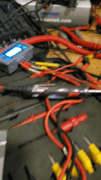 Worked good. Played around with duty cycle setting as well: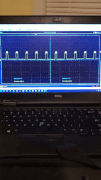 Then came the fun part, punishing a relay to its limits:
It should work out well! When I get the fuel pump and tank setup, I will update again!