Haven't really done a showoff of the Ferio. It pops up from time to time in various threads and for those of you following me on IG :fingersx:
When I 1st got it from the wife's sister. Original plan was to scrap it and take all the good parts from it to sell. I was convinced by my friend to look at all the cool JDM stuff they had for these. And I'm glad I listened, most of the stuff I got over the years, I got at prehype prices and for stupid cheap.
Anyways, here's a quick run down of the specs.
1995 Civic EX
Original D16z6 / D15b cam
Exterior
Nighthawk Black Pearl (via maaco)
Mugen front lip and side skirts
Mugen EG9 catback
SiR wing
JDM headlights and clear corners (off the car)
Denji glass retrofitted headlights
Depo fog lights
power folding mirrors
Access winodw visors and sunroof visor
EG side markers
Ferio door garnishes
Ferio 3rd brake light
RTSi headlight washers
RTSi rear long mudguards
Interior
Sir interior
long armrest
Gathers armrest cd player
Gathers optional door tweeters
Gathers rear speaker mounts
Honda Access Air refiner
00 Si cd player
Alpine 4 channel amp
Logic 500w amp
Treo competition 10" sub
Honda Access nose mask
Honda Access car cover
Suspension

*currently on
Volks/Rays Garcia Tune Speed Choppy
BFG Sport Comp2 tires 205/50/15
*soon to be Mugen RNR +45
Ground Control coilovers on Tokico blues/extended top hats
Ingalls front camber kit
Buddy Club rear camber kit
23mm ITR rear sway bar
Beaks subframe and lower tie bar
Function/Form rear LCA
Energy Suspension master kit and rear trailing arms
Got her up and running with a few JDM parts fast.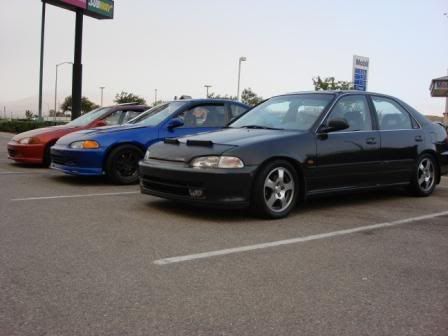 1st set of Mugens
Then stripped it all down to let Maaco have it for a few days