Alright i was on a process of replacing my clutch masters cylinder and found it to be a pretty easy task, so i will list the steps i did upon replacement.
Things/tools you'll need:
10mm socket
12mm deep socket
3/8 3" extension
10mm wrench
Long nose flier
Flat head screw driver
Vise grip "optional"
Dot 3 or even better a Dot 4 brake fluid
A pair of helping hands for the bleeding process
First thing first is to remove this cutter pin that's holding the cylinder line to the pedal. Believe it or not, this might be the hardest thing out of the whole installation. In my case, i used a small vise grip to pull it down while frying the cutter pin out with a flat head screw driver. I called this "bitch pin" similar to that pin on the trans shift linkage.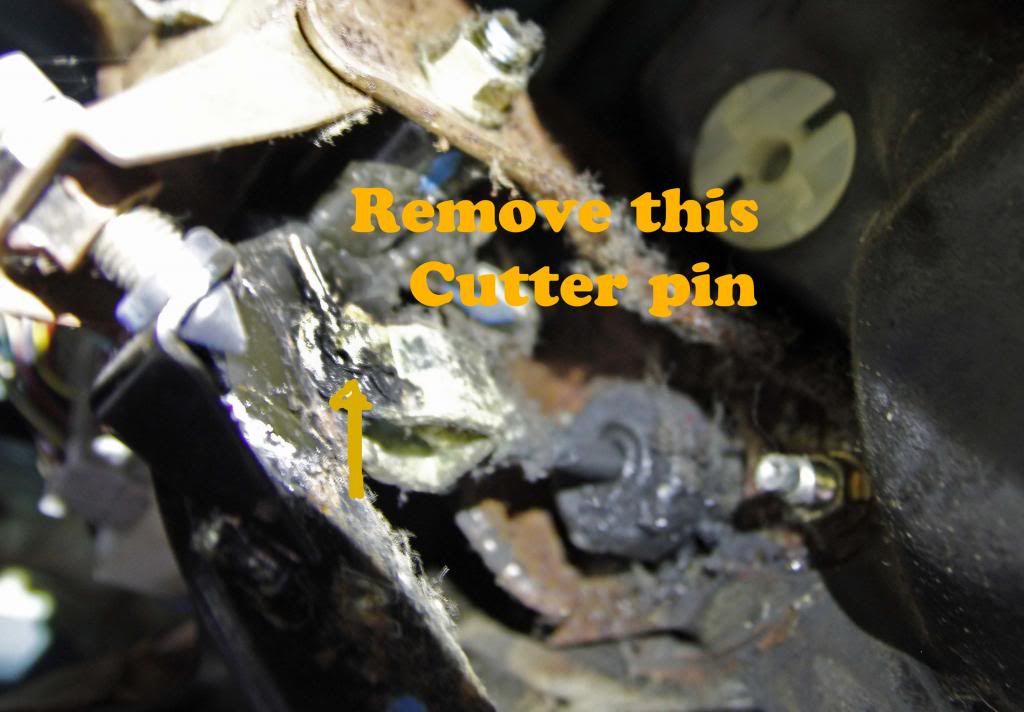 Once the cutter pin is out gently tap the dowel pin until it is completely off or out of the grove. It should look like this
Next step would be to remove the clutch reservoir It's being held by two 10mm bolts. Make sure to have something underneath the car before disconnecting the lines because brake fluids will squirt out of it.
This will be the best time to clean the reservoir with brake or carburetor cleaner.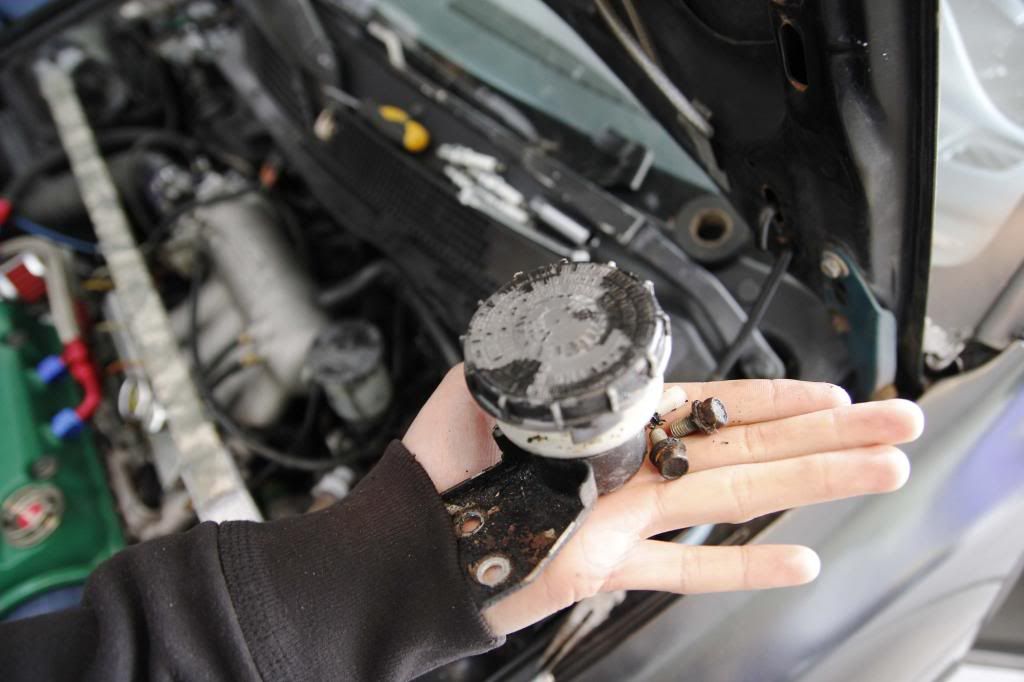 Now that you have space it's time to disconnect the clutch line off of the master cylinder. This is not the correct tool for this job, but this is where the 10mm open wrench comes to play.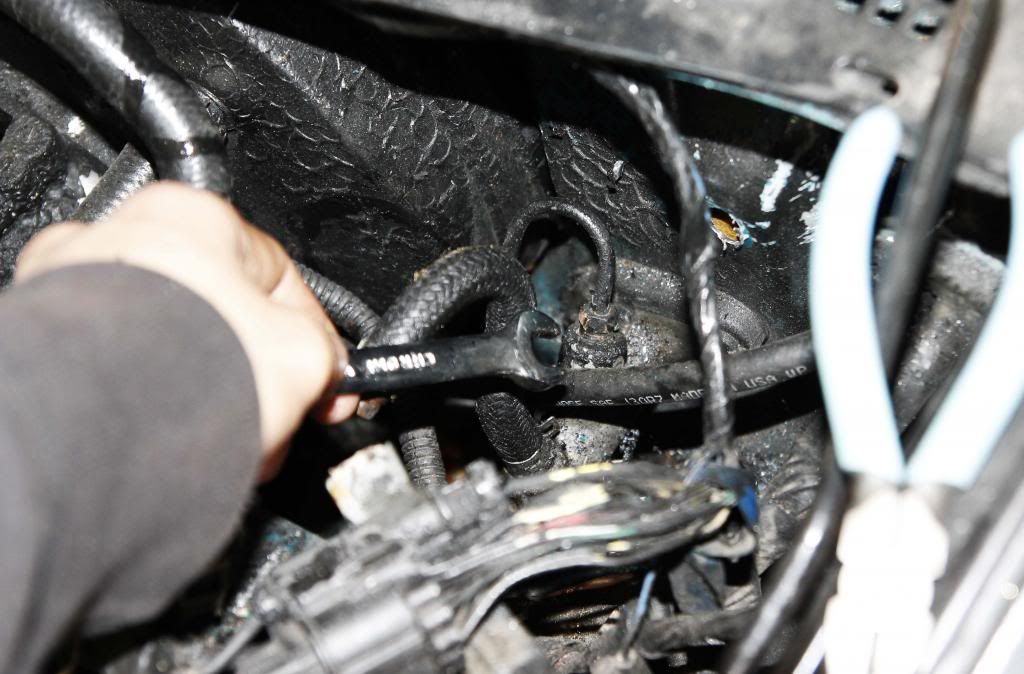 I've once felt like I'm banging through gears, and the clutch reservoir was empty when i checked it and here's the culprit. This time you're going to need the 12mm socket with the regular 3" extension to reach and remove the nut without hitting the clutch pedal.
And here's the 15 y/o leaky master cylinder with the new exedy equal cylinder unit.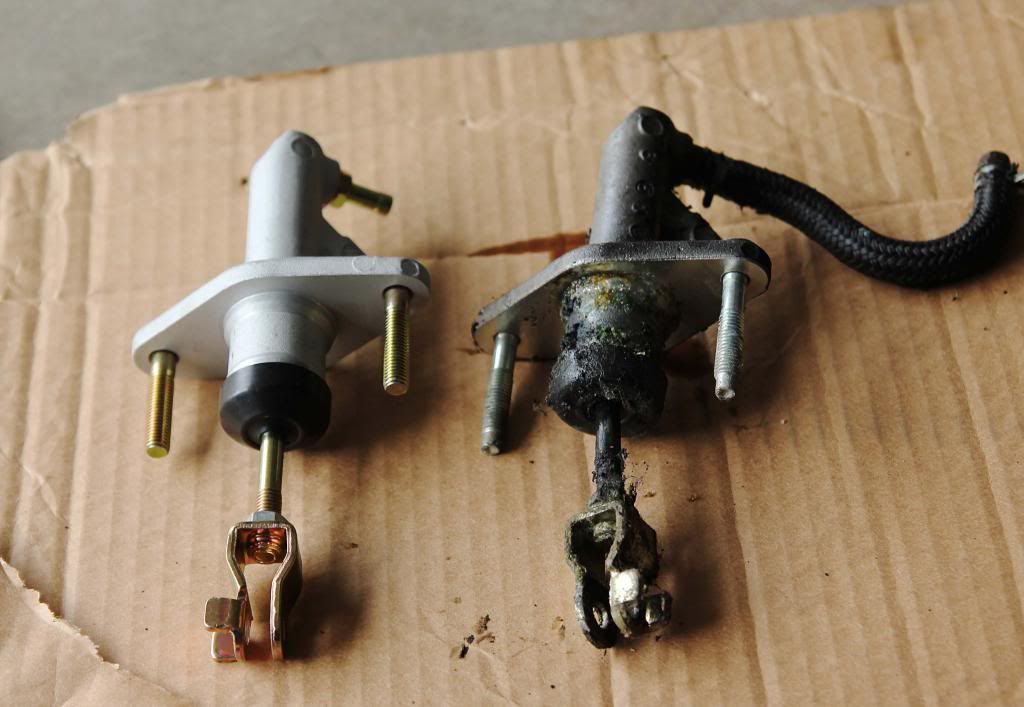 Install everything counter-clockwise starting with the new master cylinder.
Connect the clutch line to the master cylinder. Start as hand tight until it is snug before tightening the 12mm bolts make sure to "not over tighten" these nuts.
Re-install the dowel pin, cutter pin and master cylinder in one place. This will be the time to tighten the clutch line to the master cylinder and re-connect the reservoir line and bolt it in place.
The bleeding process is pretty straightforward. Have somebody pump the pedal while you bleed the clutch and it should do wonders after the install. I hope this help
Or watch this video for more informative details