Heres a little info about my civic:
Mileage (body): ~205K
Mileage on the ENGINE: ~50K (it seems to be a very solid engine, silent as hell and runs great (or used to lol... I was told it came out of a JY civic that was in an accident)
New parts:
Spark plugs,
Wires,
Fuel Filter,
Air Filter,
Main Relay.
Known Problem(s):
-The radiator has a small crack in the top tank, causing it only to hold about 4/5 of the normal fluid level....does not seem to affect how it ran all summer long and didnt seem to affect the operating temperature.
-A gentle squeaking or repeating scratching sound (and i mean gentle, you have to have your ear less then 2 feet away) can be heard from within the distributor cap area...
Here are the symptoms of my 91 Civic DX 5 speed with the standard D15B2 (DPFI) engine
:
From a cold start (which takes a lot of cranks to start the car in the first place, it used to only take 3-4 cranks to start the car, not it takes like 8 or 9) it runs absolutely perfect, it can be idling and i can floor it and it doesn't bog/sputter or anything and it drives perfect.
Once it is warmed up and the ecu takes over the car begins to run much rougher, the idle is sputtering and misfireing- often times it can just stall on its own at idle from sputtering so much. Or if I push the gas hard enough it will sputter up til it gets to a bit higher of an rpm then it clears up and runs good.
The massive bogging/sputtering seems to ONLY take place in the lower rpm range if i press the gas down hard, it does it much less if i baby the throttle.
There is no smoke or anything, exhaust seems normal, and while i drive i do sometimes smell a faint scent of gas but i looked all over the car and i cant find where im smelling the gasoline smell. And the sputter DOES of course affect how it drives, it makes it hard to get going into 1st and can even make it stall going into 2nd gear from when it drops down to the lower rpms.
Ive had this car about 8 months now, it ran awesome all summer long when i first got it but once it got colder it started to pull this crap on me and i had to get a different car to drive for the winter.... kinda sucks I love the car and i hope its something simple thats causing it to act like this.
I have novice engine skills, i can change sensors, themostats, radiators and other easier things. I dont have a large tool supply yet lol. I am just curious if anyone has had a similar problem and could make an easy pinpoint to the problem.
To anyone curious here are some pics of my Civ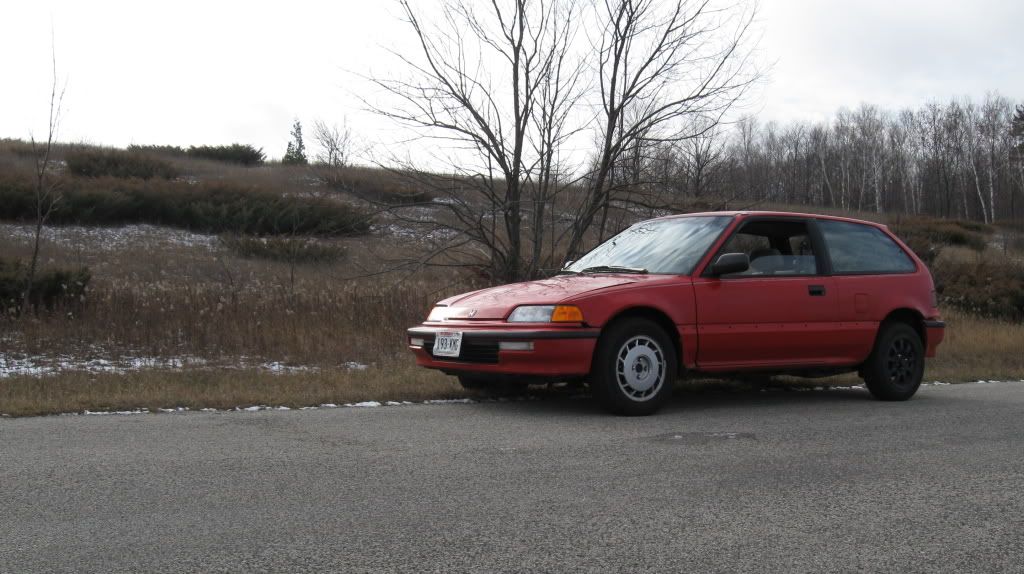 And a video of me granny shifting it while flooring it, you can HEAR the sputter the VERY first time i rev it at about ~3 seconds into the video, it has gotten quite a bit worse since i recorded this vid:
Civic Run video by GraniteLXi - Photobucket