Discussion Starter
•
#1
•
For the past couple months, I've been admiring the spirited performance of the K20A. *As such I've been contemplating doing a complete K-swap or just boosting my current D15B. *I'm also in the middle of an auto to manual transmission conversion, so I'll need to make a decision quickly. *I've already gotten the manual shifter and pedals from a EP3 Si (recall that I have the 5 door EU1), so now I'm waiting on 2NR to order for me the shifter cables and master clutch cylinder. *Since I got impatient, I had already put in the manual brake pedal myself and stripped out the carpet to relocate the park brake (which is foot operated).
Here, I've posted videos of my slow progress thus far (you have to click to play). *I finally figured out where the cable linkages for the park brake were located as I had originally thought that it was hydraulically operated. *Now I want to figure out how to move it to the center so that I can attach a hand brake to it. *I had already purchased a ES1 Civic handbrake (handle and ratchet assembly) thinking that it could be work.
Note: in the videos below, I was very exhausted having working in the engine bay for the majority of the day before getting around to stripping the interior. You'll have to click on them to play the videos as I had used PhotoBucket to upload them.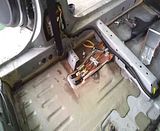 Many photos and videos of what's actually going on is missing as I didn't get the time to upload them as yet (720p videos take a while to upload on my connection) so I should have this fully documented tomorrow.