Discussion Starter
·
#1
·
WARNING LONG POST
Wow it's been a loooooooooong time since I've had a D-series project car.
I'm not even sure where to begin with this one! I never posted in great enough volume here to really have anyone remember but I've had a few D series projects. I know threads are useless without pics so lets get those out of the way.
My last D series project was my 1991 Civic sedan. It was D16Z6 OBD1 swapped with an SI cable trans. Other goodies were
Pan swapped Second gen Integra seats (blue that matched my sedan interior)
Spoon knock off wheels
rear disc conversion
Typical bolt ons
I ended up getting t-boned in it and she went to the junk yard. I also had a stock+ CRX DX that was in great shape. I bought it riced out and brought it back to factory fresh with all original mint interior (reupholstered the seats myself). Here was both car side by side. I sold it a few years ago.
Then after the sedan went to the big garage in the sky, I was without a Hond a for a while. My wife took over my Honda Fit and I started to DD a 2013 Fiat 500 turbo 5 speed.
But that brings us to where we are not. The first car my wife ever bought with her own money was a 1990 Honda Civic DX with a D15B2 and autotragic slush box. It was a good car though and saw her through three or four years of delivering pizza. Then the miles just started to catch up to the poor car and she just ran out of money and had to let it sit. It sat on the street at her parent's house exposed to the elements for about two years.
Finally last summer we bought a house and had it towed over to our new garage. I have never lived in a house with a garage before and want to make the most of it. Unfortunately I hurt my back badly weightlifting and then made it worse in a Brazilian jiujitsu tournament so I wasn't able to work on a car.
Now my back is pretty much better and she now has a job working in auto parts. Part of the agreement to her getting my Fit was she had to hand over the Civic to me. With her new job in the auto industry, I decided it was time to get the Civic back on the road. She was ready to send it off to the junk yard but I told her no. It will now be the test bed for teaching more about cars. The old D15B2 had gotten overheated and kept popping head gaskets, so we found a D16A6 that was really strong and swapped that in (keeping it DPFI).
He it is before it was parked.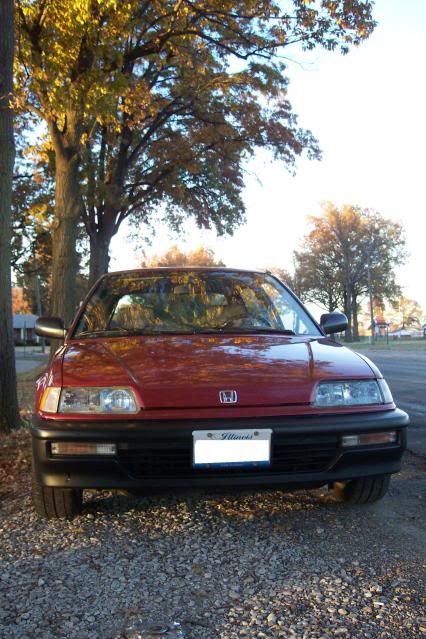 The poor car has been through the wringer. The paint is all faded from sitting in the sun, and when she parked it the brakes pedal feel was non-existent. The brakes go to the floor, and I had jumped it one night before the winter set in and it started smoking under the hood. Then it sat from there.
Fast foward to this spring and we are slowly making progress. The car has minty fresh, no tears or stains on a Si interior that was saved from the junk yard. It is stitting on LS messhies with flat tires.
When we got it to our new house, I put a new battery in it and she started up surprisingly. However the charging light on the cluster wouldn't go off. Then I realized the damn alternator belt had rotted away and was just gone. I put a new one on it and it squealed to high heaven. I just took the old alternator off yesterday and it was seized up and the new one should arrive today.
We dove into the brake problem starting with the master cyclinder. We bench bled it, got it on the car and started bleeding the brakes. She said it would get firm, and then soft again. While bleeding, I was constantly having to top off the master cylinder. How odd, I thought. Then when we got down to the last wheel we found the culprit. The hard line in the rear passenger side was rotted and all fluid was dumping onto the floor ARRGGH. I tried to remove the hard line to replace it and the bolts rounded off. A pair of vice grips finally got it off.
And that's where we are now. She's almost back on the road. Getting the new alternator on, finishing the rear brake line and bleed. A fresh oil change and a new set of pads and rotors up front should have it moving around under it's own power within the next week or so. Having a garage is amazing. Being able to work despite the weather, and not having to drag my tools in and out of a town house is great. And knowing that even if something goes wrong and I can't finish a project in a day, that it can be just left for later to come back to it a relief.
I will get current pics now of her current situation. I still have the D15B2 in the garage thtat was pulled. Considering undertaking it as my first engine rebuild project. What do you guys think?