Nope, a USDM version will work with a JDM engine as long as the engine mechanical/electrical are similar in architecture.
The ECU you have is perfect (USDM P28 OBD1 VTEC capable ECU) for what you need to do. To avoid buying Hondata/Neptune, you will need to socket/chip that ECU to support removable EEPROM installations. Chipping/socketting kits can be purchased on various websites for between $25 and $50 dollars.
The only concern I have is what type of D15B VTEC system you have, do you have 2 (some call it 3) stage VTEC? Or is it single stage? The D15B came in both flavors. If it's single stage (one head mounted solenoid), you are good. If it's dual stage (2 head mounted solenoids), you need to have the ECU that came with that engine in order to have the hardware needed to drive both VTEC solenoids. I'm not sure how running a different set of software might affect 2/3 stage VTEC exactly, if it may only command one of the drivers or not, or even if the USDM boards can be modified to support 2/3 stage VTEC.
To identify 2/3 Stage VTEC, look at the VTEC solenoid on the head and see if it looks like this: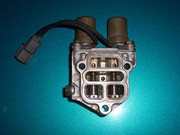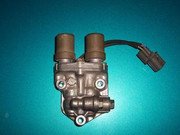 If it does look like this, I'm honestly not sure how you should proceed with the required ECU modifications. Just a heads up, if you do have 2/3 stage VTEC and are only running that engine on the USDM P28 ECU, you are losing out on a lot of the performance/efficiency potential of that engine. When the engine is low RPM, the engine effectively runs as a 12 valve engine. At mid RPMs, it turns into a 16 valve engine. At high RPMs, it keeps 16 valve mode and switches to the VTEC high lift/duration cam profile. Without the ECU to switch between 12 valve and 16 valve mode during the low RPM to mid RPM crossover, you are losing mid engine power and torque.
If it is 2/3 stage VTEC and you are running the USDM ECU, it should be going from 12 valve mode directly to 16 valve VTEC cam profile unless the person who did the swap knew what they were doing and either mechanically disabled 12 valve mode OR wired the VTEC-E solenoid to power continuously. That VTEC crossover must be nuts if 12 valve isn't disabled lmao, because running 12 valve to 4200RPM then switching to 16 valve high lift VTEC and beyond is like automatically installing then removing an intake air restrictor plate haha! Sorry, I'm just visualizing. Let me know what you have, and we can talk about what needs to happen if you have 2/3 stage VTEC.
If it is only a single VTEC solenoid, you can continue reading for the proper advice.
After the ECU hardware modifications are complete (installing the chip kit), you can purchase basemap chips from the various websites out there. They burn stock maps to good quality SST chips, and you can plug it into the ZIF socket on the modded ECU and it will run the engine in stock form.
Having an ECU that is socketted will allow you to take it to a tuner who will remove your chip and insert an emulator device in it's place. They will be able to run the ECU off of the emulator, and the car will follow the instructions the tuner is directing the emulator to run. Once a tune on the emulator device is complete and the tuner is satisfied with the work, he will erase your old basemap and burn the new tune to the EEPROM chip that was installed previously.
Once the chip is plugged back into the ECU, the engine will run the tune that the tuner created on the dyno.
This is the way to do it without throwing cash down for Hondata/Neptune. Hopefully you don't have 2/3 stage VTEC, as I don't know exactly how you should proceed because there are multiple things to consider!