Quote:
Originally Posted by
b20vtec
Does any one know if the ebay oil feed lines are 3 an or 4 an? You guys know the lines that look like this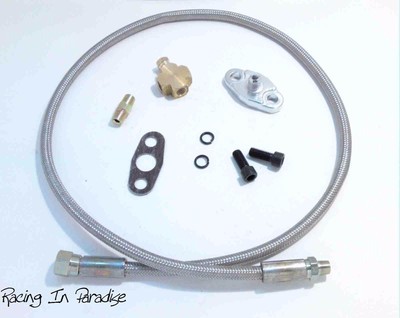 I believe they have one end that is 1/8npt and another that is 4an.
My next question is, I am using a adaptor from the oil sensor port on the block to the oil feed line. The adaptor has what looks to be a 2mm opening inside of it. Would this cause a restriction of oil to the turbo?
Thanks for any imput.
if anything -4 is too large without a restrictor. im running 3/16 line and that will be more than plenty for my turbo setup. your oil flow is dictated by your smallest fitting/hose in the run.
Some have gotten lucky running -4 and nothing else, others swear by .030 restrictors. I havent been lucky with straight 1/4 hose and fittings and depending on how large that 1/8 fitting ID is it may be larger than the hose meaning you might need a screw in restrictor like this>
Cxracing GT25 GT28 GT35 T25 Copper Turbo AN4 Oil Feed Restrictor Fitting Inlet | eBay
Assuming your using an ebay turbo setup i would try it without a restrictor first and if you seem to be getting oil blown past the seals, throw a restrictor in there.