Step 4:
Clean the hole. Use some brake cleaner and compressed air to clear the hole of all shavings. It is absolutely crucial to clear the hole of all shavings as the tap nearly bottoms out in the hole. I used a can of brake cleaner and a long blow tip to achieve satisfactory results.
Step 5:
Tap he hole. Be sure to clean the drill/tap guide of shavings before this step as well. Take the supplied tap and use a tapping handle to spin it down into the block (be sure to use a cutting oil of some kind for this step)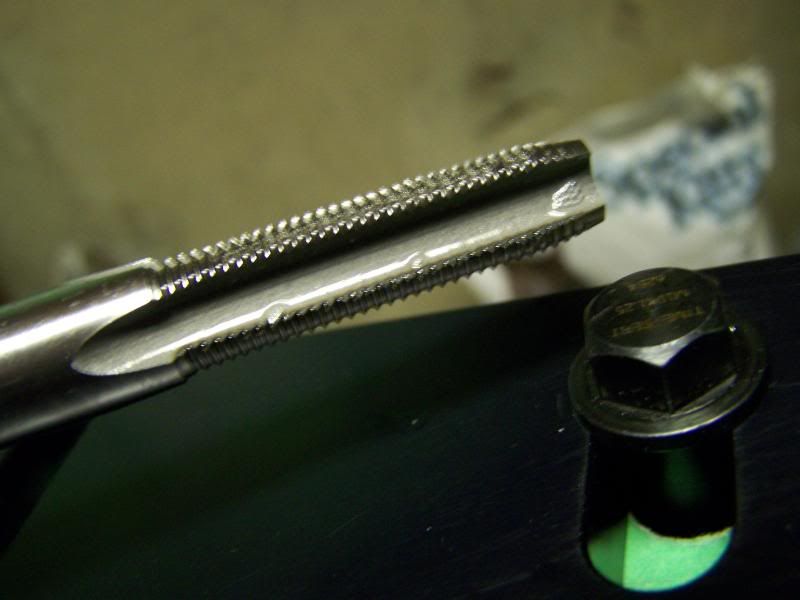 You want to tap the 9 typical holes to full depth which means going past that first line scribed in the tap all the way down to the second line. For the one shallow hole, obviously stop at the shallow marker. Line the scribed mark up with the top of the tap guide in the block plate.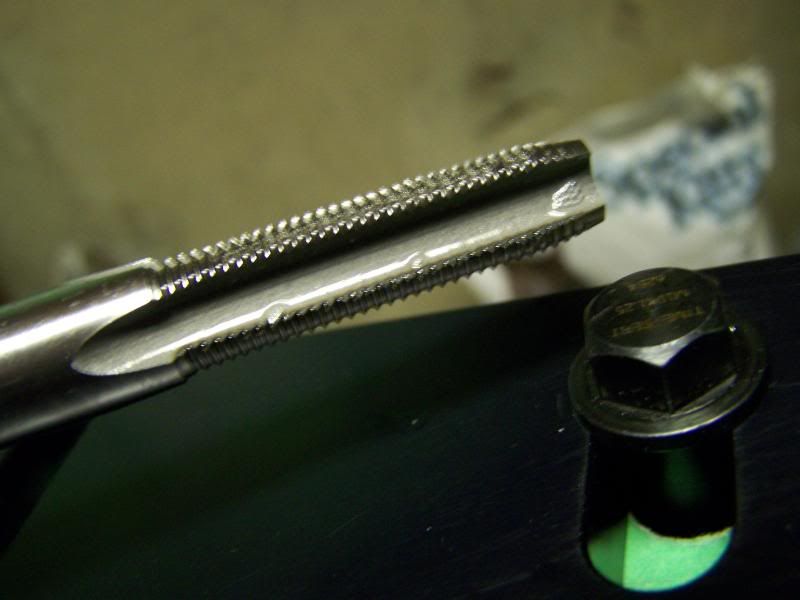 Step 6:
Clean the hole again! be sure the hole in clean and dry for this next step, be sure the cleaner you use leaves behind no oily residue.
Step 7:
(remove the block plate entirely for this step)
Installing the insert is the next (and final) step. Take the insert driver out and oil the threads with the supplied oil. Thread an insert onto the driver as far as you can rather easily. The flared part will be at the top.
Use a bit of the supplied loctite and apply it to the bottom few threads on the
outside
of the insert.
Thread the insert into the freshly tapped and cleaned hole, it will eventually get snug against the lip and the driver will begin to force its way through the insert, as it does this it forces the outside threads of the insert out into the block. When the driver reaches the bottom few incomplete threads on the insert are cold rolled expanding the insert material out into the block, locking it in place. Like with the tap, you want to drive these in until the appropriate line on the driver lines up with the block deck (remember, the block plate is off for this step)