You next need to remove the rear spring from the lock to separate the cylinder from the holder, just use a small flat head to remove it, keep in mind that it goes in a certain way, pay attention to the ends(circled to put it back in properly) also donít worry about the plastic piece :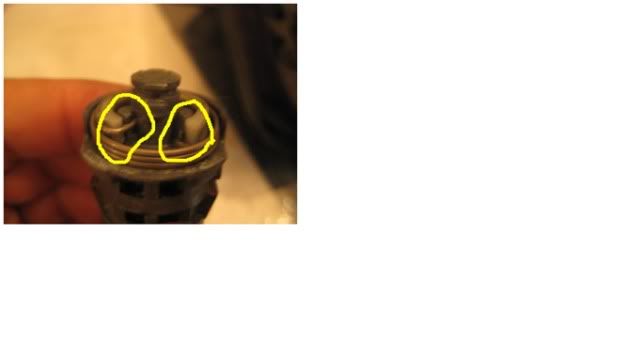 You can now separate the key cylinder from the holder, it should slide out with a slight pull, mine would not because it had A LOT of corrosion holding it together, I placed it on a bench vice and just tapped it out with a hammer, this is the end result.
Now you can remove the key so that you can start recoding your lock, once the key is removed you can remove the lock pins, on a Honda, there are 4 pins on top and 3 on the bottom, each pin is numbered to indicate its dimension, each pin has a slot were it makes contact with a spring, it only fits one way so you cant mess this part up .I find it easy to simply remove all of the pins (each pin has a spring, you can remove them and reinstall them) and then install them back in one by one starting from one end and finishing at the other. The issue is that you need to install them in the right combination for the key that you will be recoding the lock cylinder too. The best way again is to install one pin and then insert the key into the lock cylinder and then insert the cylinder into the holder, if it turns when you twist the key you know that pin can work there. Always start from one end and with the highest numbered pin. Here are a few pics to aid you.