I mixed and matched from a couple of recipes I found online and added a little bit of my own twist to it. Anyway what to do with the pictured ingredients:
1 cup Sugar
1/2 cup white vinegar
1/2 cup Apple cider vinegar
3/4 Olive oil
~1 tsp salt
3 Tbsp Ground mustard
1 heaping tsp chili powder
~1 1/4 cup mayonnaise (not pictured ... oops I forgot)
1. Sprinkle the sugar over your veggie mixture and mix well.
2. Combine remaining ingredients ... except the mayonnaise in a small sauce pan and bring to a boil.
3. Once the above mixture has cooled pour it into a bowl with the mayonnaise and whisk until thoroughly mixed.
4. Pour over veggies.
In the end I ended up with this:
It's hard to tell in the pic but there's more dressing than is really necessary, luckily since I lacked a bowl big enough to hold the veggies I used a spaghetti pot, which happened to have a strainer insert. I transfered the coleslaw to that and put it in the fridge, where it will stay until it's time to eat.
On to the pork roast.
For flavor I used these: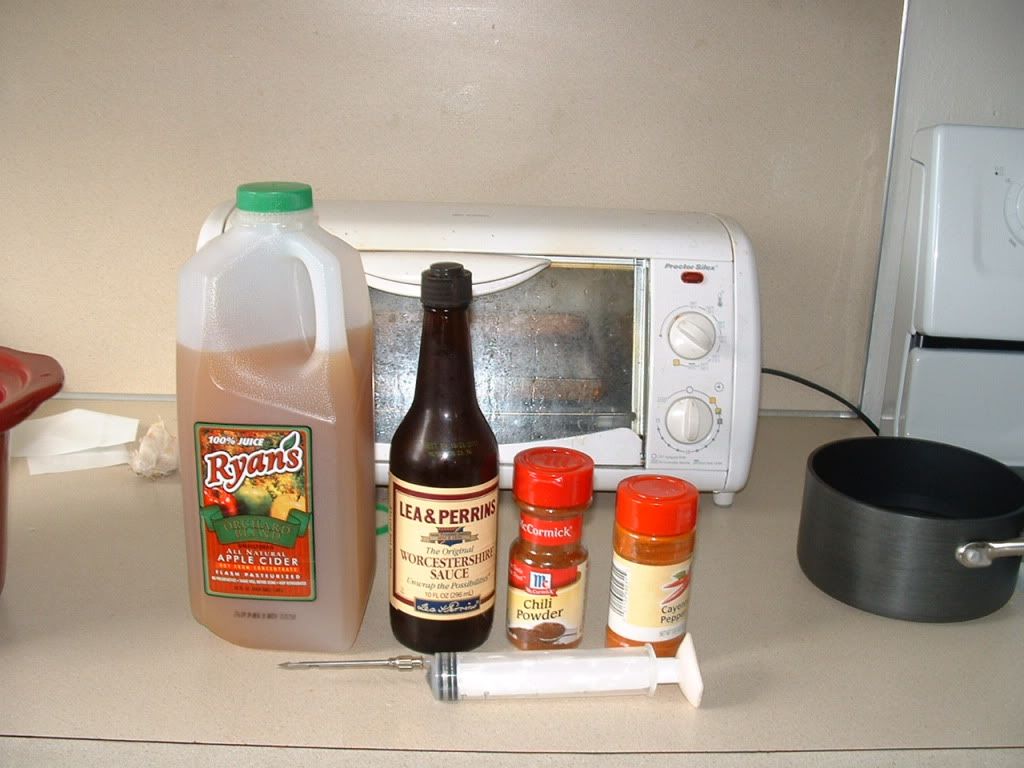 Usually I don't do much measuring but since I may want to recreate this at some point ... or at the very least make adjustments (and give you all an idea of how to make it) I decided that this time I would. My own creation here ... wish me luck.
1 cup apple cider
1/3 cup Worcestershire sauce
3 tsp Chili Powder
1/2 tsp Cayenne pepper
Hopefully this will get me the Sweet and Hot flavor I am looking for.
Combine all ingredients in bowl ... or whatever container you have handy and mix thoroughly.
Inject mixture into meat ... as much as you possibly can.
Be careful on this step. If you aren't the marinade/flavoring liquid will get EVERYWHERE. Remove the needle from the meat slowly ... it will probably spit at you a bit. Flip meat and continue injecting. When you start getting liquid coming out of the other holes you've poked, or just generally leaking out of the roast you're golden. Pour remaining liquid over the meat if desired.
Once you've completed that process put the top on the crock pot, set it to low and wait 8 - 10 hours. (Pics of this and maybe some in process cooking pics coming later today).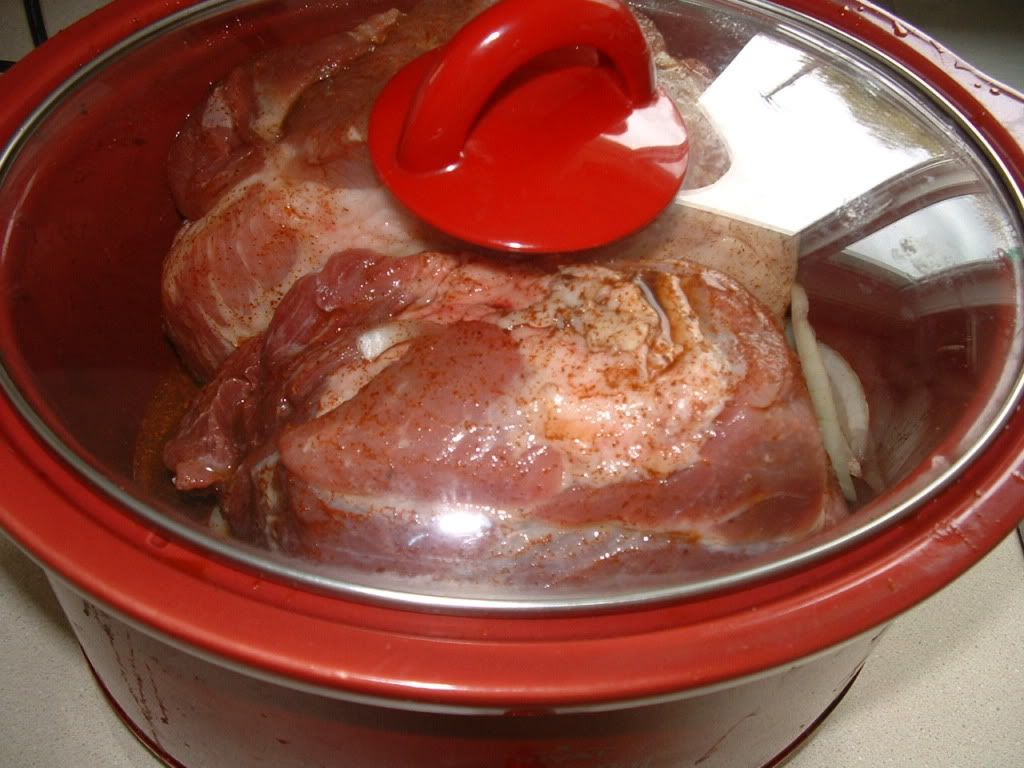 Mmmm homemade goodness.
And now the final piece of the puzzle. The beans:
Ok so I cut a corner with this part. Baked beans take forever ... or a crock pot (and I only have one). I figured that I was putting a lot of work into this already so I was allowed to cut one corner. Next time though ... I'll see about getting another crock pot in the house and doing some homemade baked beans too.
Moar pics, updates, and the results of how it turned out coming later.