It's been awhile since I've seriously updated this thread.
I knew for a while that the plastic portions of my radiator cap was deteriorating to the point where it was just the spring keeping the radiator closed to atmospheric pressure. This wasn't a problem for me as my radiator doesn't leak or give cooling problems. This was the case until strange things started happening under the bonnet after finally replacing the radiator cap. One day, I was driving and noticed that there was what appeared to be fine white mist being produced before the front bumper. I had found this strange, but thought nothing of it as it was a cold day and I was tailgating a CRV that appeared to be smoking badly. The journey was a long one and as such the CRV up ahead happened to be going to the same location I was driving towards. The next day, the problem became more apparent, as the fine mist became steam and was definitely emanating from under the bonnet. Lifting the bonnet didn't reveal anything unusual as there were no smells of anything burning or any weird oil leaks. The dashboard showed no abnormal conditions. Since I always drive around with my OBD2 scan-tool, I did a quick scan which shows no symptoms (other than a faulty O2 sensor that I already knew about). Obviously the steam had to be coolant coming from the radiator (although there are no visible cracks or leaks). I tried driving the car closer to anywhere I can buy coolant to patch the problem. At this point the radiator yielded under pressure sending the thermometer past the redzone in a matter of seconds. I spent most of the time cruising in 4th and 5th gear keeping the RPM low and taking frequent breaks keeping the engine cool. To cut a long story short, I got the car home and started removing the front bumper (which covers the entire radiator) to see a hairline crack on the "top-tank". I just went straight ahead to remove the radiator and A/C stuff to get to it. Since it would have to be repaired or replaced anyway. Superior Parts, didn't have a compatible radiator. Bert's didn't have anything for me either.
First of all, I should give a huge shout out to TurboDre who had I had only met twice before for some other car-part sales. I called up TurboDre who promptly passed by, and transported me (and the radiator) to the various repair places late that evening (in the pouring rain) to get it fixed. We ended up having to make a couple stops until we arrived at "Best Radiator" who replaced the top-tank for a reasonable fee. TurboDre even fixed one of my radiator fans that had been working intermittently due to a worn graphite brush. In all this, it is good to know that there are still good Samaritans in the world that are still willing to help even when there was no benefit to him to go through all that trouble. Re-installing the radiator and A/C components was more labor intensive than removing it in the first place, but with the help of good people, anything is possible.
The car has gone through several small changes to make it more drivable.
I've been driving around with the defective gearbox for a while until I decided to do a clutch replacement and get the gearbox changed. On the day of the replacement, I intentionally grounded the gears down to nothing along Haggley Park road and coasted the car down to Superior Parts. I didn't want Superior Parts giving this defective gearbox to any other unsuspecting customer. The warranty swap went through fairly well since I had taken the day off from work to get it done. I tested all 5+1 gears and they worked fine with this replacement box (or so I thought). The gears were noted to be even shorter than the previous box. Two days later, I noticed that this replacement box was exhibiting similar symptoms of the previous one. This time around, the car will "jump" out of first gear if the shifter isn't placed firmly into gear (seventh gen gearboxes have a tactile "click" feel to let you know that it is in gear). The other issue is that 5th gear will fail to engage sometimes and as such I have to either double clutch (although it's not needed for a synchronized gearbox) or wiggle the shifter in the fifth gear for a little bit before removing my foot from the clutch pedal (I end up losing some speed and vehicle momentum in the process).
I've grown accustomed to driving the car like this for a while and as such after some online research, I've realized that this is a common thing with the seventh generation Civic gearboxes to give these problems.
I really need some new transmission mounts as my current ones are dead (too much launching from a standstill at traffic lights and one too many burnouts). My plan is to buy a new set of the OEM ones and fortify them with the Energy Suspension polyurethane inserts so that I don't keep tearing them every few weeks.
Finally, I got around to lowering the clutch pedal back to the correct specs. As simple as it may appear, it felt like a back breaking process as the adjustment nut was way up underneath the dashboard. To make the working environment more comfortable, I had removed both front seats to make use of the completely flat floor with no handbrake or hump in the center so that I can now lie more comfortably on my side so that I can use both hands to adjust the locking-nut. Needless to say, this makes gear changes smoother since I only need to rest my foot lightly on the clutch pedal and the clutch is fully disengaged (ahh, the joys of a hydraulic clutch).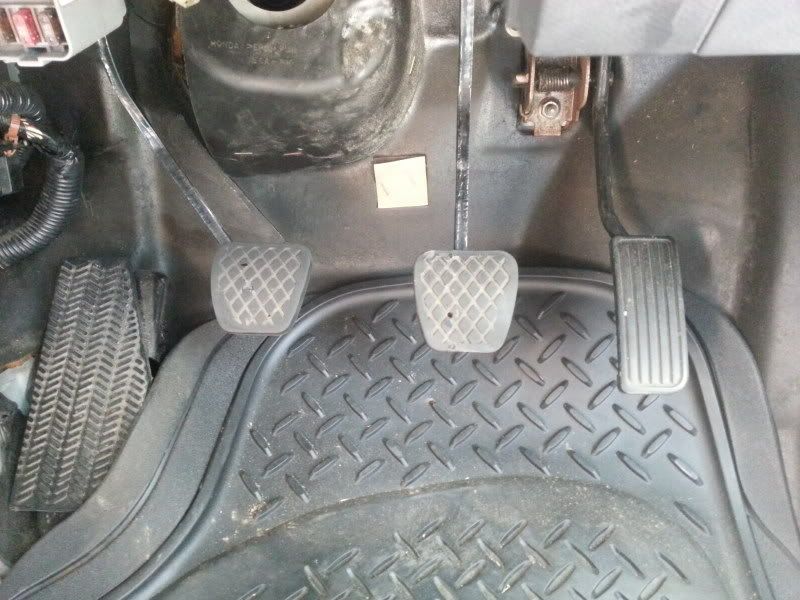 Plastic covering temporarily removed for the photograph, so that you can see the pedals clearly. Trust me when I say that I don't normally keep down there this dirty, but I was doing re-wiring to install something. It will be cleaned up by next weekend
I had bought an OEM FD2 shift knob from RJD which effective made my shifter 3.5 inches shorter thus making it effectively a short shifter. The added benefit I noted was that my first gear always works as it is supposed to as the "throw" is much more precise (previously I've been driving around with the automatic shift knob mounted on top which was about 4 inches tall including the threading). This also made me notice that 5th gear now works if I select an imaginary spot between 3rd and 5th. This would then definitely indicate a bent or worn shift fork. Andrew had warned me about this on previous occasions since I couldn't have known how the previous owner treated the gearbox. I now need to get the shift boot to complete the appearance of the dashboard properly.
For those of you who were wondering, this is what it actually looks like in my car: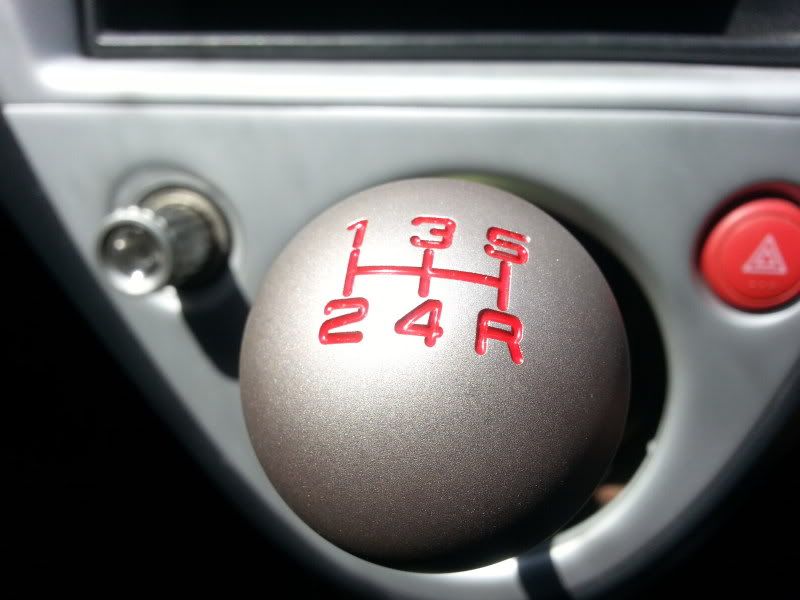 The base of the shifter looks like this: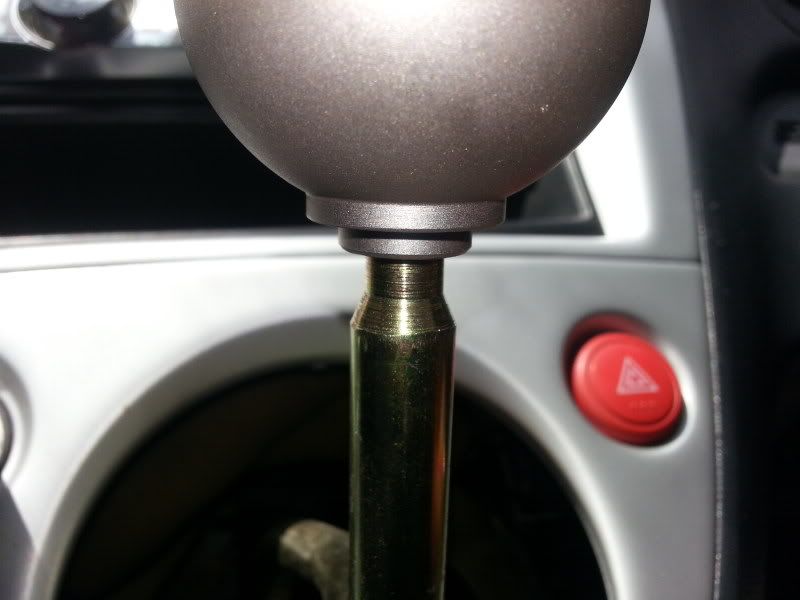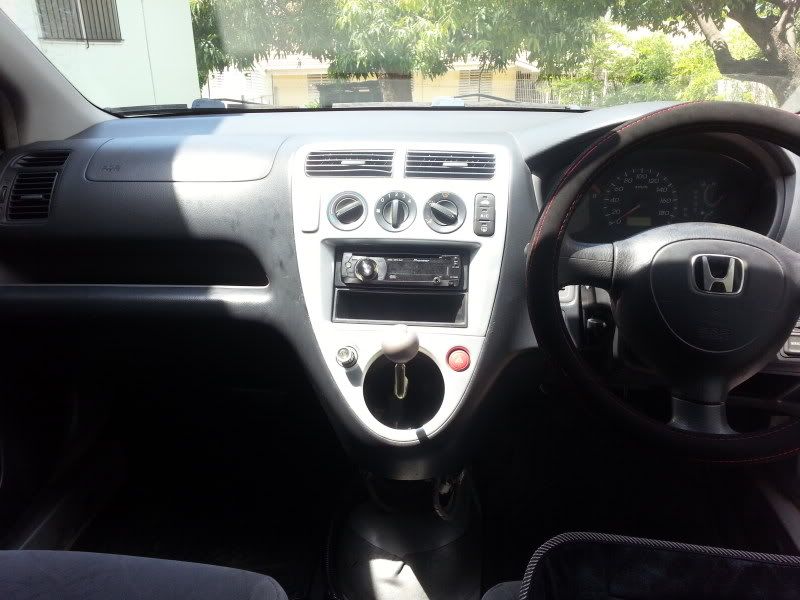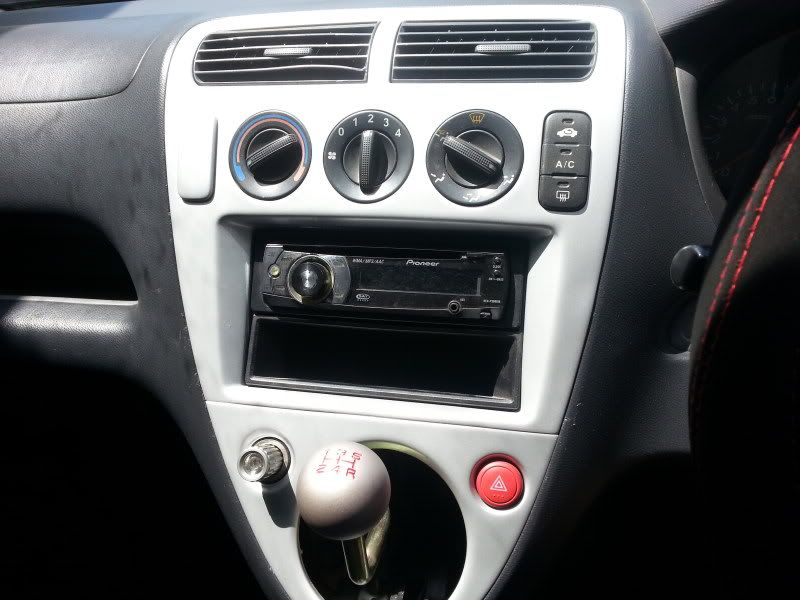 If you currently have an OEM plastic shifter, then installing this one will make your shift knob sit at least half-an-inch lower making it effectively a short shifter (at least it did for my EP3 shifter setup) since the threads really go right through the shift knob allowing you to screw it down even more if you wanted to.
Andrew finally brought down the EP3 handbrake for me. At that point, I had realized that there is a difference between the LHD & RHD handbrake, but it fits my application quite fine and I just need to remember to get the LHD center console for it. I wasted no time locating the three holes that would need to be drilled and the section of the chassis that the two slots would need to be drilled to accept the pair of handbrake cables.
This is where the pair of handbrake cables currently originally came through under the passenger seat for the foot operated handbrake: